Lotus Notes, also known as IBM notes, is one of the most stable email applications available today. However, like any tool, it can also throw problems occasionally.
A common problem is that Lotus Notes won't open, which can happen due to many reasons. In this article, we'll discuss some possible causes of the Lotus Notes won't open errors and solutions for the same.
Why Lotus Notes Won't Open?
Lotus Notes won't open due to many reasons. The most prominent among them is when you upgrade to Notes 9.0.1 FP9 or higher. As soon as you enter the password, Lotus Notes doesn't open but displays the "IBM Notes Failed to Start Successfully" error message. Along with the error message, IBM Notes would recommend you to reinstall Notes.
Unfortunately, there's no specific reason for this behavior. It can occur randomly with no consistent reason. The only certain part of this error is that it occurs on all versions of the Windows operating systems only, though a few sporadic cases have been reported on the Domino server. There have been no documented cases of this error on Linux, macOS, or any other server.
That being said, let's look at the possible solutions.
Solutions to Fix the Lotus Notes Won't Open Error
Here are some things you can do to recover from the Lotus Notes Won't Open Error.
Check if you're logged into the network. For no apparent reason, Lotus Notes doesn't open if you're not logged into your network.
Log off from Windows and log in again. This workaround works if your Lotus Notes crashed before the problem.
Exit Lotus Notes and launch it again as a Windows administrator.
Run IBM Notes in basic mode.
Add the directory path of the notes.dll file to the "Path" variable of your system registry.
Check if your admin has blocked you from accessing the app.
All the above solutions are manual and have limited results. An alternative is to move your data from Lotus Notes to Microsoft Outlook, so you can access your emails, contacts, attachments, etc.
Note that moving your data across formats is not easy either. IBM Notes stores the content in an NSF format while Outlook stores data in PST format. These are not just different file extensions, rather the way content is stored also changes. This is why migrating data from the NSF to PST format can be a challenge.
The good news, though is that you have tools like Stellar Converter for NSF that can migrate your data from NSF to PST format easily.
What's Stellar Converter for NSF?
The Stellar Converter for NSF is an advanced application that can migrate your data from NSF to PST format easily. Here's how it works.
Step-by-Step Guide to Using the Stellar Converter for NSF
Step 1: Download the tool.
Step 2: Install the Stellar Converter for NSF. Simply follow the instructions included in the installation wizard.
Step 3: Open the tool and click the Browse button to find the NSF file you want to convert. Alternatively, you can also use the Find button to search for specific files. Select the required file and click the "Convert"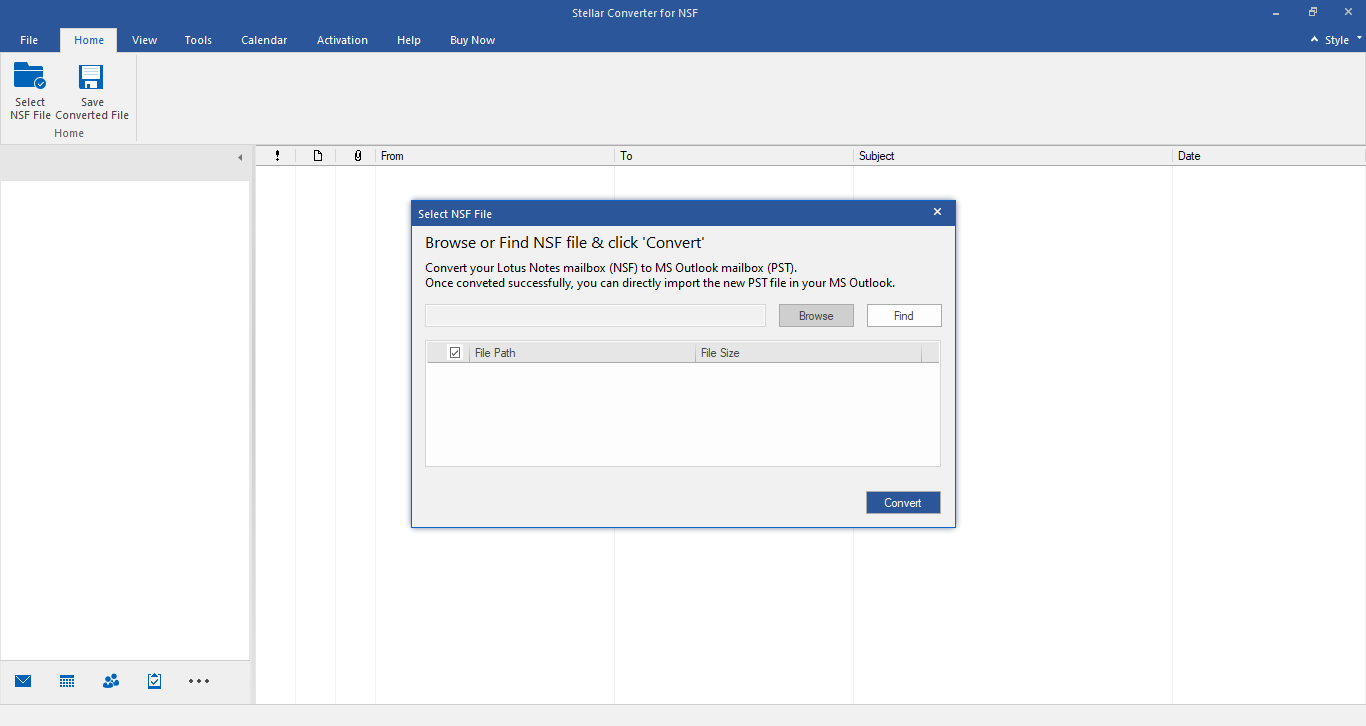 The Stellar Converter for NSF scans the chosen file and displays all its contents.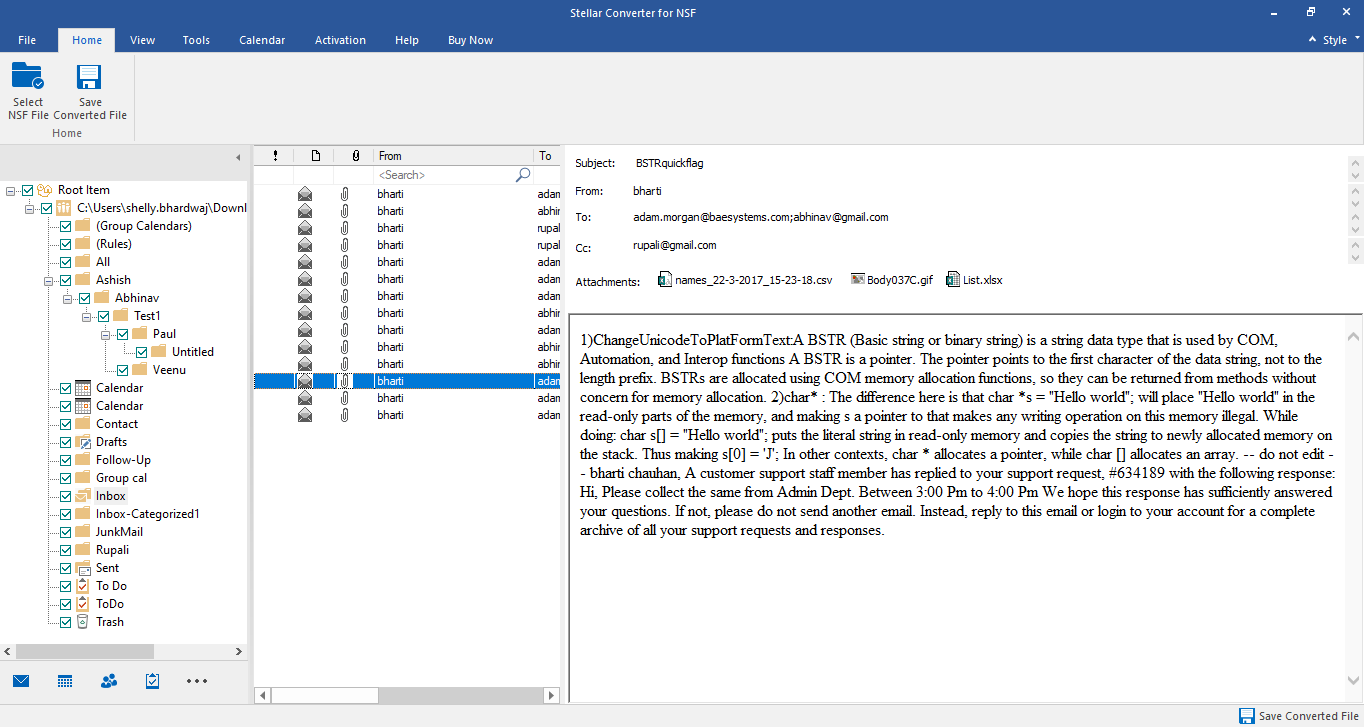 From this list, simply select the content that you want to convert to the PST file. You can even preview the contents before selecting them for conversion.
Choose the format in which you want to save. Though PST is the default format, you can also choose to save the selected contents in PDF, HTML, EML, RTF, and MSG formats.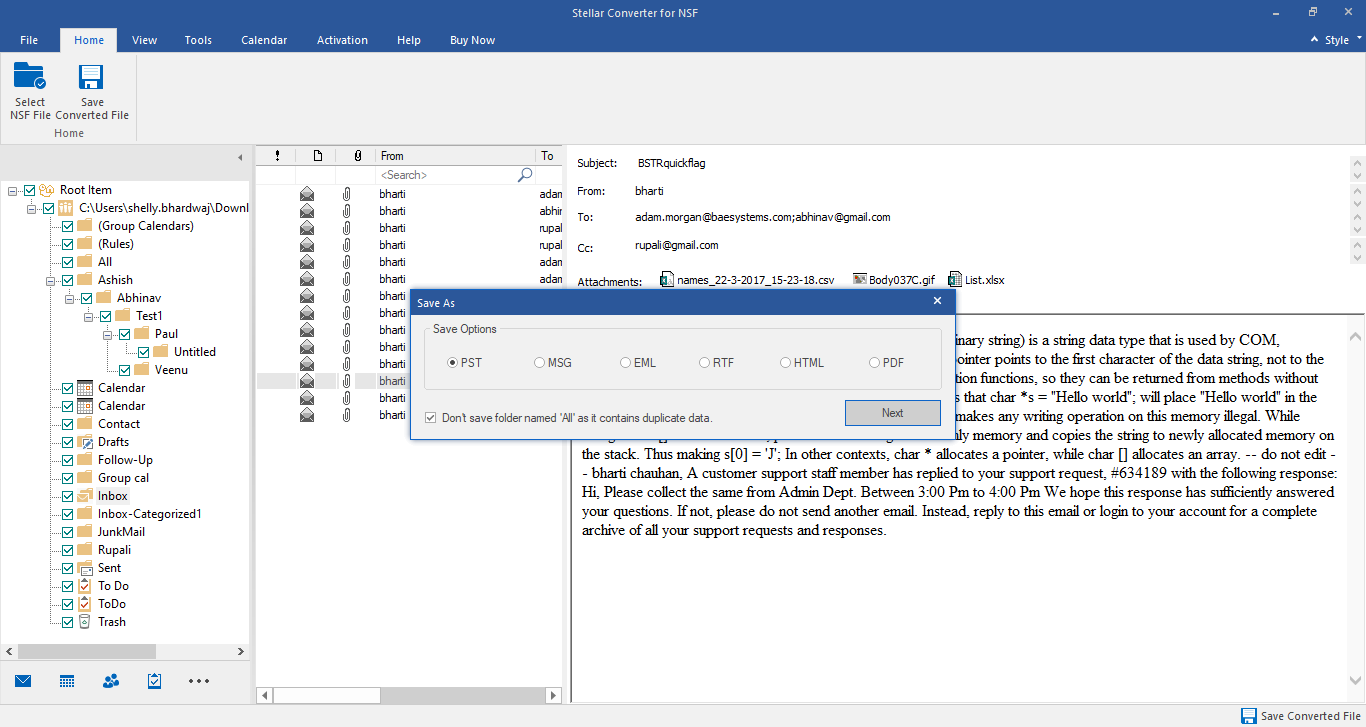 Select the destination folder for the converted file.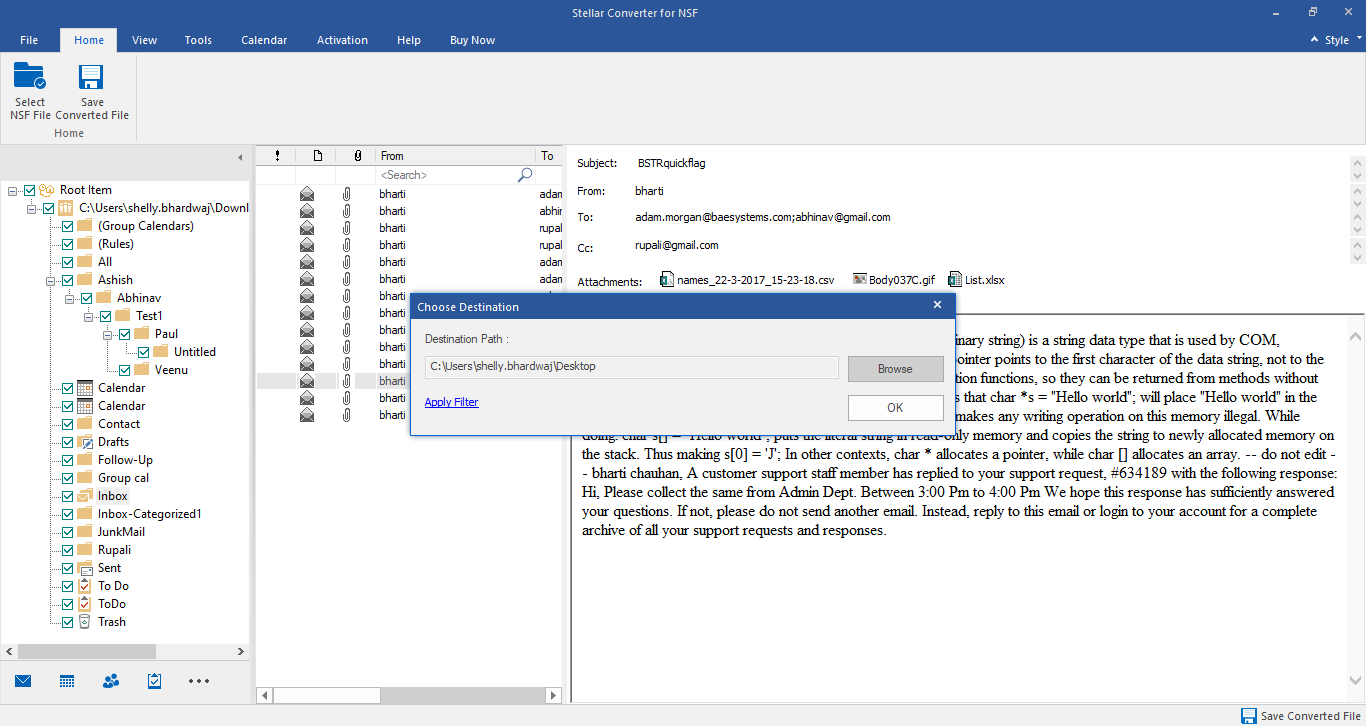 Now, Stellar Converter for NSF will change the content from NSF to PST format and will save them in your chosen folder. Note that this can take anywhere from a few minutes to a few hours, depending on the size of your file. A progress bar will show you the progress, so you can track the conversion.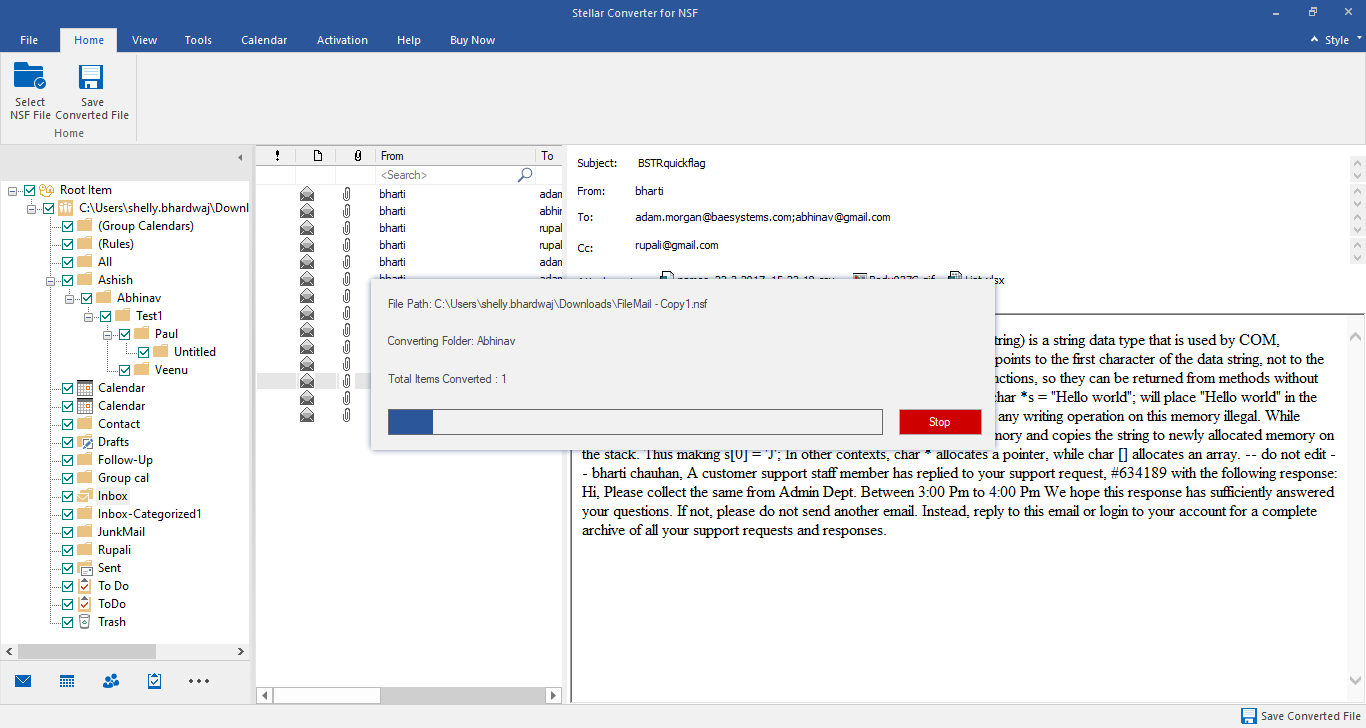 Once the file is converted, you'll get a notification. Now, open the destination folder and access the new file.
As you can see, the conversion process is simple and highly intuitive. In fact, the Stellar Converter for NSF masks the complex processes behind a simple interface, so you don't have to worry about the technical conversion aspects.
Besides this ease of use and an intuitive interface, the Stellar Converter for NSF offers the following features for you.
Converts multiple NSF files to PST format in one go.
Supports all versions of Lotus Notes from 6.0.
Easy to search for specific NSF files that you can quickly convert into PST format.
You can choose to convert only selected emails, attachments, etc. from the scanned items that are displayed by the Stellar Converter for NSF.
With this tool, you can also directly export to Microsoft 365, provided you have the technical version license.
Generates a detailed log report for auditing and compliance.
Offers advanced filters to quickly find what you want.
 In all, the Stellar Converter for NSF is a handy tool to always have in your arsenal, especially if you're using IBM Notes.
Final Thoughts
To conclude, Lotus Notes Won't Open is a common error that occurs in IBM Notes, though the exact reason is not known. Also, it occurs randomly, making it all the more difficult to ascertain the root cause or fix it. However, you can try some of the manual options mentioned above, or a better option is to use the Stellar Converter for NSF to move the required contents from NSF to PST format.
To know more about this tool, contact Stellar.