A redundant array of independent disks, or RAID, is a group of two or multiple hard drives. It offers improved data security, read-write speed performance, and fault tolerance. On the other hand, a hard drive is an individual storage media drive used to store and manage digital data. RAID splits data across multiple volumes included in its setup, while a single hard disk drive stores data on its platter that is further divided into tracks and sectors. Similar to their data storage technology, the recovery and rebuilding process also differs significantly from each other. Let's dig in to learn more.

How do RAID and Hard Drives Store Data?
Before we get to the recovery part, it's important to know how data is stored on a hard drive and RAID drive. Hence, let's briefly discuss the storage mechanism for both drives.
RAID Data Storage Mechanism
There are several RAID levels available in the market. However, the most popular ones are RAID 0, RAID 1, RAID 5, RAID 6, and RAID 10. These RAID levels are mainly based on three data storage mechanisms: Striping, Mirroring, and Parity. The data storage mechanism of these RAID levels is as follows:
RAID 0 (Striping): The data flow splits into block sizes. Hence, multiple disks can access a file's contents.
RAID 1 (Mirroring): The data blocks are copied and mirrored across multiple drives.
RAID 5 (Parity): There should be at least three hard drives to set up a RAID 5 level because it splits your data between two blocks, and the third block (Parity block) stores the data of both other drives.
RAID 6 (Striping + Double-Parity): The data gets split across blocks with double-distributed Parity (two parity blocks collectively storing data from other blocks).
RAID 10 (Striping + Mirroring): This RAID level combines RAID 1 (Mirroring) and RAID 0 (Striping) mechanisms. It strips data across the mirrored disk drives.
Hard Drive Data Storage Mechanism
The data in a normal hard disk drive is stored on its Platter. A Platter is a circular disk made of aluminum alloy, ceramic, or glass. It is coated with a thin layer of magnetic material and is further divided into sectors and tracks. The hard disks store the data in magnetic fields on the Platter. Unfortunately, a single hard drive offers no fault tolerance. So if there is corruption or damage (logical or physical), your hard drive data will be at risk.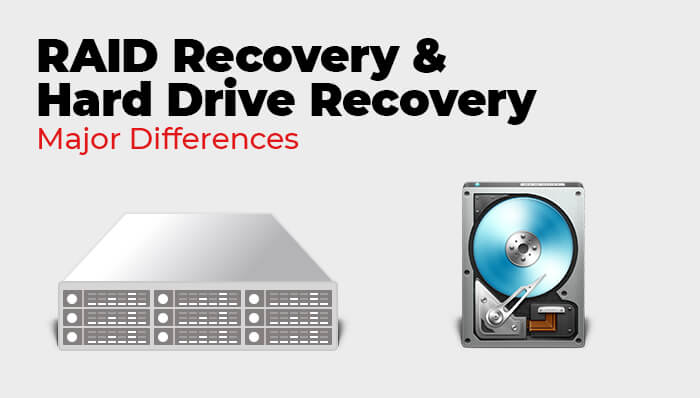 RAID Data Recovery
RAID recovery or RAID data recovery refers to retrieving data from a RAID storage architecture. The recovery process includes manual and automated restoring data from one or more RAID volumes. The recovery process can be implemented on software and hardware-based Redundant Array of Independent Disks. As RAID uses unique and complex data storage methods, data recovery also differs from the standard data recovery process. It usually requires reconstructing or rebuilding all RAID arrays to their original or old settings and configuration. Therefore, identifying the exact RAID array is quite essential for recovery.
Hard Drive Data Recovery
Hard drive data recovery means extracting data from a hard drive in case of data deletion, drive formatting, corruption, malware attack, system errors or failure, etc. This process is usually performed using a hard drive recovery software. However, it is only possible if the data is not overwritten.
Data recovery from the hard drive can also be performed manually. For example, you can connect the hard drive to another computer through ATA, SATA, or USB interface and copy-paste or cut-paste the data to a computer or another hard drive. It additionally refers to retrieving data from dead or physically damaged drives and repairing hard drives. Although, recovering data from a physically damaged hard drive needs experts' help.
RAID Rebuilding vs. Hard Drive Rebuilding
The RAID rebuilding process includes data reconstruction in the event of a controller failure, hard drive corruption, drive error, or hard drive failure. When a hard drive fails unexpectedly, the RAID array (including RAID 1, 5, 6, and 10) copies data to a spare drive while a damaged hard drive is typically replaced. Data is reassembled on the new hard drive through RAID algorithms and the Parity mechanism. 
On the contrary, a normal hard drive is not usually rebuilt but repaired. In case of physical damage, the hard drive is repaired by repairing the faulty parts or components to recover data. Once repaired and recovered data from it, the hard drive shouldn't be reused. Instead, you must restore the hard drive's contents immediately and discard it as it won't be reliable for future use.
How to Perform RAID and Hard Drive Data Recovery?
You can recover data from RAID drives using powerful yet easy-to-use software like Stellar Data Recovery Technician. It is a DIY data recovery software that enables you to rebuild RAID and retrieve data from it. It supports recovery from RAID 0, 5, and 6 drives. It efficiently restores lost or deleted data from RAID arrays. This software will even help you recover data when you don't know the RAID parameters. In addition, you can restore data from corrupted or inaccessible RAID-based NAS servers of Iomega StorCenter, Buffalo Terrastation, LinkStation, Synology, LaCie, QNAP, and other Linux-based NAS devices.
Moreover, the Stellar Data Recovery Technician allows you to restore deleted documents, photos, emails & more from RAID drives and other hard drives, including HDDs, SSDs, USB drives, and more. It can also create a bootable media drive to retrieve data from crashed or unbootable systems. The software is compatible with Windows 7, 8, 10, and 11. All in all, be it a RAID or a normal hard drive, you can use this software to perform data recovery efficiently.