Sometimes, you lose your precious data to accidental deletion or loss of RAID volumes. Once a volume has been deleted, it can only be recovered using RAID recovery software. In case of RAID, it is extremely difficult to recover data from a deleted or lost volume, as the volume on a RAID drive actually lies spanning across multiple physical hard drives. However, now with the help of Stellar Data Recovery Technician, you can search all your lost or deleted RAID volumes and recover data from them.

There are various other occasions when you need such RAID recovery tool to salvage disappeared data from RAID configured hard drives, few of them are mentioned below:

* raid volumes none defined
* Error Occurred(0)" with RAID 0 / 5 / 6
* RAID drives isn't accessible

Steps to Recover Data from Deleted or Lost RAID Volumes:
After running Stellar Data Recovery Technician, click RAID Recovery.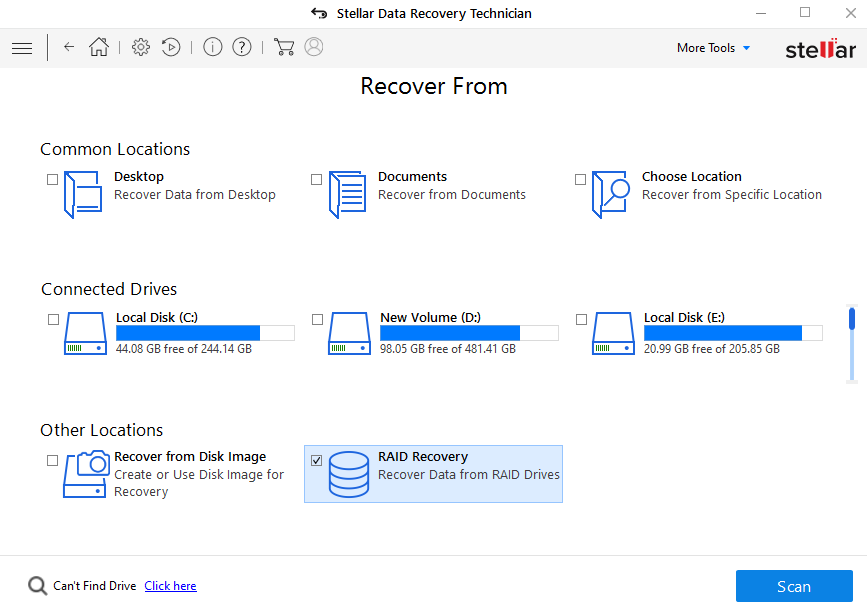 RAID Reconstruction window opens, listing all hard drives configured in the RAID array. Select the hard drives to construct the probable RAID.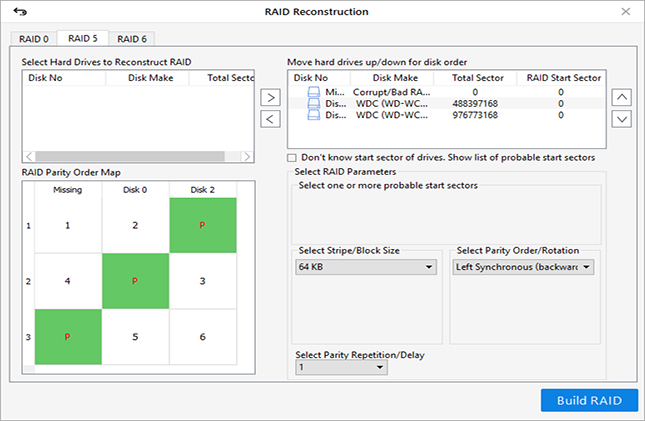 Arrange the RAID drives in their actual order inside the array, and then provide the starting sector of each disk.
Provide the defined values for strip/block size, parity rotation/order, and parity repetition/delay by selecting them from their corresponding drop down boxes.
Note: If you do not know the values for any RAID parameter, then choose the option do not know and check-mark all possible values available in the drop down list.
Click the BUILD RAID button at the bottom right corner of the interface to construct the probable RAID.
Once the probable RAID gets constructed, you can select the same and click Show Volume List button to list all RAID volumes in it.
Note: If there are issues creating probable RAID, you can click the Create Virtual Drive option to build a virtual RAID drive. It is important to note that the option is highlighted only when the software fails to build RAID, so that you have another method to recover your data.
The main interface of the software shows the probable RAID drive or the virtual drive. Once you select any of them, the software will open a flying pane window.
Under the option, Search Lost Volume, click either Quick or Deep scan.
Note: Quick scan is faster, but Deep scan ensures more chance of recovery.
On successful completion, the software shows all lost/deleted volumes in the selected RAID drive. After this you can select any of those volumes and perform the data recovery operations on them.