RAID has given the traditional data storage means a much-advanced look. For its huge storage capacity and fault tolerant feature, organizations use RAID to store all their business critical data. Being such important assets of organizations, sometime these RAID arrays fail, resulting in serious crisis of data loss or inaccessibility. Your data in the RAID array can get inaccessible due to controller failure, drive corruption, rebuild failure etc. For all such instances of RAID failure, Stellar has come up with Stellar Data Recovery Technician.

The software is immensely powerful and recovers data from your troubled RAID 0, 5, or 6 array under any instance of logical failure. Besides facilitating data recovery from Hardware RAIDs, this raid data recovery tool supports software RAID levels 0, 5 and 6. With its advanced techniques, the software is able to find the RAID volumes and recover data from them irrespective of the strip size, parity order, starting sector and parity delay. The software is completely risk-free and recovers data in few easy steps as below:

Steps to Recover Data from a Corrupt RAID Array:
Run Stellar Data Recovery Technician.

From the initial screem click next and then from "Recover From" screen click the RAID Recovery button.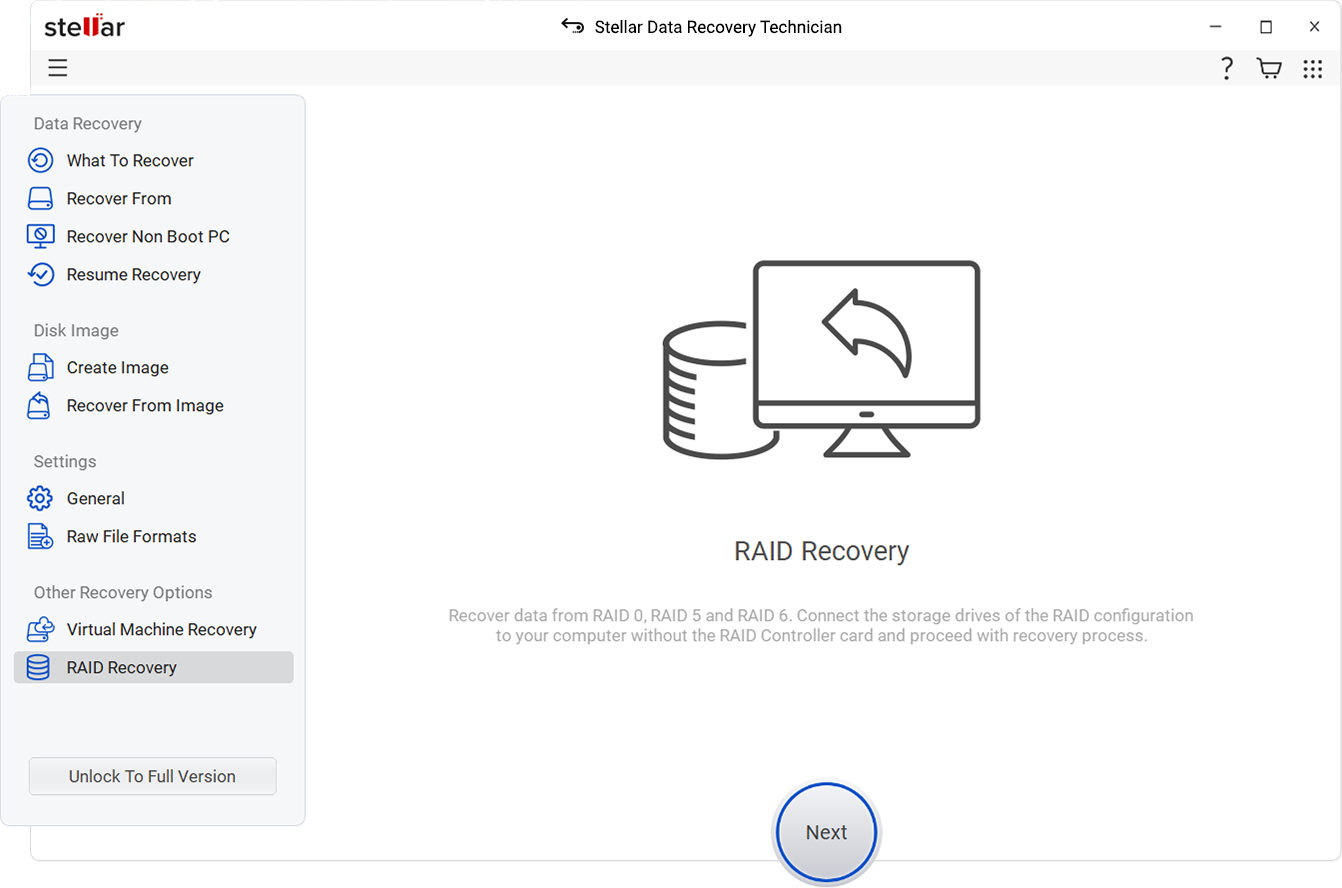 RAID Reconstruction' opens. Select the RAID hard drives from the list and arrange them in their correct order in the array.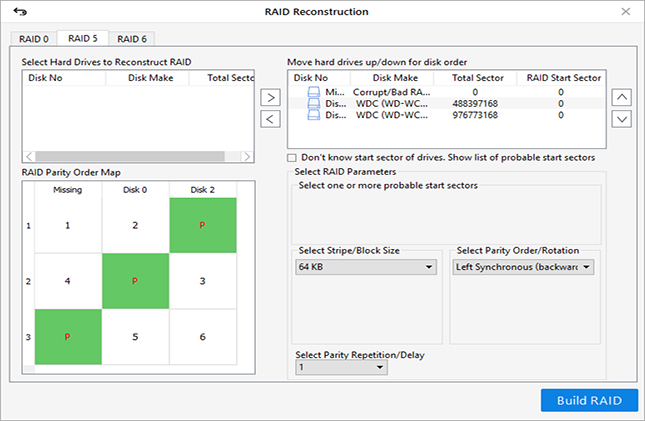 Select the strip size, start sector of the array, parity delay, parity order and click BUILD RAID button to construct probable RAID constructions.
Note: If you do not remember these RAID parameters, then select Don't know option from the drop down and choose all possible values.
If the operation completes successfully, the Select Volume to Recover  RAID Data section displays the RAID volumes.
Note: If the software does not find any probable RAID construction, another button is displayed Create Virtual Drive. Click the button and a virtual RAID drive is created, from which you can perform search lost volumes and Raw Recovery.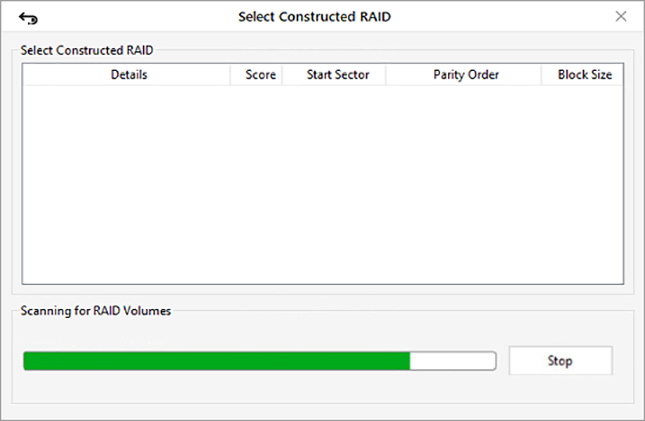 Select the RAID volume to be recovered. Click the settings button from the tool bar and data recovery options get displayed in a flying pane.
Click any of the options as per requirement  Quick Recovery, Deleted Recovery, Advanced Recovery or Raw Recovery to perform the required data recovery operation on the selected RAID volume.

Stellar Data Recovery Technician has a straightforward and simple graphical user interface, in which you do not have to ponder a while over the various recovery options available. The tool tips and descriptions for each step of data recovery are very much self-explanatory and make the recovery job completely hassle-free.