'Hi, I have lost very important pictures after a factory rest. I needed to create a family album as a gift to my sister on her wedding. I just really need these pictures. Please help.'
Sometimes you have to factory reset the device to fix operating system issues, slow performance, or to protect personal data before selling/ exchanging your device. But just to later realize that you have lost some valuable pictures after factory reset. It is a disappointing situation, as you cannot reverse your action. Factory reset has deleted all data from your laptop.
What happens to photos when you factory reset laptop?
Factory resetting your laptop reinstalls Windows on your system. However, it will delete your photos, videos, documents, games, and other data saved in the device. It will also remove the settings and third-party apps that you might have downloaded. Only the default Windows OS applications that came with your laptop would remain.
Does factory reset delete photos permanently from laptop?
The system does not permanently erase data after factory reset. It overwrites the master file table that contained information about your files and directory. Hence, you can no longer view or access photos and other files.
Can you recover photos after factory reset on laptop?
Since, factory reset does not remove data permanently from laptop you can recover the files with the help of an advanced photo recovery software. However, you can recover the lost photos until they are not overwritten by the new data. If you have been using your laptop after factory reset, there's no assurance that any software can retrieve all the lost photos after factory reset.
Nevertheless, there is always a possibility that the required image files are not overwritten, and thus can be restored with the help of a software.
How to recover photos after factory reset on laptop
With photo backups in place, you are at a safe juncture. Simply restore the photos deleted due to factory reset from Google Photos, DropBox, OneDrive, or other external backup drive that you may have created.
However, in absence of backup, use a professional photo software that is effective in factory reset situation.
Note: If you want to recover lost photos from laptop after factory reset, stop using your device immediately. This will prevent overwriting of data and maximize photo recovery chances.
Recover pictures after factory reset on laptop without backup
Only an advanced photo recovery software can help you to retrieve lost photos after factory reset. Get Stellar Photo Recovery that supports Windows laptop from all brands be it HP, Dell, Asus, Toshiba, Lenovo, Sony, Samsung, Acer, and others.
The software comprehensively scans the HDD or SSD and retrieves the lost image files. It also gives you the option to select the required image file type. For example, to recover only the JPEG files, before scanning go to the 'Advanced Settings' of the software and choose JPEG. The scan results will only display JPEG file types.
The free version of Stellar Photo Recovery can restore up to 10 pictures from laptop. To recover unlimited photos after laptop factory reset, download the Standard version. The software is Windows 11 compatible.

Step-by-step: How to recover photos after factory reset from laptop:
Step 1: Download and launch Stellar Photo Recovery software on laptop.
Step 2: Select the storage location to scan. Toggle on 'Deep Scan' button at the bottom left corner. (Optional) Click on 'Advanced Settings' icon on top and select the image file type, which you want to restore. This will further speed up the recovery process and lets you restore only the required pictures lost from the laptop.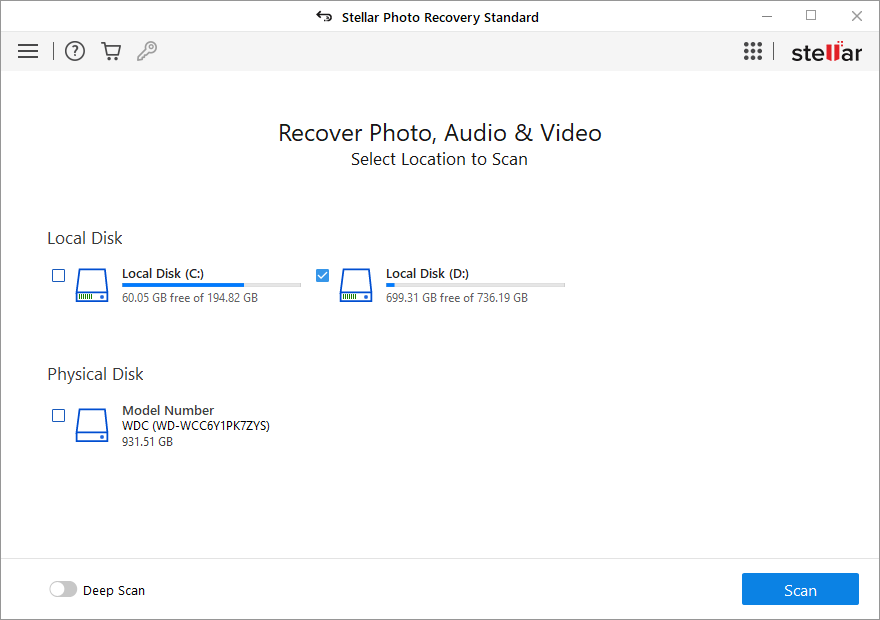 Step 3: Click Scan.
Step 4: The scan results displays the list of recoverable photos. Preview and select the desired photos. Click Recover.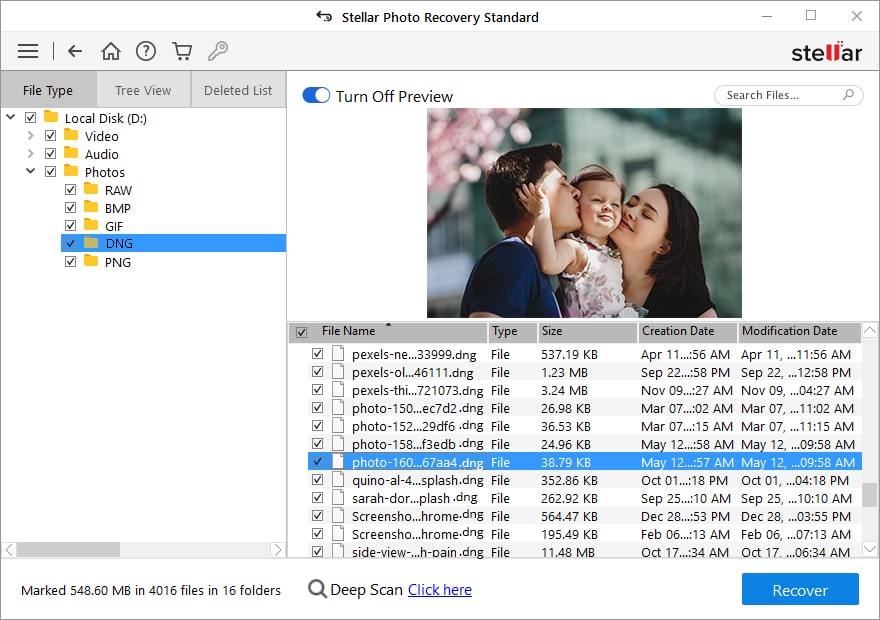 Step 5: From the dialog box, browse the location on your laptop to save the recovered photos.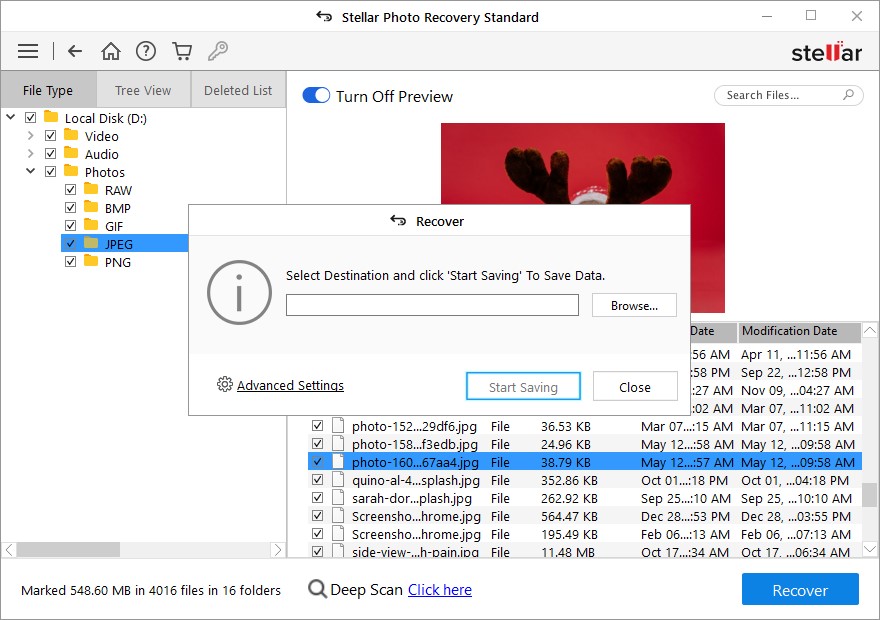 Conclusion
Factory rest is often a necessity that leads to files lost on laptop. That's the reasons backup is always encouraged. However, you may miss to take back up of your precious photos before resetting your laptop to default settings. Stellar Photo Recovery software can best tackle such critical photo loss situations. It is not only efficient but also fast and extremely easy to recover photos of any format from laptop.
However, it is recommended to use the free trial of the software. This will help to assess if it is efficient enough to retrieve your valuable photos from laptop after factory reset.

FAQ
1. Can I recover files after factory reset on Windows 10 free?
Yes. Simply download Stellar Photo Recovery free version. It can recover up to 10 photos or videos for free lost due to factory reset on Windows 10.
2. How can I recover photos on Windows 11 laptop?
Use Stellar Photo Recovery software to restore deleted or lost pictures on Windows 11 laptop. Click here to know other free photo recovery methods on Windows 11.
3. Can I get my photos back after a factory reset on Android?
Yes, you can recover photos after factory reset on Android from Google Photos, Google Drive, or other backup drive that you may be using. Another effective solution is an Android Data Recovery software that can retrieve lost photos after factory reset.