If your iPhone displays Black Screen of Death, frozen iPhone, White Screen of Death, iPhone stuck at Apple logo, errors, or other issues, there's a high chance its iOS has corrupted. The iPhone software glitches can make your ever-spontaneous iPhone slow or leave it completely unusable.
So, can you repair corrupt iOS, and if yes, how?
Yes, you can repair corrupted iOS. There are iOS repair software that can repair iPhone software. Besides, Apple recommends some manual methods too. However, some of them are tricky to attempt and pose risk of data loss. Nonetheless, there is no harm in trying them, if you want to repair iPhone software free.
Let's get into each method in detail.
1. Restart the iOS device
Restart the iPhone or iPad. Turn it off for a few seconds and then turn it on. See if this resolves iPhone software problem.
If you can't turn it off, try to force restart. Since steps to 'force restart' varies with iPhone model. Click here to know how to force restart your iPhone model.
2. Update iPhone/iPad
Software updates have the potential to repair iPhone issues. If you are able to access your iPhone, then update it to the latest version to repair iOS.
Follow the below steps to update iOS device:
Navigate to Settings > General > Software Update.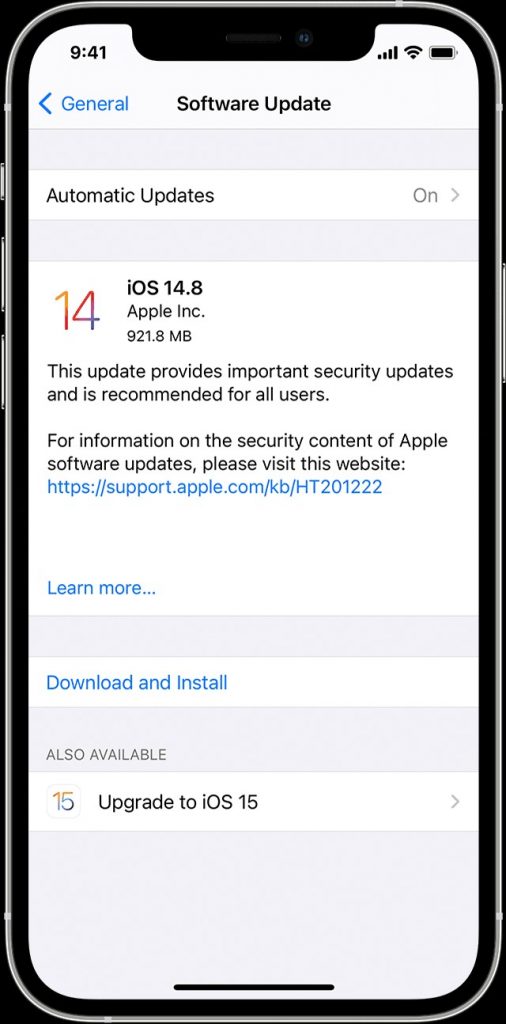 Click on Download and Install.
Enter your passcode and click Install Now.
Now check if the iPhone performance issue is resolved or not.
3. Restore your iOS device by factory reset
When Force restart or update don't repair iOS system, try factory reset. Also known as hard reset, the method will restore your iOS device to new. It will delete all data and sign out of all your accounts.
Factory reset is commonly known to fix iOS-related problems such as slow performance, Black screen of Death, White Screen, touchscreen not working, and more.
If you are not able to access your iPhone or its touchscreen is not responding, restore the device through iTunes by following the given steps:
Connect your iOS device to computer.
Launch iTunes. Make sure you have the latest iTunes version.
Select the Summary tab and click Restore iPhone.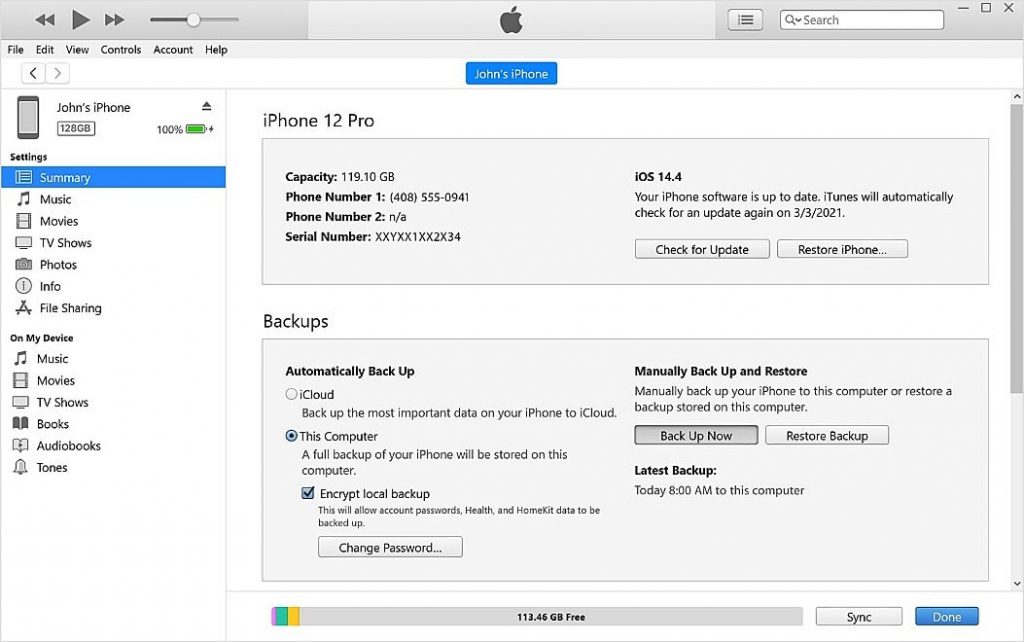 In the dialog box, select Restore.
Caution: Although iTunes will restore iPhone fixing the iOS issues but will also erase all the device data. So make sure you have iPhone/ iPad data backup.
4. Use Recovery Mode to repair iOS system
Recovery Mode in iPhone is a troubleshooting process that diagnose the iOS problem and repairs it. Like factory reset, Recovery Mode too deletes the current data from your iOS device. Hence, ensure the latest data backup is there before you try this method.
Here are the steps to Recovery Mode:
Connect your iPhone to computer and launch iTunes.
Force restart iPhone until you see the iTunes logo.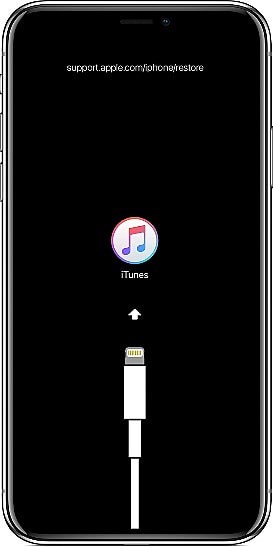 On the computer, a dialog box appears asking to Update or Restore.
Select Restore. Once the process ends, restore iPhone from backup in iTunes or iCloud.
Now check your iPhone or iPad, if it is functioning seamlessly or not.
5. Put iPhone/ iPad to DFU mode
Another solution for iOS repair is to boot your device to DFU mode. DFU stands for Device Firmware Upgrade. As the term suggests, this method upgrades your iOS firmware.
Like factory reset and Recovery Mode, repairing iOS by using DFU mode will also erase iPhone data and settings. However, you can put your iPhone stuck at black screen, white screen, or Apple logo back to normal.
The steps to DFU Mode is similar to Recovery Mode. Just that the iOS device screen shows blank in DFU Mode unlike Recovery Mode, which displays 'Connect to iTunes' message. Whichever iOS and iPhone/ iPad model you are using DFU mode works with all.
Here are steps to boot iOS device to DFU mode:
Connect iPhone/ iPad to PC or Mac and launch iTunes on computer.
Quickly press and release the Volume up button of your iPhone.
Press and release the Volume down button.
Press and continue holding the Side/ Power button until the iPhone screen turns black indicating it is in DFU mode.
Press the Volume down button while continue holding the Side/Power button for a few seconds.
Now release the Side/ Power button while continue pressing the Volume down button until you see the message — iTunes/Finder has detected an iPhone in recovery mode in iTunes app.
Click on Restore iPhone.
Once iPhone is restored, exit DFU Mode. To exit DFU Mode, force restart your iOS device until it reboots.
6. Downgrade iOS
In case the iPhone software problem is not fixed, or you are too bugged by the latest iOS upgrade glitches, downgrade to the previous iOS. However, beware as the process wipes iPhone/ iPad data completely.
Further, Apple opens downgrade to lower iOS only for a limited period after the new iOS release.  Read more on how to downgrade iOS.
7. Fix iOS system issues without data loss with software [Fast & easy]
Sometimes the manual methods don't work. They are strenuous as well. You may not be able to update your iPhone or unable to bring your device to Recovery Mode or DFU mode. Further, there's always a risk of data loss while manually fixing iPhone software problems. In such a case, try repairing the iOS with the help of a trusted software. Stellar Toolkit for iPhone is secure and an uncomplicated tool that fixes iOS issues without data loss. Use it to repair various iOS issues such as Black Screen of Death, iPhone freezing, crashing, device stuck at Apple logo, reboot loop, iTunes errors, White Screen of Death, and more.
The software is compatible with the latest iOS 16, iPhone 14, iPad Pro and below version series.
Step-by-Step: How to repair iOS issues with Stellar Toolkit for iPhone:
Step 1: Download Stellar Toolkit for iPhone on your Mac or Windows PC and connect your iPhone or iPad.
Step 2:  Select Repair iPhone module from the launcher screen of the software.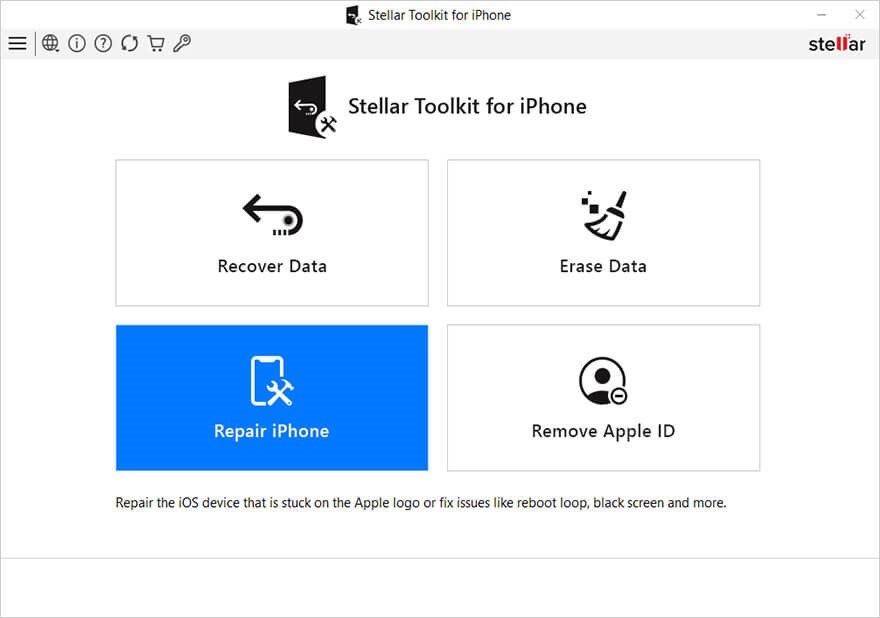 Step 3: Click on the Next button.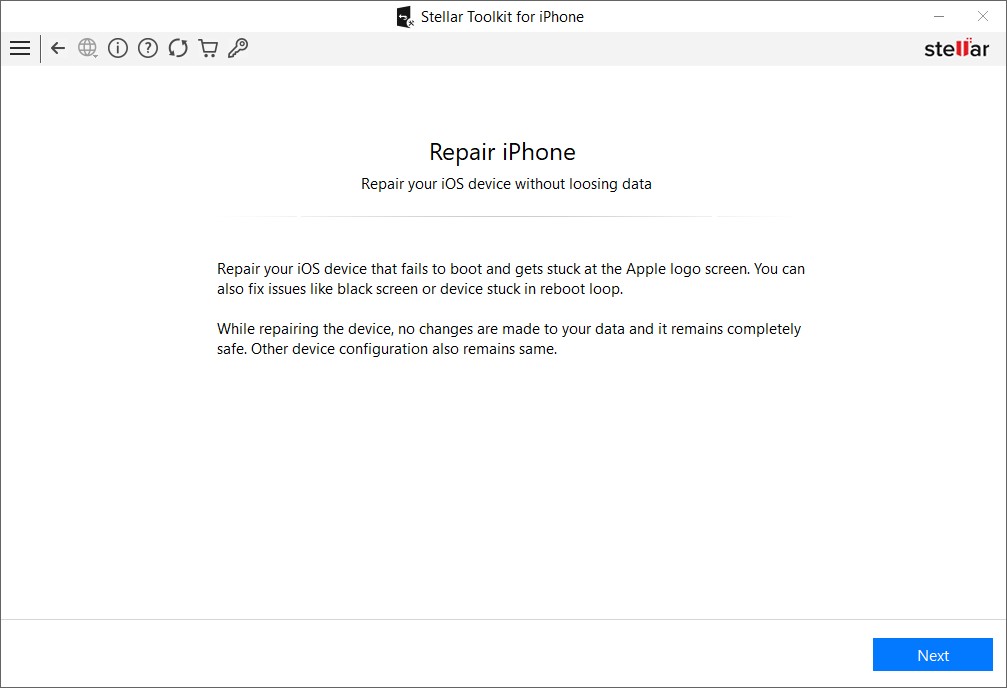 Step 4: Click on the iPhone icon.
Step 5: Click on the Download button to download the latest version of the firmware file. If you have already downloaded the firmware before, select Import.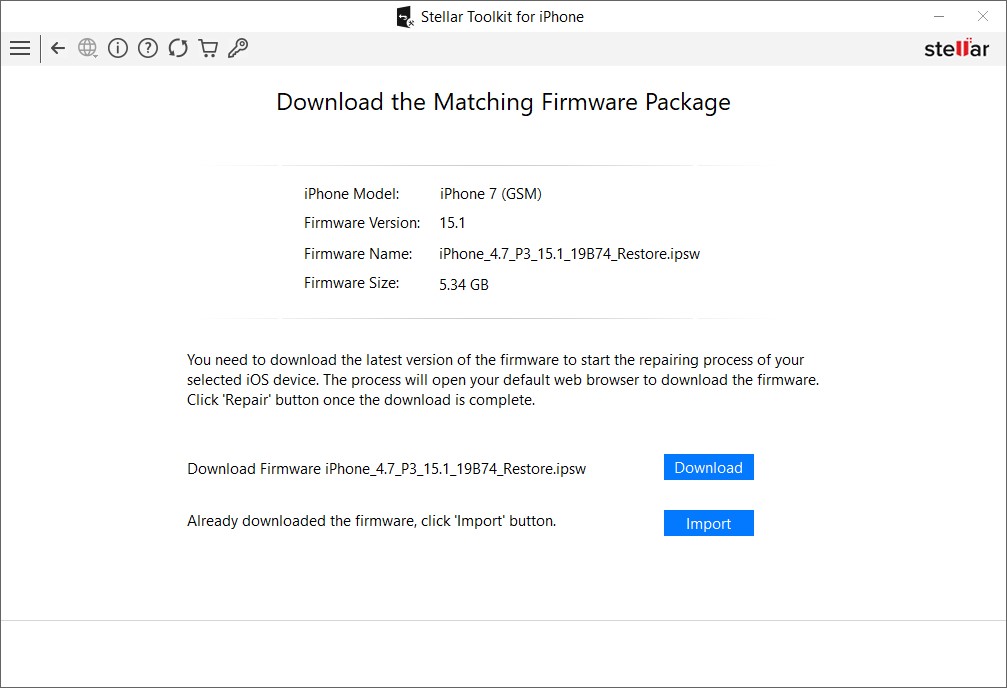 Step 6: After the firmware file is downloaded, click on the Repair button to start the repairing process.
Step 7: Once you receive the message —Repairing process of selected iOS device is completed, click OK.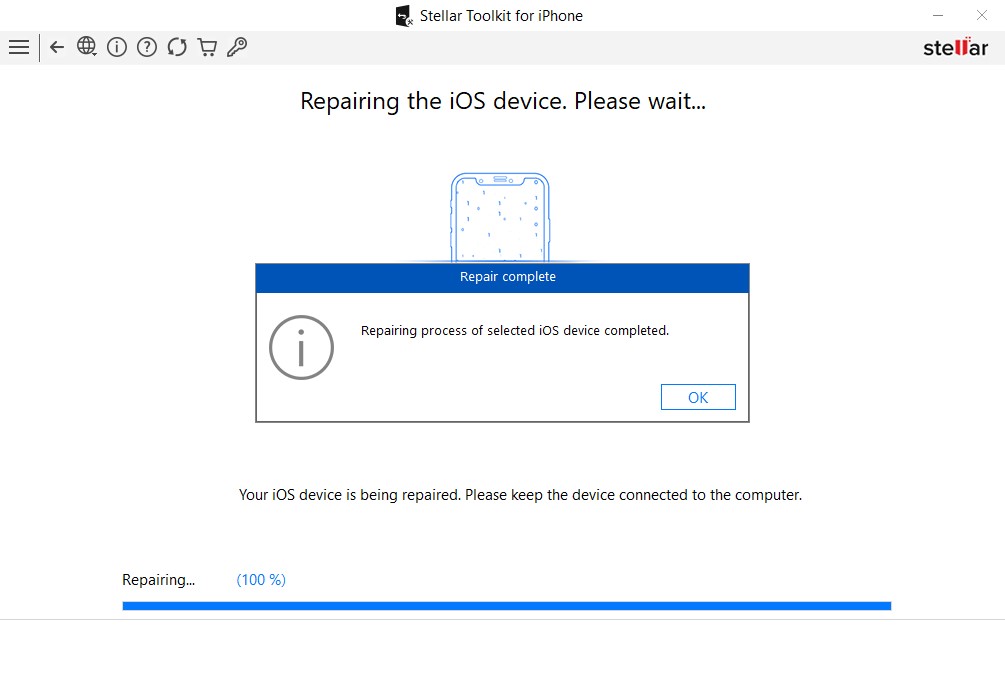 Restart your iPhone. Its iOS issue should be resolved now.
Conclusion
You can repair iPhone iOS by trying different methods shared in this post. The manual solutions can repair iOS free, but if you find them tedious and difficult to attempt, directly pick the best iOS repair software — Stellar Toolkit for iPhone. It is secure, fast, and easy to use. Moreover, you can repair iPhone software problems without worrying about data loss.
FAQ
1. How can I repair iPhone 12 Pro after iOS 16 upgrade?
Restart or factory reset your device. If that doesn't work, use Stellar Toolkit of iPhone to repair iOS issues in iPhone 12 Pro. You can also downgrade to the older version, if the problem persist.
2. After iOS 16.1 upgrade on my iPhone SE 2, I get the message: 'Messages in iCloud not available. Messages in iCloud is not available because iCloud and message accounts are different.' How to fix the issue?
To fix this iOS 16.1 error, first sign out of iCloud and then sign back. To sign out of iCloud, go to the Settings. Click on your Apple ID and enter password to confirm 'sign out'. Now sign in again to access iCloud. In case the problem persists, try Stellar Toolkit for iPhone to fix the iOS issue. Forgot Apple ID? Learn what to do.
3. Which is the best iOS repair software?
The best iOS repair software is automated for fast and easy iOS repair. It supports the latest iOS and all the iPhone and iPad models. you can use the trusted iOS repair software—Stellar Toolkit for iPhone. It is secure and comprehensive solution to all iPhone software problems.
4. Can Apple repair iOS problems in iPhone free?
You can contact Apple support free assistance on any iOS issue. Although, there is no clear iOS software repair service offered by Apple. However, the new self-service repair program by Apple would allow you to fix hardware issues. You can buy parts to replace iPhone screen, battery, and camera, etc.