Stellar Converter for OLM proves to be helpful for all those in need of migrating to Outlook for Mac to MS Outlook. The software is easy to handle and very self-descriptive in nature. Described below is the process how to convert an OLM file to PST data file.

First, download the software. The software interface opens up after the installation is complete with the following window wherein you can select the mailbox (OLM).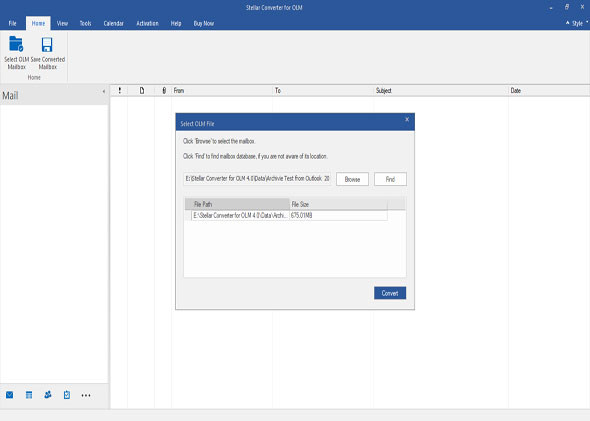 Here you can also see the 'Find Mailbox' button in addition to the 'Select Mailbox' button, which you can use in case you need to find a particular OLM file from a number of files from your system.
NOTE: The software is built for Windows platform, hence you need to copy the OLM data file to the system where the software is installed and then select the OLM for conversion.
Select the OLM file and then click 'OK' to convert.
After the conversion process is over, you can preview the mailbox so converted to the corresponding PST. All the mail components, such as the Inbox, Contacts, Calendar, Tasks, and Notes etc. get listed in the right-hand side pane and the corresponding details in the left pane.
NOTE: If you are trying the demo version of the software, you can view only the subject line and read the message body of the mail. To preview the 'To' and 'From' fields you need to buy the full version of the software.
Now, you can save the converted mailbox into a PST file. In addition, you can also save it as an MSG or an EML file.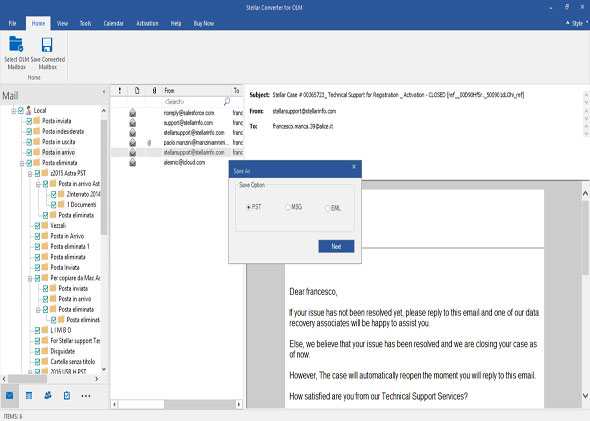 One good option while saving as PST file is that you can save the resultant data file as a new PST, wherein the each mailbox can be saved as individual PSTs or all the mailboxes as a single PST. Also, you can append it to an existing PST file.
Afterwards, you can import this PST file to MS Outlook and start accessing your emails.