MS SQL Server is a widely-used and reliable server environment today. However, it's database (MDF) file is not immune to corruption issues; thus this brings in the need for an immediate repair to restore all the inaccessible data. >Stellar Repair for MS SQL software specializes in repairing the damaged MS SQL database file, followed by saving it at any preferred location on your system.
In the SQL Server database repair process, it enables you to preview all the objects of the database before saving. Additionally, the software detects the SQL server version to accomplish the MDF file repair process. However, when the database file is severely damaged, the software fails to identify the database version and restricts the repair process. 
If you are facing this issue whereby the software is unable to detect the database version, know what you should do then here!
There is an option to choose the database version manually. When software fails to detect the version then, it prompts a pop-up to select the database version manually:

Now read the complete methods to repair SQL database using Stellar Repair for MS SQL software.
Stepwise MS SQL Database File Repair Process: To repair MS SQL Database .MDF file with Stellar Repair for MS SQL, you need to follow these steps: 
Select the MDF file by clicking on the 'Select Database' icon from the File menu or by clicking on the 'Browse' button and selecting the MDF file.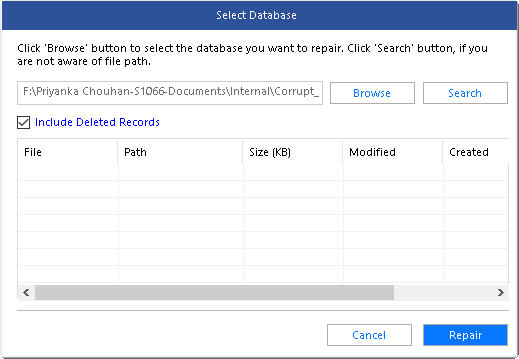 Click the Repair button. The tool will begin with the repair process once you select the corrupt SQL database file. 
Finally, a pop-up box with the message 'file has been fixed successfully' appears on the screen.

Click OK to save the repaired database file at any desired location on your system.
You have four options to save the repaired SQL database, as shown in the figure: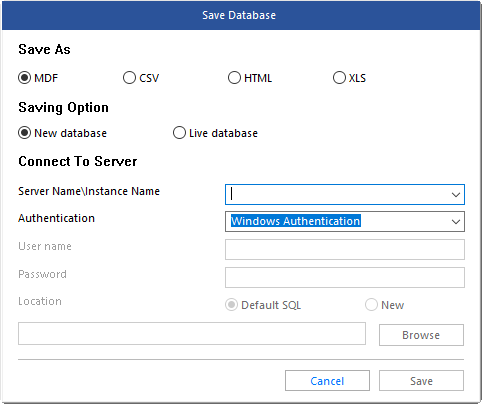 Choose an option and save the repaired MDF file successfully.