Outlook is one of the most popular email clients, developed by Microsoft. It helps users manage their emails from multiple sources under a single application. Outlook provides many advantages, making it the default email client for a lot of Mac users. However, there are instances when users complained about Outlook for Mac showing error in singing in, Outlook calendar is not syncing, and other technical issues. If you are also facing multiple Outlook issues on Mac, then we are here with easy solutions to all those issues. In this article, we are going to discuss the issues and their solutions in a comprehensive manner.
Issue 1: Buttons related to selecting Reply, Reply All, and Forward are not working.
There are issues with Reply, Reply All, and Forward buttons. Although clickable, when you are trying to select them, these buttons don't work expectedly.
Solution: The issue can be solved by installing an updated or latest version of Office 16.65.22091101. To check for update and install , follow the steps given below:
Open an Office app, like Word, then from the top menu, click Help > Check for Updates.
Note: In case, if you do not see Check for Updates, run the latest version of Microsoft AutoUpdate tool, then check for updates again.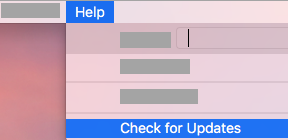 Now, select Automatically keep Microsoft Apps up to date to get the latest security fixes and feature improvements.
Click Update to download and install all the available updates.

Issue 2: Attachments and inline images fail while sending a signed or encrypted email using the new Outlook for Mac.
The new Outlook for Mac fails to send a signed or encrypted email with attachments and inline images.
Solution: This issue can be resolved by downloading Outlook for Mac build 16.66. 
Issue 3: Using search feature makes the New Outlook for Mac Unresponsive.
In this case, when a user tries to search a query, as soon as the search suggestion drop- down displays, the new Outlook for Mac stops responding or crashes.
Solution: This issue on Outlook for Mac is the result of a recent service update, which was intended to optimize users' search experience. However, this intended optimization causes Outlook to stop working while a user attempts to perform some specific searches. It can be resolved by 'Reverting' the update. As soon as you revert from the update, your Outlook for Mac will stop crashing. 
Issue 4: Outlook for Mac crashes as soon as user synchronizes emails, as well as during startup. 
Outlook for Mac is experiencing crashes during email synchronization. It also crashes after you add another account. This crash happens on startup of Outlook application too, making no difference even when a calendar event has a NULL OriginalStart property.
In addition to this, you may also see a Microsoft Error Report that recommends updating your client.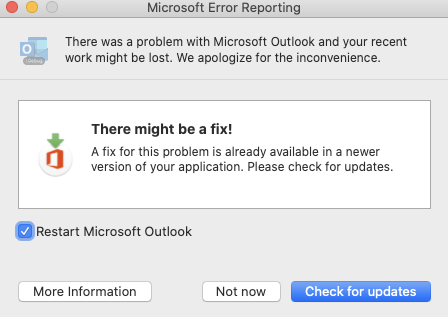 Solution: Microsoft has already released a fix in their latest client update version 16.47 or later. You are required to install Office updates to fix the issue of crashing.
Issue 5:Error "Account already exists", on Outlook for Mac.
The error 'Account already exists' appears when you are adding a mailbox to Outlook for Mac. This error is experienced when you're trying to add a shared mailbox through the main 'Add email account' window.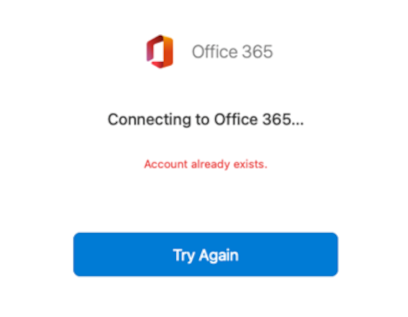 Solution: This issue can be resolved by following these few recommendations; first, close the error window and go back to the main Accounts window. Secondly, see if you have not added your main email account. In case, you did not, then you have to do it before you can add the shared mailbox.
Once the main email account is added:
Select Delegation and Sharing.
Click on Shared with me.
Select the plus (+) in the lower-left corner of the window.
Now, Add the shared mailbox.
Issue 6: Error -17099 or -3253, when trying to send an email with an attachment.
Your email fails to send with an attachment, and you receive an error – Outlook Error 17099 or – Outlook Error 3253.
Solution: The issue appears to have been caused by the introduction of Vulnerability Protection module of Norton Security of Mac version 8.6.3 or newer. But, with the release of Norton 'hotfix,' this issue can be resolved.
Issue 7: Outlook for Mac fails to open attached files when helper application is running.
Outlook for Mac users receive Error: The file "filename.ext" could not open because you don't have permission to view it. This error is seemingly caused due to running of helper application on MacOS 11.6.6 update.
Solution: The error can be resolved simply by installing the update to MacOS 11.6.7. In case, you did not install it yet, you can still solve the issue by closing the helper application. For instance, if you are trying to open a PDF file that uses preview as default application, then quit preview.
You may also like How to Save .OLM File as PDF.
Issue 8: Unable to create new signatures and existing ones are missing in new Outlook for Mac.
As soon as you install Office for Mac 16.63 update, you are denied the permission to create new signatures by selecting the plus sign (+), along with losing existing signatures.
Solution: This issue can get resolved with an upgraded, new version of Outlook for Mac build 16.64.
Issue 9: After updating Outlook for Mac, fields like To, CC, and BCC are shortened.
An issue occurs after installation of the update 16.57 for Legacy Outlook for Mac. The email fields like To, CC, and BCC are found shortened.
Solution: The Mac Beta Channel Version 16.58 (Build 220106) fixes this issue in Outlook for Mac. You can update your Legacy Outlook for Mac to fix the issue. 
Conclusion
In article above, we have picked issues that frequently trouble Outlook for Mac users. These are very common issues that can be solved easily by installing upgraded version of Outlook for Mac or in some cases, by installing the latest version of MacOS altogether However, if the solution discussed in the article does not help in solving your Outlook for Mac issue, then you can check out Stellar Converter for OLM. The software provides users with a cutting-edge technology in seamless conversion of OLM files to different formats. Stellar's OLM to PST converter is a smart software that fulfills the demand of technical and professional users of Outlook for Mac.
This OLM converter is highly useful in converting Outlook OLM files in multiple file format and email clients. It offers users to convert all email items of the OLM database like emails, attachments, contacts, calendars, etc. into different formats.