What is QuickBooks Error Code H202, and How Do You Fix It?
Summary: In this post, we'll talk about QuickBooks error code H202, what causes the error, and how it can be fixed using manual methods and QuickBooks repair software.

When switching QuickBooks to multi-user mode, users often report receiving error code H202 in QuickBooks. This error usually means that multi-user connection to your server computer, used for storing QuickBooks company files (QBW), is blocked. Inability to communicate with the server computer will prevent you from accessing the QuickBooks company file.
What is QuickBooks Error H202?
On a multi-user network, QuickBooks company files (QBW) are stored on a server computer. All other computers connected to the network (that don't host the QBW files) are called workstations. When a workstation fails to access a company file placed on another computer, it results in H202 QuickBooks error. The error message reads as follows:
Error code: H202
This company file is on another computer, and QuickBooks needs some help connecting.
Here's how to fix this problem:
On the computer where the company file is located, open the start menu, then open QuickBooks Database Server Manager. The Database Server Manager will scan your files and restore the connection.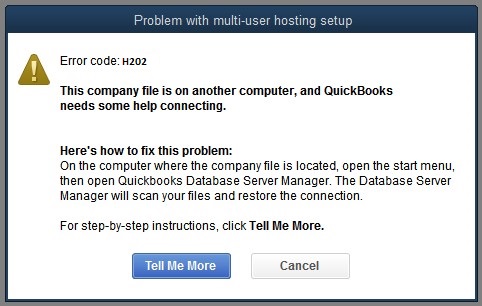 Figure 1 – QuickBooks Error Code H202
What Causes QuickBooks Error H202?
QuickBooks error code H202 occurs when QuickBooks Desktop is trying to establish a connection to the company file, but can't communicate with the server due to one of the following reasons:
Incorrect hosting configuration settings.
The server computer firewall is blocking incoming and outgoing communication.
Conflict with DNS server.
QuickBooks is unable to get the IP address of the host system or server hosting the company file.
Some internal QuickBooks services like QuickBooksDBXX or QBCFMonitor aren't running on the server computer.
The network data file (.ND) is corrupt or damaged.
How to Fix QuickBooks Error H202?
NOTE: Before performing the solutions explained in this section, make sure to back up your QBW file. Doing so will ensure that you can go back and restore the original data.
Intuit recommends using the QuickBooks Database Server Manager to fix the error. But if you've already done that, and still getting H202 error, try the following solutions:
NOTE: For optimum results, implement the solutions in the following order.
Solution 1 – Test Network Connectivity
Ping your server from the workstation getting error H202 to check network connection.
NOTE: If you don't know your server name, you will need to turn on "Network Discovery" on your server computer and any workstation receiving the error.
Follow these steps to ping your server:
Type run into Windows search bar to open Run window.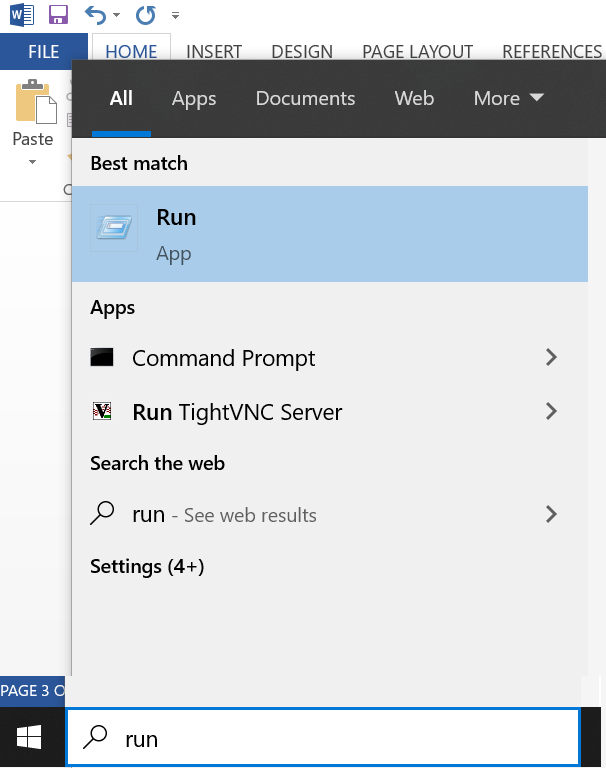 Figure 2 – Windows Search Bar
In the Run window, type cmd into the search box, and click Enter.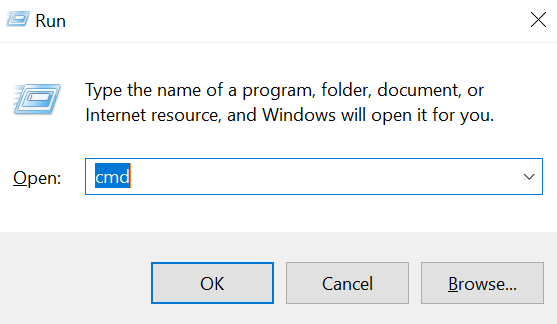 Figure 3 – Run Window
Enter ping [servername] to ping the server name from your workstation, and press the Enter key.
NOTE: Make sure to keep space between ping and your server name. Also, don't include brackets around the server name when executing this step.

Figure 4 – Ping your Server
If you detect packet loss or get a slow reply, it means the network needs to be repaired. In that case, proceed to Solution 2.
Solution 2 – Use the QuickBooks File Doctor Tool
Run QuickBooks File Doctor Tool to resolve network issues that might be blocking multi-user connection to the server.
Read this: Fix company file and network issues with QuickBooks File Doctor
If the QuickBooks error H202 still persists, try the next solution.
Solution 3 – Configure your Firewall Settings for QuickBooks Desktop
Make sure that the server computer firewall settings isn't blocking QuickBooks. Read the post 'Configure Firewall and Internet security settings for QuickBooks Desktop' for detailed instructions on adding QuickBooks ports exception on the firewall.
Once you've set the firewall permissions, try opening QuickBooks on your workstation in multi-user mode. If the problem persists, check out the next solution.
Solution 4 – Make Sure the QuickBooks Services are Running
Ensure that the QuickBooks services are running on the server computer. Follow the below listed steps to check if the QuickbooksDBXX services are running, and then repeat them for QBCFMonitorService.
Type Run into the Windows search bar.
In Run window, type services.msc, and then hit Enter.
In Services window, browse and double-click QuickBooksDBXX on the list.
NOTE: XX notes is your version of QuickBooks.
The QuickBooksDBXX Properties window is displayed. Select Automatic as the Startup Type.
The Service status must be set to either Running or Started. Or else, select Start.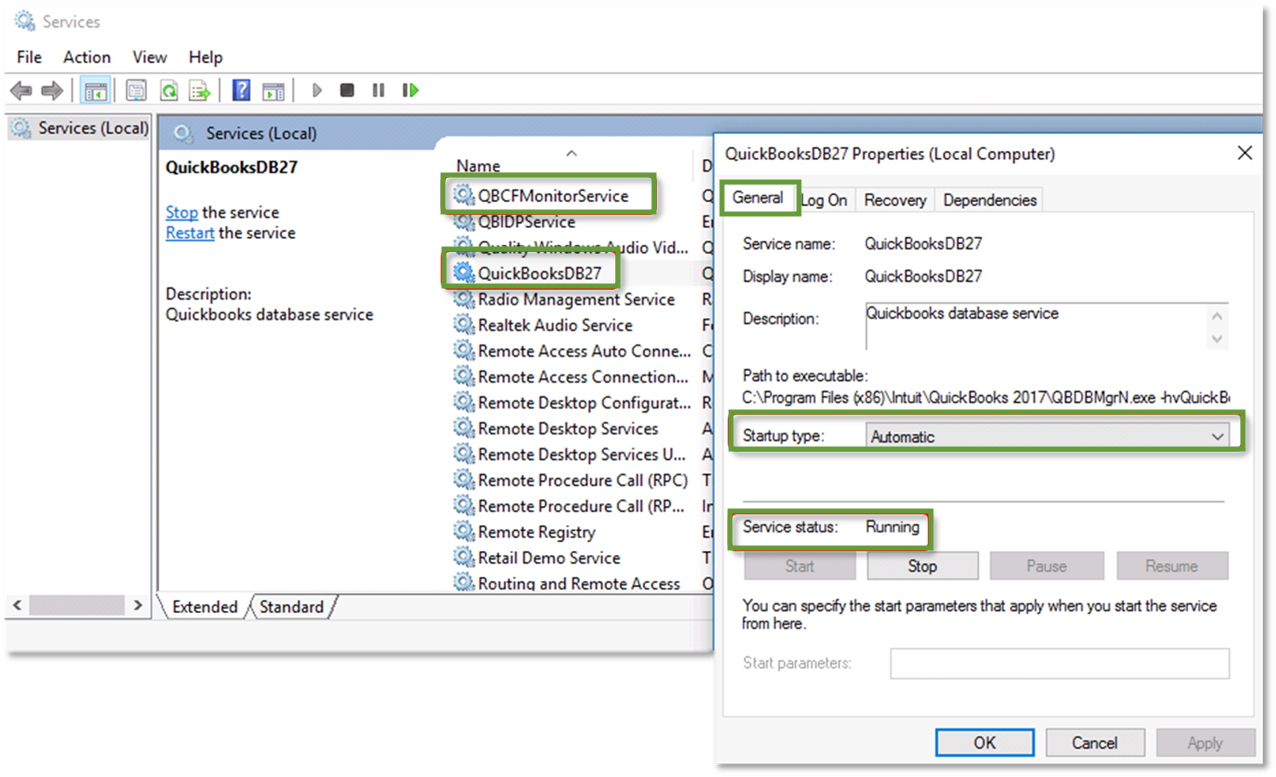 Figure 5 – QuickBooks Services Window
Next, choose the Recovery tab.
Choose Restart the Service from all three drop-down menus: First failure, Second failure, and Subsequent failures.
Figure 6 – Select Recovery Tab
Click Apply, and then click OK to save the changes.
Repeat the steps for QBCFMonitorService. Once you've completed the steps, open QuickBooks on each workstation. Click the File menu and choose Switch to Multi-user Mode option. If you can correctly open everything, the problem is fixed.
Solution 5 – Add your Server to Windows Hosts File
To add your computer server to the Windows hosts file, you will need to edit the file. To do so, follow these steps:
Browse any of the following paths to open the Windows hosts file (on the computer getting the error):
C:\Windows\System32\Drivers\Etc.
C:\Windows\Syswow64\Drivers\Etc.

Figure 7 – Windows Hosts File
Double-click the hosts file.
When prompted with 'How do you want to open this file', choose Notepad.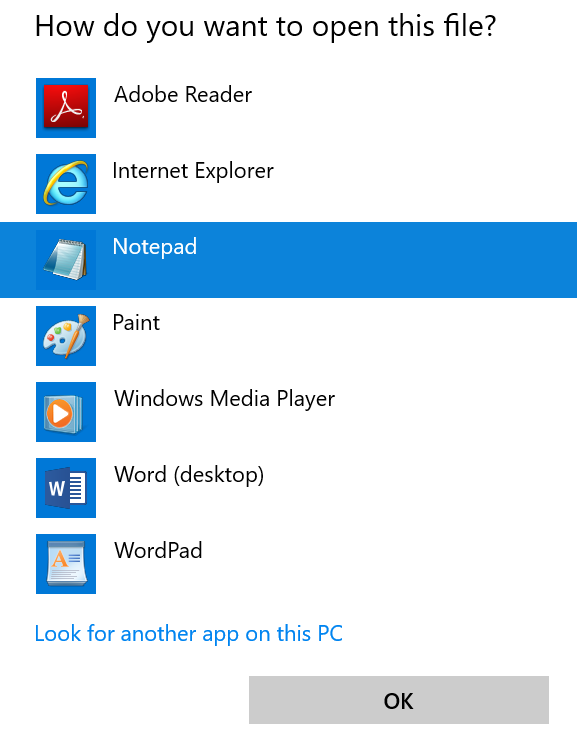 Figure 8 – Select Program to Open Hosts File
In the hosts file, after the last IP address, enter Server's IP address followed by server name.
NOTE: Use TAB key instead of space bar for separating IP address and server name.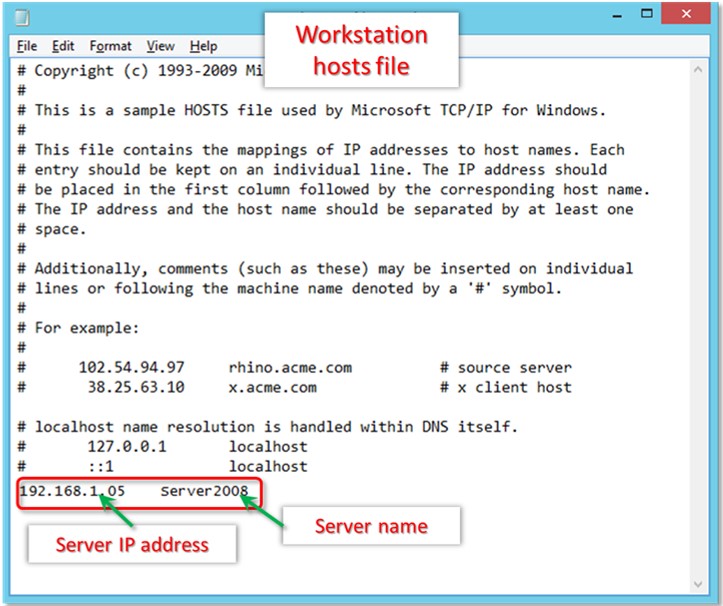 Figure 9 – Add Server Details to your Hosts File
From the File menu, choose Save.
Click Exit.
After executing the above steps, try opening the company file in multi-user mode. If this doesn't work, proceed to the next solution.
Solution 6 – Create a New Folder for Your QBW File
The next method is to create a new folder for your QBW file:
On the server computer, create a new folder.
Share the folder and set up folder and Windows access permissions to share company files.
Copy the QuickBooks Database (QBW) file to the new folder.
Open your company file in multi-user mode again.
Solution 7 – Set Hosting to Local Files
Following these steps will ensure that no other client system is trying to host the same company file:
Launch QuickBooks and press F2 to open the Product Information screen.
In the lower left corner, select Hosting to reflect 'local files only' under Local Server Information.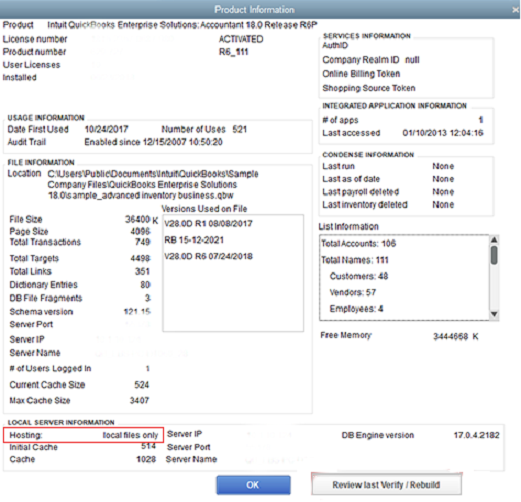 Figure 10 – QuickBooks Product Information Screen
Solution 8 – Restart QuickBooks Database Server Manager
Many QuickBooks users have said that restarting Database Server Manager helped them resolve the H202 error in QuickBooks. Here's how:
Open the Run window, type services.msc, and then click OK.
Right-click QuickBooksDB19 (2009), QuickBooksDB18 (2008) or QuickBooksDB17 (2007) and select Stop.
Right-click and select Start. Then close the window.
Display extensions for known file types.
Right-click the Windows Start button and select Explore > Tools > Folder Options.
Click the View tab and clear Hide extensions for the 'known file types' box.
Again click the View tab, select Show hidden files and folders, and then clear the 'Hide protected operating system files' box.
In Warning window, click Yes, and then hit OK.
Close Windows Explorer.
Solution 9 – Delete and Recreate the .ND file
Try deleting and recreating the corrupt .ND file to fix the issue:
In Windows search box, type *.ND, and then hit Enter.
In the Results window, right-click on the .ND file and click Delete.
Confirm deletion when prompted.
Next, click the Windows Start button.
Select All Programs > QuickBooks > QuickBooks Database Server Manager.
Click the Scan Folder tab.
Click Add Folder, and browse the company file folder.
Select the company file, and click the OK button. The path to the company file is in the Folder with QuickBooks company files field.
Click Scan to start the scanning process.
Once the scan is complete, click Close.
What Else Can You Do?
If the problem persists despite following all of the above solutions, you can contact the QuickBooks customer support team for help.
Remember performing the above solutions incorrectly can lead to data loss. Therefore, it is recommended that you must back up your company file. But if you suspect that your company file is severely damaged or corrupt, using Stellar Repair for QuickBooks® Software can help. The software can also help you remove all the errors from the QBW file and your QuickBooks application.
Why Use Stellar Repair for QuickBooks® Software?
The advanced QuickBooks File Repair Software can repair severely damaged and corrupt QuickBooks (QBW) file, without making changes in the original file.
Can help eliminate recurring errors, application freezes, and data loss risk.
Recovers all data of the company, its customers, vendors, and employees.
Interactive user interface easily scans QBW file and displays preview of recoverable data.
Can recover data from QuickBooks backup file (QBB)
Supports QuickBooks 2021 and all the lower versions.

Final Words
QuickBooks error code H202 can be a tough one to resolve. However, with the right solutions by your side, you can overcome it and all other such problems to keep working on your QuickBooks financial transactions, uninterrupted. This post covers all the solutions that can help you get rid of the QuickBooks error H202. But, make sure to back up your QuickBooks company files and keep Stellar Repair for QuickBooks® software handy for repairing the QBW file and recovering its data.