How to fix corrupt CR2, NRW, ARW, NEF, SR2, SRF, TIFF, CRW, PEF, ORF, RAF, RW2, DNG, ERF, MRW files – A Step by Step Guide
Summary: Pictures hold immense value as works of art, cherished memories, or for professional project. Whether in RAW or JPEG, losing such valuable photos taken with DSLR, Point and Shoot, or digicam due to corruption is a big loss. This post shares some of the most effective ways to repair RAW and JPEG images shot from any camera.
Let's first understand why photos get corrupt, and how is the repair process for JPEG files different from that for camera-specific RAW image files.
Why does a RAW/JPEG photo get corrupt?
There can be many reasons for corruption in photos such as—
Sudden system crash or power failure during transfer of image files
Using a camera SD card that's low on storage space
Trying to capture and save photos when the camera has low battery
Virus infection
Improper handling of SD card
Bad sectors on the storage media
Corruption in media due to high humidity and heat
RAW vs JPEG file format: How to repair corrupt photos?
DSLR cameras can shoot in both RAW and JPEG formats. RAW file formats are unique to every camera brand. They are uncompressed, high quality, and large images and are not supported by all software. On the other hand, photos captured in JPEG format are smaller in size and can easily open in most of the image editing programs.
There are several ways you can attempt to repair JPEG photos but rarely any tool can effectively fix corrupt RAW camera files like SR2, SRF, TIFF, CRW, PEF, ORF, RAF, or RW2 etc.
Yet most of you would love to shoot in RAW as it gives the freedom to enhance the pictures in the editing stage.
The common RAW files formats of popular camera brands are: Canon (CR2 /CRW), EPSON (ERF), Fujifilm (RAF), Konica Minolta (MRW), Nikon (NEF, NRW), Olympus (ORF), Pentax (PEF), Sony (SR2, ARW, SRF), and Panasonic (RW2).
Methods to repair corrupt photos
There are manual ways to fix minor corruptions in JPEG or RAW images that are caused due to incompatible file formats or image codecs. However, a software-based approach is a more effective and secure method for repairing any kind of corruption in the photos, whether JPEG or camera-specific format.
Plus, a professional software offers a broader set of utility to address photo corruption in terms of support for photo formats, extent of corruption, repair speed, convenience, etc.
For instance—
Stellar Repair for Photo is an image repair software that can fix and restore corrupt RAW and JPG images taken from Sony, Canon, Nikon, Panasonic, or any other camera.
The DIY photo repair software is relevant for both professional photographers and home/individual users to fix corrupt image files and restore them in JPEG form.
The photo repair tool works on blurry, grainy, and broken images, and also on pictures that have grey bands or tiles over them.
Interestingly, the photo repair tool extracts thumbnails of severely corrupt photos that are beyond repair, and also shows preview of the repaired files before saving them.
And it can repair corrupt CR2, NRW, ARW, NEF, SR2, SRF, TIFF, CRW, PEF, ORF, RAF, RW2, DNG, ERF, MxPEG, MRW JPEG/JPG, and Adobe DNG files.
So, how to use Stellar Repair for Photo software?
Follow these simple steps:
Run Stellar Repair for Photo software on your PC.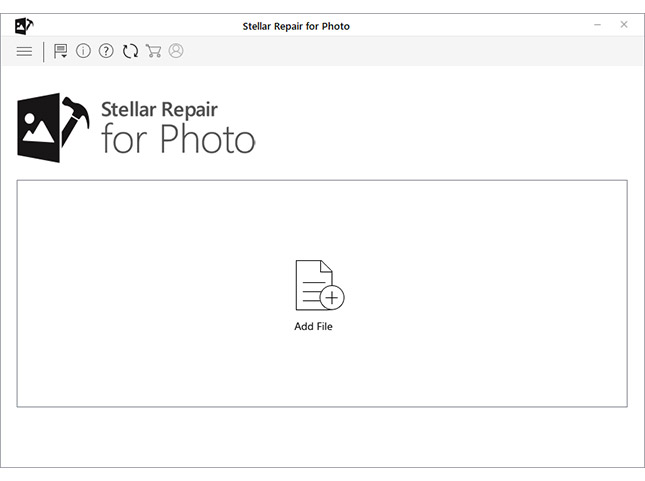 On the main user interface, click

Add File

.

In the Add File dialog box choose the location from where you want to select the image files. Click Open.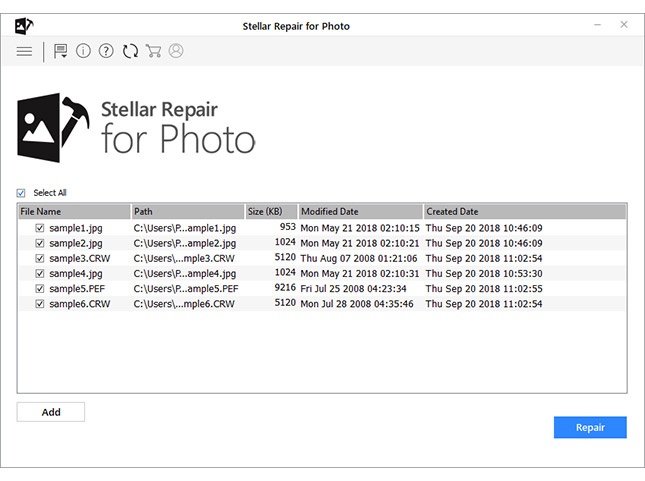 The selected image files are displayed. In the list, check pictures that need repair. Click Repair.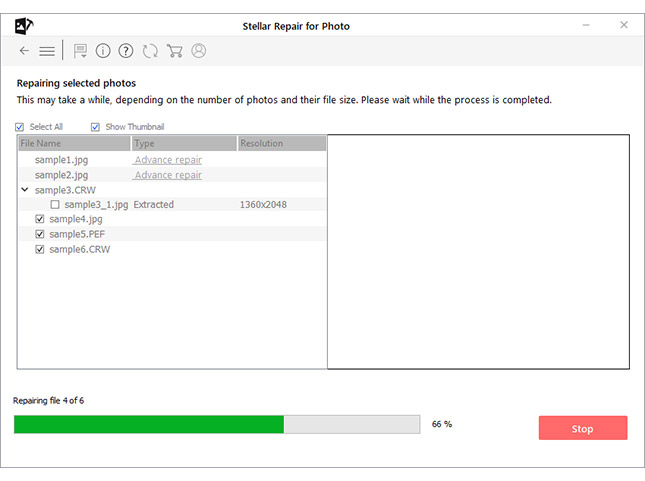 In the repaired files dialog box, click To Preview the file before saving, select and view it in Preview window.

Click Save Repaired Files. Select Folder dialog box is displayed. Select location to save the repaired photos at your desired location.
Manual hacks to repair and fix photo corruption
1. Reduce noise in photos with Image Editors
Use image-editing tools like Adobe Photoshop, Picasa, or Lightroom etc. to fix noise in image files. However, unlike the photo repair software these tools cannot fix file system errors, corrupt header or invalid file structure etc. But you can remove and fix grains, blurriness, or pixelation in the images to a limited extent.
2. Open photos in different program
Images can open in Gimp, Adobe Photoshop, IrfanView, Lightroom etc. If the photos are not opening in one program, open in another. Also ensure that the software you are using to open the pictures is updated.
3. Download Microsoft Camera codec pack
If you are unable to view or save your camera photos in Windows Photo Gallery, probably the default image viewer does not have the supporting image codecs.
Download Microsoft Camera codec pack, this Microsoft codec pack is free, and allows to view a variety of device-specific file formats on your computer.
4. Use image file converter
If the CR2, NRW, ARW, NEF, SR2, SRF files etc. are not opening, try once converting them to another format by using photo file converter tools that are available online.
To Sum Up
RAW or JPEG, the photos lost due to file corruption can be addressed with the right software. And Stellar Repair for Photo, being a DIY photo repair tool, makes the task even easier.
Benefits such as thumbnail extraction, preview before saving, and ability to repair multiple files of same or different format at a time have already made it a popular pick.
Still not sure? Try out the free demo version to assess the full capabilities of the software.