How to recover unsaved Krita files
Summary: Krita is a free and open-source digital painting application designed for artists. But what if you accidentally delete your Krita files? You will lose all progress on your current project in one go. We understand your hard work and efforts, and that's why we have listed several methods to recover deleted or unsaved Krita files.
Krita is a free and open-source digital painting application. It was created to provide artists with a free tool to create digital paintings. Although Krita is a great tool to create immaculate art, there's still a looming risk of accidentally deleting a Krita file.
If an artist loses their Krita files, they may have to start over or have to discontinue their projects.
We have outlined a number of methods to recover Krita files. So, continue reading this blog post if you're looking for a way to recover deleted or unsaved Krita files.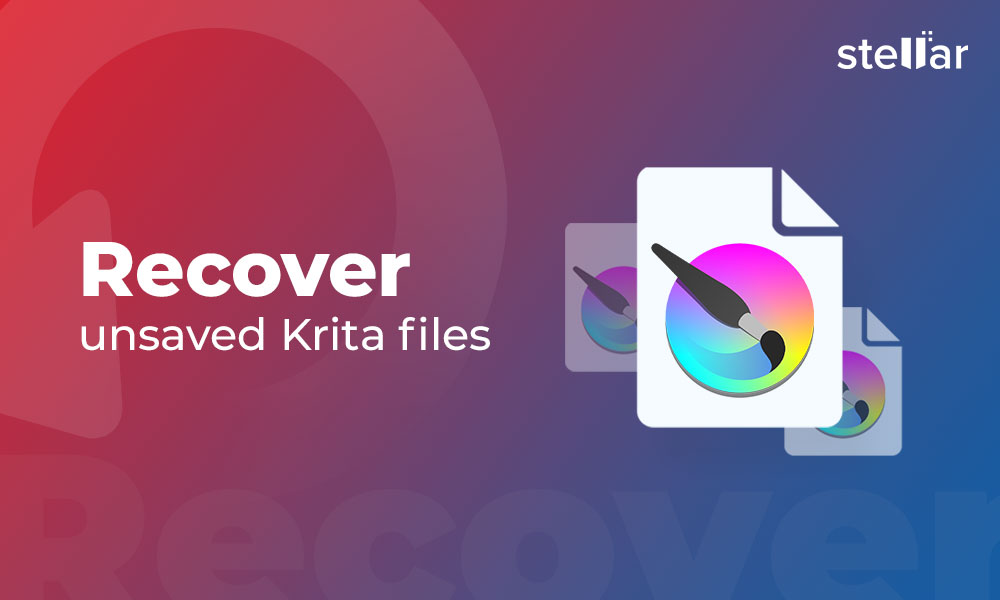 What is Krita and how is it helpful for artists?
Krita can be used by artists to create digital paintings and illustrations. It offers a wide variety of brushes and tools to suit different styles and needs. Artists can also use Krita to create animations, comics, and concept art.
There are many pros and cons of Krita. The application has a user-friendly interface, and it is available for free.
However, it can be challenging to find brushes and other resources for Krita, and it is not as widely used as some of the other digital art programs.
What are the ways artists can lose their work in Krita?
Krita is a great tool for artists who want to create their work from scratch. Yes, Krita does have an autosave feature but what if doesn't save and you end up losing your work? Accidents can happen but it can be disastrous for an artist who won't be able to create the same kind of work as before. Therefore, it is very important for artists to know how to recover Krita files when they rely heavily on that platform to create the best of their work.
Here are a few possible ways artists can lose their Krita files:
When you accidentally or deliberately delete your Krita file
When you do not save your Krita file
When Krita crashes before saving the file
How to recover Krita files
You can recover unsaved Krita files in one of the following ways:
1. Enable Auto Save Option:
The Auto Save option will automatically save your file after a set period of time, say 15 minutes by default. Next time, when you open a file, it will ask you whether you want to restore its autosaved version.

If you didn't save the file or if changes were made to the file, autosave would be carried out. You can modify the default setting under Krita's Configure Krita settings. If you have enabled autosave, it will save your work on its own even if you forget.
However, you can perform the same action on a Mac by choosing Autosave from the Application menu of the Krita app.
Therefore, if you didn't save your work, Krita creates an untitled file containing the project's autosave. The home directory contains this nameless file. The autosave file will be found in "User's>%TEMP%" in Windows.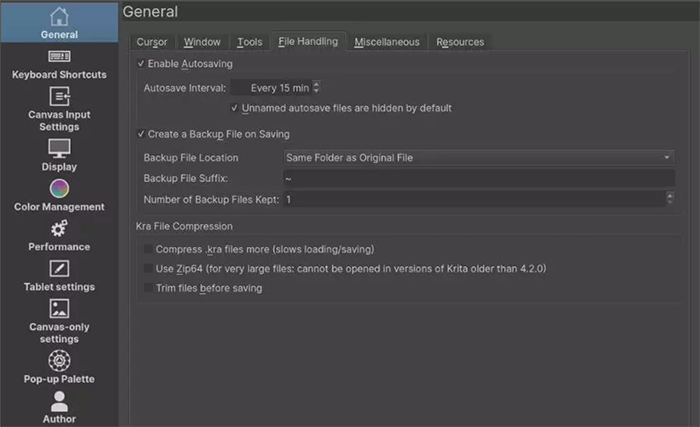 2. Using Backup Files
There are three types of backup files in Krita. They are given below:
Ordinary backup files
Incremental backup files
Incremental version backup files
Let's see how these backup files work to recover your Krita files
If you open a file on Krita and make changes to it then the application will automatically store a backup of this file or you can store the backup in some other storage drives, which could be easy to recover in the future in case of some emergency. In Krita, backup files are enabled by default. So even if you forget to take a backup of the previous file, don't worry. The next time you open the Krita application, it will ask you to restore that particular file or delete it.
Ordinary backup and incremental backup are very similar, except with incremental backup, a copy of the most recent data saved is first saved to another file. The backup file is not overwritten because incremental backup uses numbers instead of the '~' suffix used in the ordinary backup.
The incremental version, Krita's final backup option, does not use the original files. It functions similarly to incremental backup, except that the new file is saved with a file number.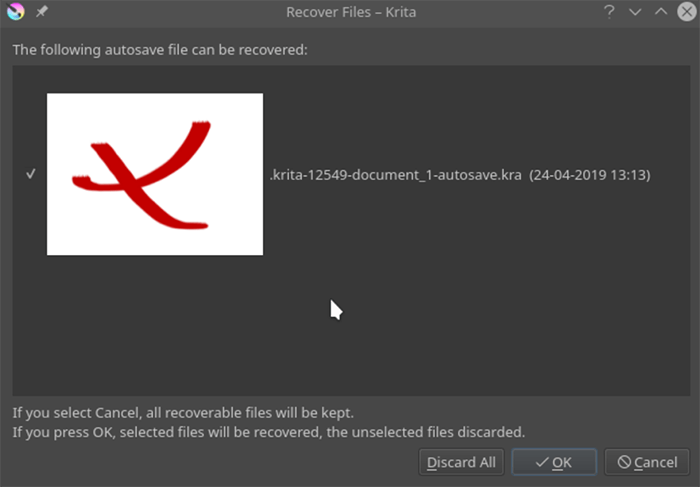 3. Recover Krita files using recovery software
Professional software like Stellar Photo Recovery can even recover your permanently deleted Krita files. This easy-to-use software is a popular tool among artists as it supports the recovery of all known and unknown file types of photos, videos, and audio. The Professional and Premium editions of this software can even repair damaged files apart from restoring them.
Here's how you can recover Krita files that have been deleted or unsaved with Stellar Photo Recovery software:
Download and launch Stellar Photo Recovery Software.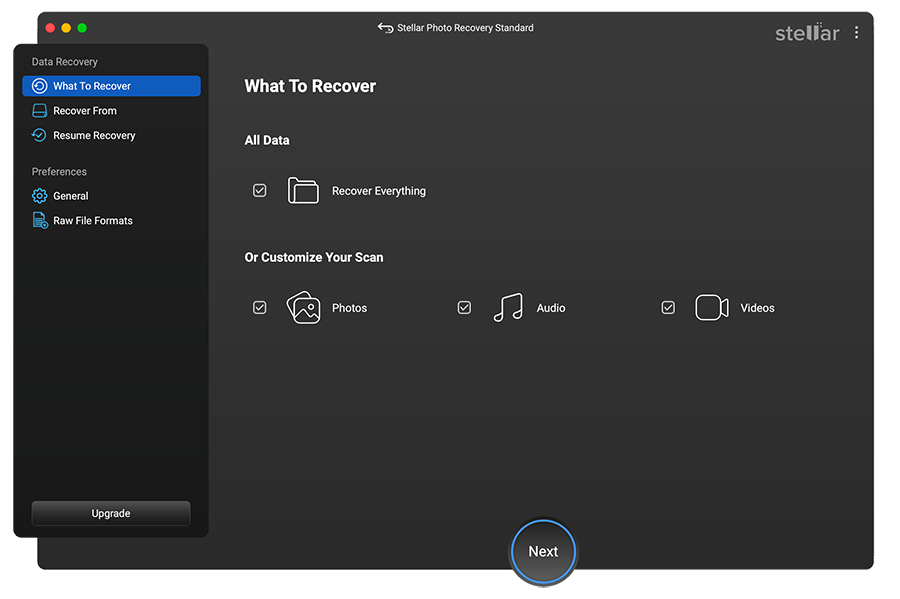 Select the location (such as your digital camera or any other drive) from which you wish to recover unsaved Krita files.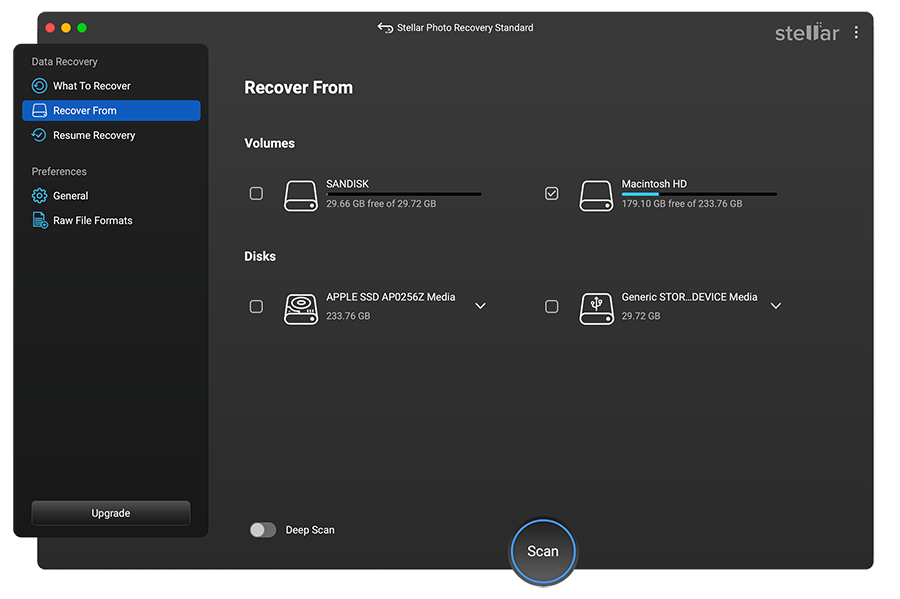 Now press the "Scan" button to see the deleted Krita files.
Once the process is complete, you get to preview the deleted and unsaved Krita photos.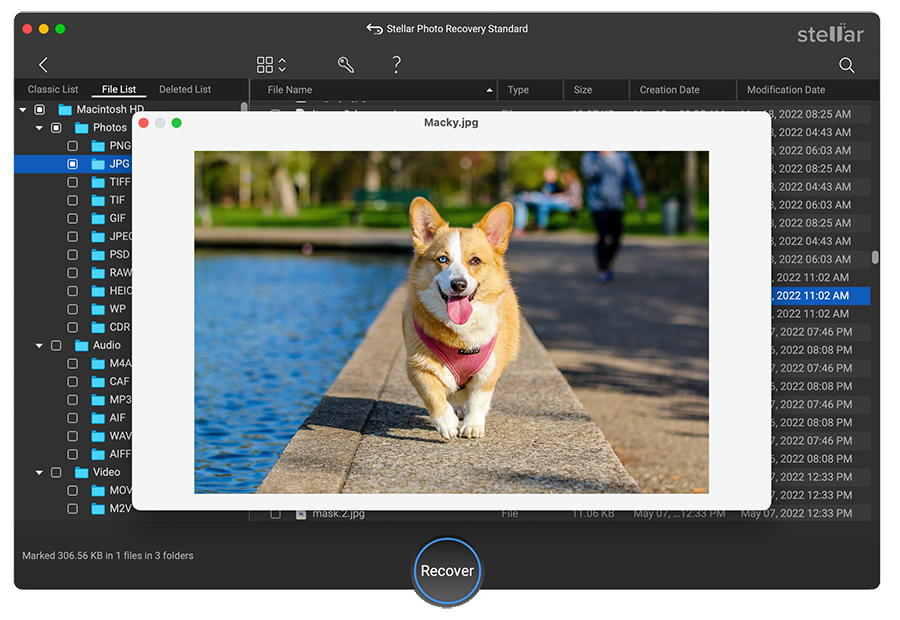 Then click "Recover" after choosing the files you want to save.
Summing Up
We have discussed multiple ways how you can restore the Krita file using the auto-save and backup options in this blog post. However, they can occasionally be deleted or replaced accidentally. The sole trustworthy method to recover deleted Krita files—as well as to recover unsaved Krita files—is the Stellar Photo Recovery software. As it knows exactly where to seek deleted files and how to retrieve them, this software is the ideal solution for recovering deleted Krita files. You can check for yourself by downloading the free trial version here.
FAQs
How to recover unsaved Krita files?
If Krita crashes before you save the file, it will prompt you to delete or restore the file when you open Krita the next time.
Why two copies are saved in Krita?
Before saving new changes, Krita simply creates a copy of the prior version of your project so that, in the event of an error, you can continue working on it.
What does .kra stand for?
Krita uses the .kra file format internally, which implies that all of the characteristics that Krita can handle are saved in this file type.
"Not a valid Krita file." How can I recover this file?
This indicates that your file was probably corrupted. In such circumstances, you might check if you still have any autosave or backup files.