How to Recover Corrupt, Unsaved CorelDRAW File?
Summary: Do you want to recover an unsaved or corrupted CorelDRAW file? This guide covers all the possible workarounds to recover corrupt or unsaved CorelDRAW Files. For quick and safe recovery of the CorelDRAW files, consider using Stellar Photo Recovery software.
"I lost work that I have been working on for the past 4 hours and don't know where it has gone. I think I had too many programs open, and when I closed my browser, CorelDRAW also closed. Then, when I opened CorelDRAW again, all I had worked on was gone, missing… "
CorelDRAW is a graphic design & editing tool used by beginners and professionals. The software offers many features to create various media documents such as tabloids, webpages, brochures, envelopes, postcards, and web banners. However, like any other file, you can lose CorelDRAW (.CDR) files on your Windows due to many reasons.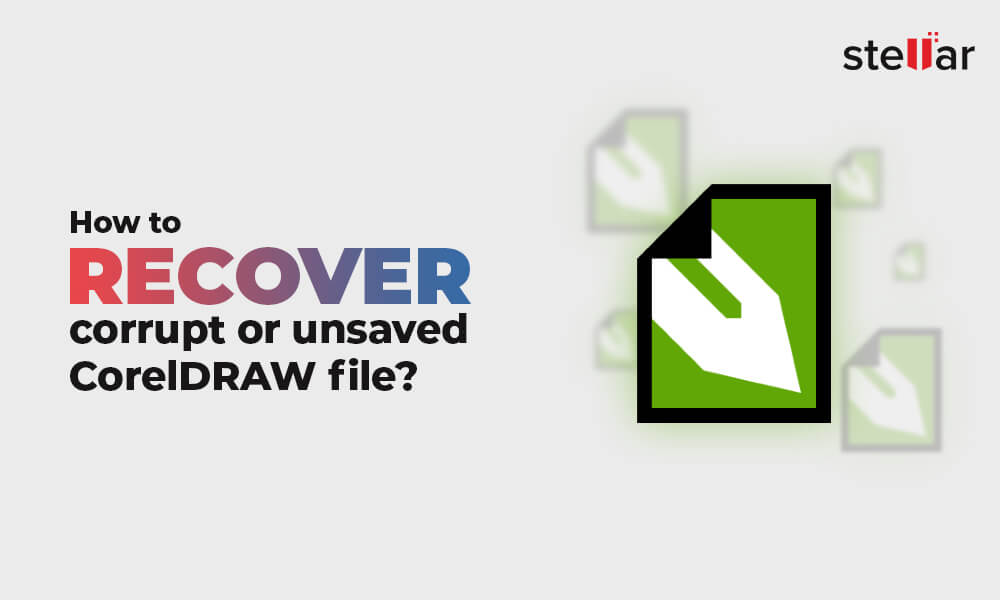 Common Reasons for losing CorelDRAW Files
Deleting the CorelDRAW files using Shift + Delete keys
Documents created in the previous versions of CorelDRAW are no longer accessible.
App or Window crashing before saving the newly created .CDR file
CorelDRAW files are corrupted due to malware or virus
Formatting or deleting a storage volume containing CorelDRAW files
How would you recover corrupted or unsaved .CDR files in such a troublesome situation? Here we bring some workable methods to get back unsaved or corrupt CorelDRAW files.
Recovering Unsaved CorelDRAW Files
Follow these steps to recover unsaved CorelDRAW Files:
Methods 1: Recover from Auto Backup
Note – This method will only work if you have enabled the AutoSave Settings in CorelDRAW.
CorelDRAW software comprises a native backup feature that saves a backup copy of your edited file at regular intervals. The 'Backup_of_' files are always saved at the same location as the original CorelDRAW file. You can open and edit these files like any other CDR file. Perform these steps:
Navigate to the folder where you have stored the previous version of the CorelDRAW file.
Look for the file starting with 'Backup_of_<name of the file>.'
Click on the file, and you will get your CorelDRAW file.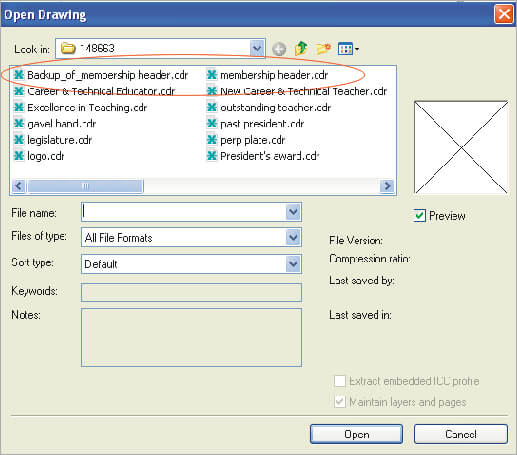 Note – If there's no previous version of the CorelDRAW file, then go to the Temp folder to find the unsaved .CDR file.
Method 2 – Recover from Backup File
CorelDRAW creates a backup file of your drawings in case of unexpected software crashes. The backup file with .BAK extension is created to help you recover unsaved files.
Navigate to the C:/Program Files/Corel/Programs/Draw folder.
Search the.BAK file that matches the Corel file you want to recover and double-click on it to launch it in CorelDRAW.
Once opened in CorelDRAW, you can save the file.
Recovering Corrupt CorelDRAW Files
Try the following methods to recover corrupted CorelDRAW Files.
Method 1 – Recover Corrupted CDR file using .zip or .rar format
To recover CorelDRAW files, you need Winrar, an easy-to-use compression and archiving app, to unzip the files. Since it is a free and open-source tool, you can download it easily. Once you have downloaded the tool, perform these steps:
Convert the corrupted CDR file as .zip or .rar.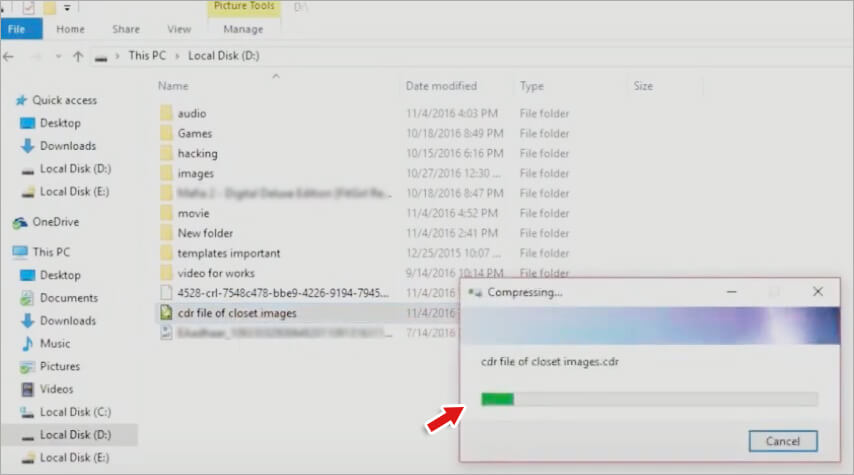 Open the renamed files in the WinRAR tool, with the built-in feature to repair the zip files.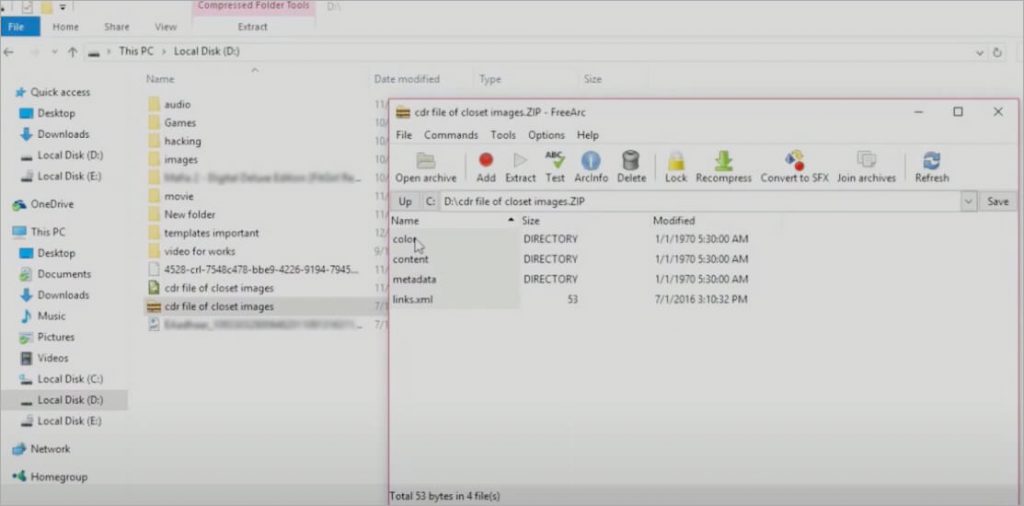 Extract the zip file and open it; go to the Content folder and look for the riffdata.cdr file.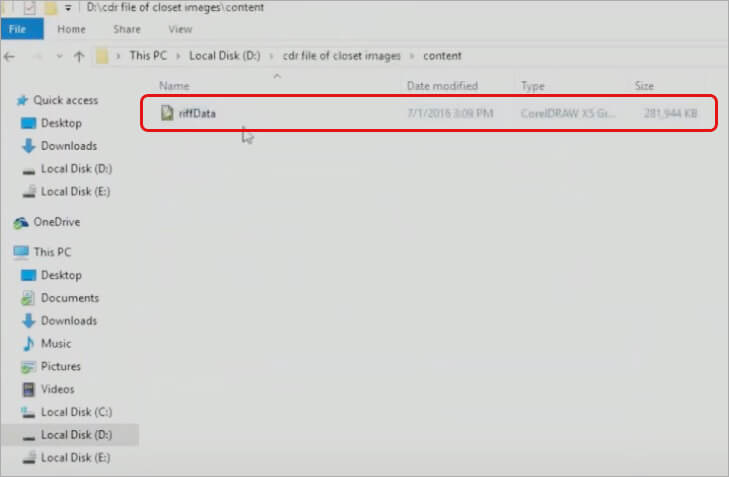 Create a new CDR file and try importing this file. It might work.
Method 2 – Recover the Corrupted CDR file from Temp Folder
The temporary or Temp folder in Windows stores the temporary files. Here are the steps to recover CDR files:
Click Windows + R keys to open the Run dialog box.
Then type %temp% and click OK.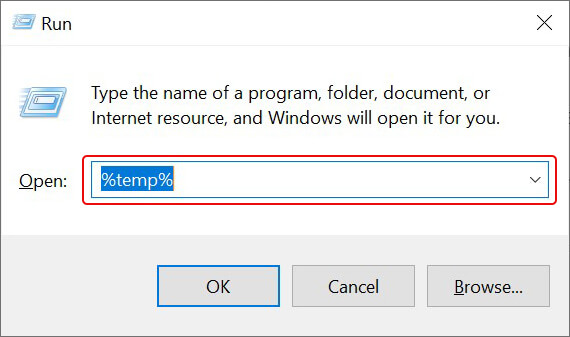 Look for the CorelDRAW file you want to recover.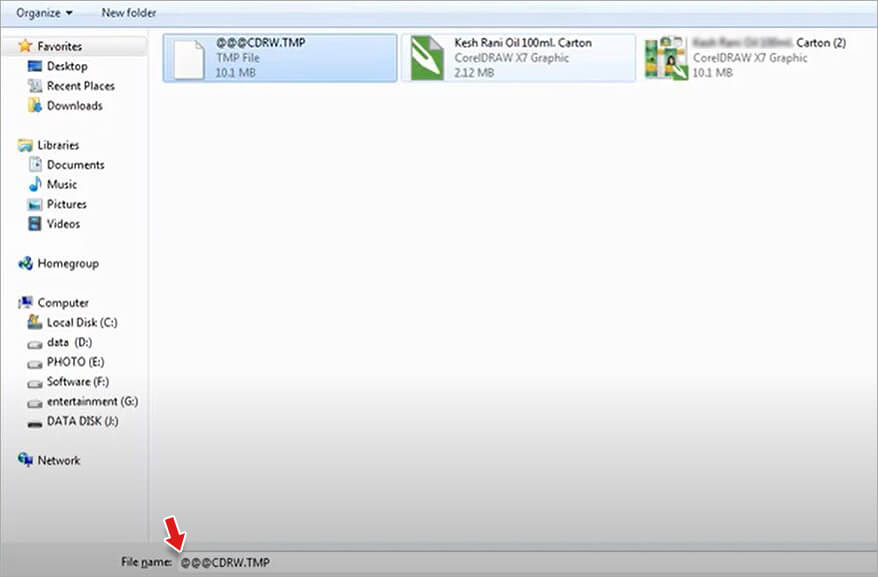 Copy this file on the desktop screen and rename the file from X.tmp to X.cdr. Here X is the filename of your choice.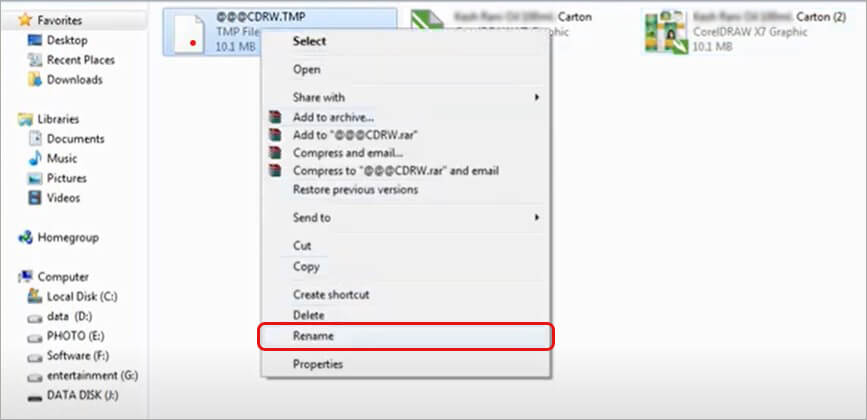 Then click Yes on the confirmation prompt, and try opening the file in CorelDRAW.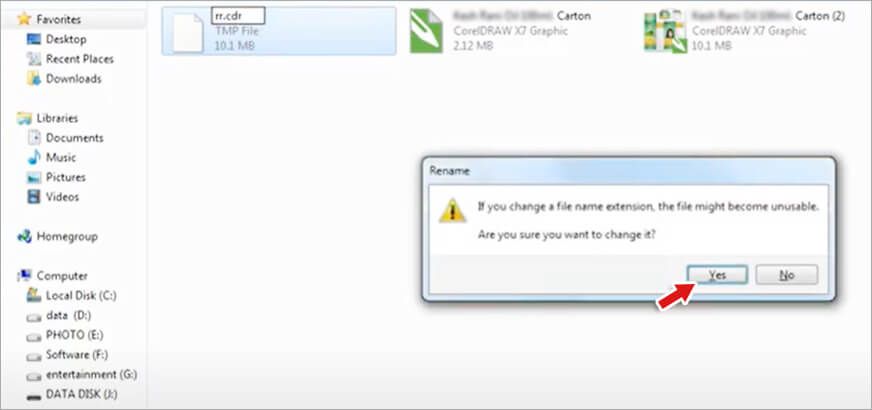 What to do if nothing works?
If the above methods fail or don't resolve the issue, use Stellar Photo Recovery software to recover corrupt or unsaved CorelDRAW files in a few simple steps. This easy-to-use photo recovery software recovers all types of photos, videos, and audio files in tough data loss situations, including data corruption or accidental deletion, drive corruption, virus attack, etc.
Here's how to recover CorelDRAW Files using Stellar Photo Recovery software:
Download and launch Stellar Photo Recovery software.
Choose the storage device that had your unsaved or corrupted CorelDRAW files, and then click Scan.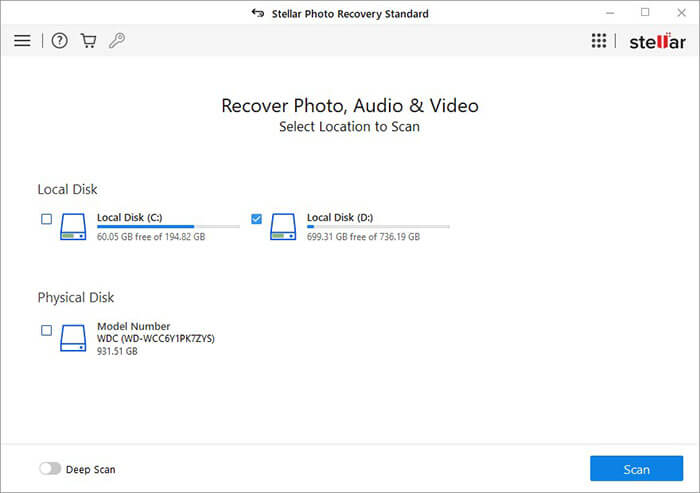 Once the scanning process is complete, a list of all recoverable files will appear. Select any file to see its preview.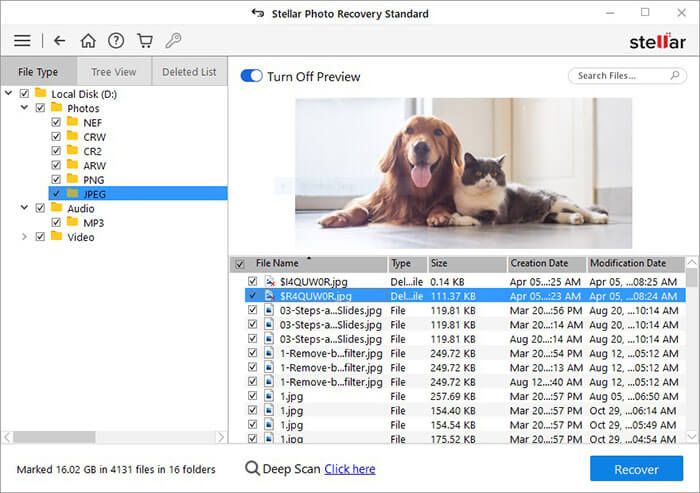 Choose the .cdr files you want to retrieve by clicking 'Recover' and then save the recovered CorelDRAW files at the desired location.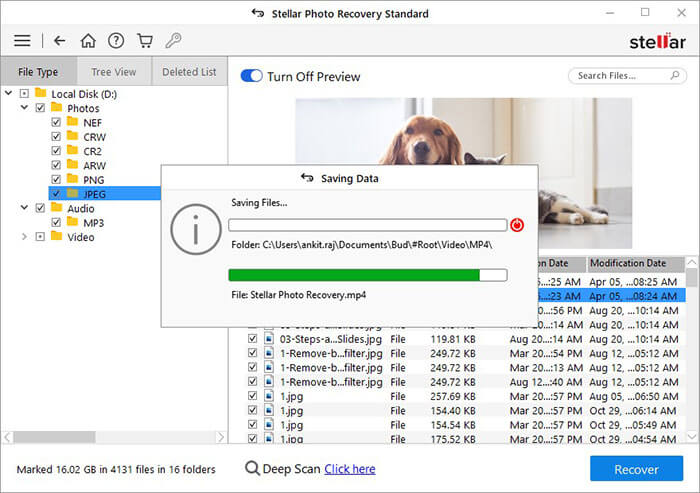 How to Open CDR Files on Windows?
To open CDR files, you need to use programs developed by Corel mainly since these files are in a closed-source format. Therefore, the best way to open CDR files is CorelDRAW, a vector graphics editor developed by Corel.
You can also open CDR files in Corel PaintShop Pro, but only in read-only mode. You can open CDR files in other graphics editing software besides Corel-owned programs, such as Adobe Illustrator.
Wrapping Up
With all the reliable methods shared in this blog, now you know where to look for unsaved or corrupted CorelDRAW files. You can easily recover unsaved CorelDRAW files from Autosave and Backup. Moreover, you can recover corrupt CorelDRAW files using the .zip or .rar folder or the temporary (Temp) folder. Besides, try using an efficient CorelDRAW Recovery software like Stellar Photo Recovery to recover unsaved or corrupt CorelDRAW files.
FAQ
1. How to enable AutoSave in CorelDRAW?
– Launch CorelDRAW software on your Windows. From the top Menu, go to Tools > Customization.
– Then click the Save option.
– Under the Save section, select the checkbox "Backup original file before saving."
– Also, select the "Back up every" checkbox and specify a minimum time of 5 or 10 minutes to restore the unsaved CDR file.
– Next to the "Always backup to:" option, you need to select the Specific folder and the drive location where you wish to save your unsaved CDR file.
– Then, click OK.
2. Where are CorelDRAW recovery files?
The backup copy of CorelDRAW is named backup_of_filename and, by default, is stored in the same folder as the original drawing. You can always change the location where backup files are created.