Stellar Repair for Photo is one of a kind software that can repair corrupt or damaged RAW image files of popular DSLRs, camcorders and digicams of Canon, Sony, Nikon, Konica, Olympus etc
RAW images are uncompressed digital photos that take up significantly more disk space compared to JPEG images. However, they are high quality images, due to which photographers love to shoot in RAW file format. 

The Stellar photo repair software supports ARW, CR2, CRW, DNG, ERF, MRW, NEF, NRW, ORF, PEF, RAF, RW2, SR2, and SRF RAW file formats. In case of severely corrupt RAW files that are beyond repair, the software extracts the thumbnails out of it. 
Steps to repair RAW file formats using Stellar Repair for Photo

1.    Run Stellar Repair for Photo software on your computer.
                                                                Main interface of Stellar Repair for Photo
2.    On the main interface, click Add File to add RAW image files.
3.    Select Images dialog appears. Choose the location from where you want to select the image file. Click Open.                                                                                                              
4.    The selected images list appears. Click on Repair button to start the repairing process.
                                                           Selected corrupt images list appears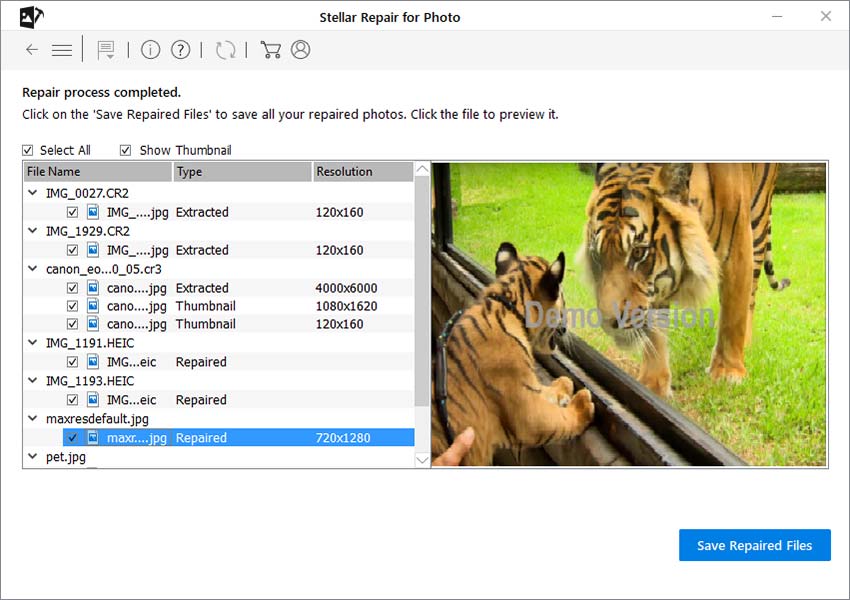 Repairing process progress bar
5.    Once the repairing process is complete, the Repair Complete dialog box appears. Click OK.
6.    The software repairs the RAW images and saves them in JPEG while it extracts thumbnails for severely corrupt RAW image files. You can Preview the repaired photos by clicking on the file. Click Save Repaired Files and save the photos at your desired location.
                                                                   Save the repaired RAW images in JPG format
7.    Select Folder dialog box appears. Select a location for saving image files and click OK.
The Repaired Files folder is automatically created at your chosen location. Click Here option lets you directly open the folder where the repaired files of RAW images are saved.