We are well aware of the fact that hard drives stores our valuable data in the form of documents, spreadsheets, Excel &PPT files and portable documents. Other data in form of music, videos and photos are considered close to the heart of a computer user. Many of us would agree that personal data such as video & photographs are so confidential that it wouldn't be shared other than family members or the people involved in the photos/videos.
Some of us also take extra precautions while storing sensitive data on a computer hard drive by hiding or encrypting it. The idea to hide or encrypt a data is done to assure it is unreachable for unauthorized sources. This is a general mentality.
However, to a contrary, ever wondered, what precautions do we take while we sell off an old hard drive or resale a computer system? We just simply format the data present on the hard drive with the help of computer. We then rest assure that the person whom we sell or donate the computer including the hard drives won't recreate our data.
In the last decade or so, the software has advanced to such a level that formatted or deleted data can be recreated bit-by-bit with the help of a file recovery software. File recovery software can regain every single confidential pictures/movies/music/Office files/notepads/any kind of file that was either deleted or formatted to ensure so called 'Safety'.
Thus we conclude that, formatting a hard drive before giving it away to someone simply doesn't seal the deal. The data is still very much intact within the millions of sectors of the hard drive, which could be recreated with few simple steps.
Then, how to rest assure that data is not recovered by a third-person?
To completely wipe the data from the hard disk drives, the disk needs to undergo wiping process. "Wiping" is advanced technique of eliminating all the data from the hard drive beyond the scope of recovery. And, yes it is much advanced& reliable than the "formatting". Formatting is only a traditional way of deleting the files from a storage media. It can't be trusted when you let off the hard drive to an unknown owner.
What Software accomplishes secure wiping off data?
 For Microsoft Windows – BitRaser for File
 For Apple's Mac OS X – Stellar Wipe Mac
Both of the above software accomplishes wiping off data from a storage device such as HDD, USB, and SD-Cards. See capability of both the handy utilities:
 Wipes Hard Disk Drive
 Wipes Files & Folders
 Wipes Internet Browsing Information
 Wipes Free Space
 Wipes System Traces
 Wipes Recent File Histories
 Wipes Instant Messaging Information
 Wipes Multiple Drives Simultaneously
 Schedules Wiping Task
BitRaser for File also lets you create an Erasure list, which allows you to erase files/folders in the list in a single click. In addition, the Search File option helps you find, locate, and erase hidden & lost files.
To wipe important files/drives, launch the BitRaser for File software. Go to 'Tools' and select any of the algorithms from 'Erasure Algorithm' drop-down list.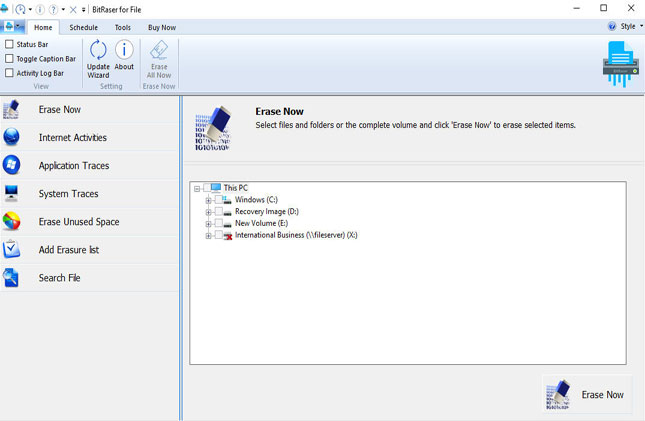 Click the 'Home' tab and proceed with secure data erasure. The data once erased with the help of BitRaser for File software's algorithm won't be recovered even with the smartest data recovery tool on the planet.
Stellar Wipe Mac supports wiping of both files & drives.
Caution: The above software is not recommended to run on an active hard drive or to important files & folders. Doing this, will lead to data loss. You would need the help of the BitRaser software on account of below cases: 
 Reselling your PC/Mac
 Donate your PC/Mac
 Recycle HDD
 Decide to stop business
For more information on the Software, contact support@stellarinfo.com