Stellar Volume Repair
Repairs Corrupt Volume Information's on Mac OS X
Professional Mac Volume Repair tool that repairs volume errors, rebuilds any damaged directory, and replaces the old directory with the newly created one to get your Mac backup and running. The software checks for errors in catalog file, multi-linked files, extents overflow file, journaled files, volume bitmap, and volume information.
Corrects a wide range of OS X Volume errors
Rebuilds a damaged Mac OS X directory
Verifies permissions of Mac boot volume
Option to roll back a volume to its previous state
User-friendly and robust OS X Drive repair tool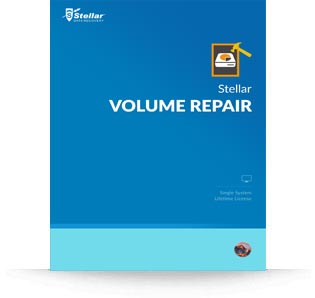 Mac Volume Repair software helps you easily resolve a number of volume errors and crashes, if corruption has occurred within the directory structure of your disk. Let us quickly walk through some of the salient features of this utility:

Fixes Volume Errors
The software is capable of correcting a range of volume errors (such as 'Invalid key length', 'Invalid index key') in Mac in order for resolving problems faced while opening, saving, or deleting files on a Mac OS X volume. Minor volume errors are repaired without having to rebuild the directory.

Rebuilds Volume Directory
If your directory is not updated regularly or is damaged, this repair tool tends to rebuild the entire volume directory and replaces the damaged directory with the newly created one. The tool helps to mount a severely corrupt Mac volume and make all your seemingly lost data accessible.

'Rollback' Option in Preferences
The software ensures that your volume is repaired in almost every case of OS X directory corruption. If a volume is severely damaged and it fails to repair, this OS X drive repair tool allows you to roll back the volume to its previous state. You can enable 'Rollback' property by setting preferences in the software.

Creates Bootable DVD
If you need to repair the boot volume of your Mac, the software gives you choice to create a bootable DVD. You can boot your system from this disc and fix your boot volume. If your Mac is unbootable, you can create bootable DVD on another system with similar configuration and then boot your Mac through this disc to rebuild the corrupt volume directory.
Verifies Permissions on OS X Boot Volume
The software can be used to verify permissions on all bootable volumes in your system that contains any OS X. This helps you to easily identify and address issues with various Apple-originated files and folders stored on the boot volume of your Mac.
Easy-to-Use and Interactive Interface
This repair utility provides a handful of options to make the overall process easy, fast, and convenient for the users. You can set preferences in the software for update and rollback options. The interface of the tool is designed to give you the look and feel of Mac OS.
* Free Download allows scanning of all Mac OS X volumes and creation of a bootable DVD. In order to repair the volume, you need to purchase the full version of the software.
The Highest Standards. The Happiest Customers.
FAQ's
Previous
Next
What is the use of 'Demo' version of Stellar Volume Repair?

Answer:

The 'Demo' version of the software enables you to create a bootable DVD and scan Mac OS X volumes to find out if a repair is needed. To repair and rebuild the corrupt volume directory, you need to purchase the software.

What all errors are received when a Mac directory gets damaged?

Answer:

Directory corruption is typically manifested by various error messages. A few are given below:

'Invalid key length'

'Invalid index key'

'Invalid leaf record count'

Other signs include issues while opening, saving, or deleting file on the volume. In other cases, your Mac will refuse to boot up.

Can I use this utility on a routine basis to prevent OS X directory corruption on my Mac?

Answer:

Yes, routine usage of the software may help you resolve any minor volume corruption early before it turns into a major problem.

Can I use the tool to repair the boot volume of my Mac?

Answer:

First of all, create a bootable DVD using the tool on another system that has a similar hardware configuration as your Mac and then use this bootable disc to boot your troubled Mac and rebuild the corrupt directory of your system.
You May Be Interested in These Items
Editors Review
Editors Reviews for this product is not available currently. However you can check Editors Reviews for others product Here.