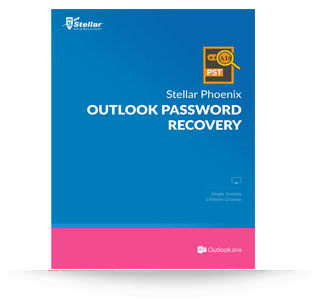 Stellar Phoenix Outlook Password Recovery
Recovers lost or forgotten passwords of Outlook PST files
Professional Outlook password recovery software that easily recovers Outlook password and enables you to unlock your password-protected PST files.
Accurately recovers passwords set to Outlook PST files
Provides six different sets of usable PST passwords
Searches for Personal Folders (PST) file in the system
Supports password recovery for MS Outlook 2010, 2007, 2003, 2002, and 2000
Compatible with Windows 7, Vista, Server 2003, XP, and 2000
This Outlook password recovery software can smoothly recover passwords of PST files password-protected using any encryption algorithm. Mentioned below are some of the salient features of this tool:

Facile and Effortless Password Recovery
The software allows you to select your password-protected Outlook file and recover PST password instantly in a single click. This helps you quickly break any password-protection applied to the PST and get back all your precious emails, contacts, appointments, calendar-entries, tasks, and notes.

Generates Six Usable Outlook Passwords
This PST password recovery tool has a knack of generating six different sets of Outlook passwords that could be used to open the password-protected PST file. You can use any one of the passwords to access your Outlook data file.

Searches for Outlook PST Files
The software browses through your local drives, folders, and sub-folders to locate Outlook PST files in your system quickly. You need to specify various search options, i.e. file type and the drive to be scanned, in the 'Find PST File' option. The software lists all found PSTs in the selected drive and you can select the desired PST file for password recovery.
Accuracy and Ease-of-Use
This password recovery tool gives you accurate results, despite the complexity and length of the lost PST password. It precisely recovers Outlook passwords containing special characters, uppercase and lowercase characters, etc. In addition, the software is specifically designed to provide ease-of-use to all MS Outlook users.

Support and Compatibility
The software efficiently recovers PST passwords for files created in any latest version of Outlook, such as MS Outlook 2010, 2007, 2003, 2002, and 2000. It also gives you the flexibility to run the tool on any Windows platform, including Windows 7, Vista, Server 2003, XP, and 2000.
The Highest Standards. The Happiest Customers.
FAQ's
Previous
Next
How Can I Recover Password of a PST file ?

Answer:


Please follow the below procedure to recover the password.

Open the Stellar Phoenix Outlook Password Recovery software

Click Select PST File button.

Navigate to the file, select it and click Open.

Click Find Password to recover the passwords.

Software will show the password of the PST file.

What version of outlook is supported by the software ?

Answer:


The software Supports PST Files made by MS Outlook 2007, 2003, 2002 (XP), and 2000 .
You May Be Interested in These Items
Editors Review
Editors Reviews for this product is not available currently. However you can check Editors Reviews for others product Here.