[SOLVED] – External Hard Drive Not Showing Up On a Computer
Summary: 'External hard drive not showing up' error is generally caused due to a missing drive letter, outdated drivers and more. This blog will guide you on how to fix this error by applying different DIY methods, such as adding a drive letter to the external drive or initializing the hard drive. If there's no time for troubleshooting and you need to recover important data from the undetectable external drive, download professional data recovery software for a faster recovery.

My computer isn't detecting my external hard drive. There's a lot of important data on the drive. Can anyone tell me what the problem is and how I can get a hold of my files?
This is a common query posted by many users on various technical forums, where they are trying to figure out why the external hard drive is not showing up on their computer after connecting.
This can be an annoying situation, especially when you're on the clock and need to access critical data immediately. Here, you need to understand that an external hard drive is just another storage device that is prone to damage and corruption.
So, instead of worrying, you should dig deep and start applying various workarounds available to help you recover data from an undetectable storage drive.
Why is my External Hard Drive not Showing Up on the Computer?
There are numerous reasons that tend to make external hard drives undetectable by a computer. It could be anything from the following –
A sudden power surge that caused an unexpected system shutdown while the external hard drive was in use.
Mishandling or dropping the external hard drive causing physical damage.
Abrupt or improper system shutdown while the external hard drive is connected
Virus/malware infection
Prolonged or excessive use for extended durations
External hard drive nearing the end of its lifecycle
Bad sectors
Outdated/corrupted drivers
Unsupported file system
Insufficient power supply
Drive corruption causing the drive to appear as a RAW in Disk Management.
When an external hard drive is not recognized by your system, you will neither see it anywhere on your computer nor see any notification indicating a connected device.
Alternatively, you may also see a message, "You need to Format disk Drive E: before you can use it. Do you want to format it now?" flash on the screen upon connecting the external hard drive.
Caution: If you see this message, don't click the 'Format disk' button. This will wipe all the data on the drive, and you will lose all your data.
How to Fix the External Hard Drive Not Showing Up on Your PC?
Now that you know why your external hard drive is not showing up, let's try to fix this issue using the methods explained ahead.
Pre activity –
Before moving on to the methods, try plugging the external hard drive into another USB port or another computer to see if there's a problem with the port or the drive itself.
Also, try to change the cable and then connect. Sometimes, the cable is damaged, which results in the hard drive not showing up on your PC. Once you are done doing all checks, start employing the methods to fix the 'external hard drive isn't detected' error –
Method 1: Check for the External Hard Drive in the BIOS
Looking into BIOS is a great way to see if the connected external hard drive is being detected by the computer or not. Carefully follow the steps –
Restart your computer and continuously press the designated BIOS key to enter BIOS. Usually, the key is displayed on the screen. Or you can try pressing ESC, DEL, F2, or F8.
Once inside the BIOS, navigate to the Boot tab.
Locate the boot drive and see if the external hard drive is showing up.
If it is displayed, then exit the BIOS and reboot your computer.
If your external hard drive is not showing up in the BIOS, it could be due to a faulty cable or loose connection. This could also happen if your external hard drive is uninitialized or unallocated. For this, move to the next solution.
Method 2: Initialize and Assign a Letter to the External Hard Drive
If you have recently purchased an external HDD and is not initialized, this could be the reason behind the external hdd not getting listed in the file explorer or computer. You will first need to initialize and assign a letter to the external hard drive so that the Logical Disk Manager can access it and show it in the File Explorer. To do so –
Press WINDOWS + R, type diskmgmt.msc in the box and click OK.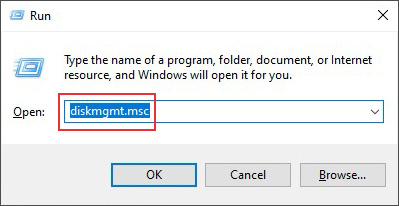 In Disk Management, locate your external hard drive. It should be visible as an 'Unknown' drive with the 'Not initialized' tag.
Right-click on it and select 'Initialize Disk.'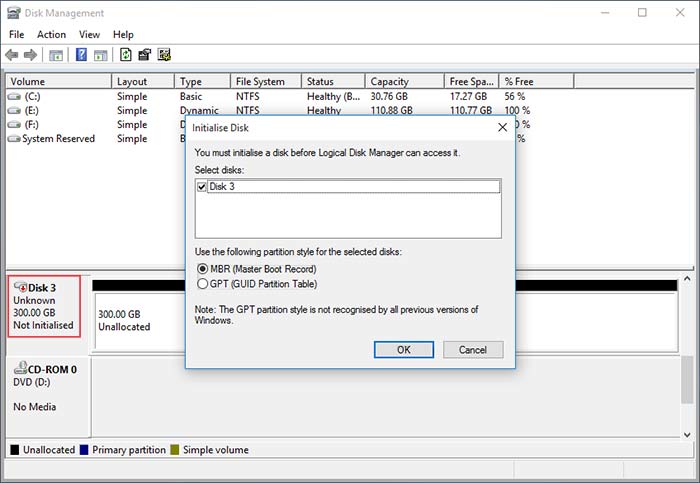 You will see a pop-up window. Here, select the partition style you want for the drive and click OK.
The external hard drive is now initialized. Because it is still unallocated and doesn't have a drive letter, it will not show up in the File Explorer. Here's what to do now –
In Disk Management, locate the unallocated external hard drive and right-click on it.
Click on New Simple Volume.
You will see the New Simple Volume wizard. Click Next.
In the next window, it will ask you to specify the volume size. Enter the value and click Next.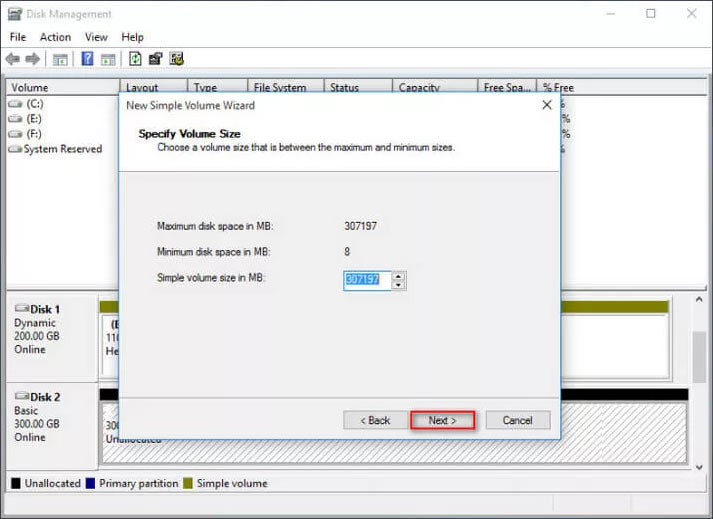 In the next window, choose a drive letter from the drop-down and click Next.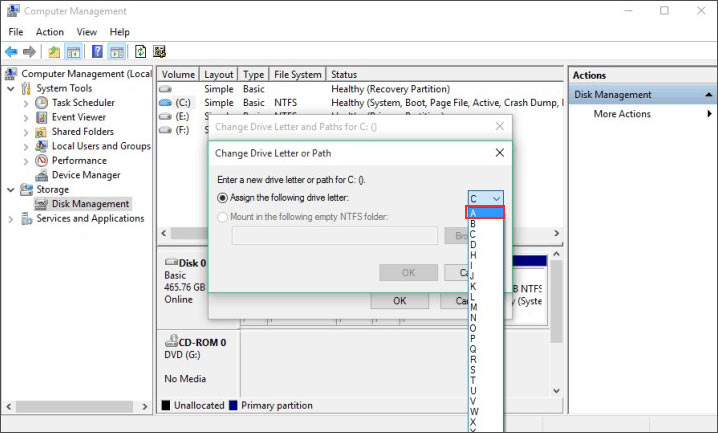 In the Format Partition window, select the 'Format this volume with the following settings' option and then choose the File System, allocation unit size, and Volume label.
Choose the Perform a quick format option and click on Next.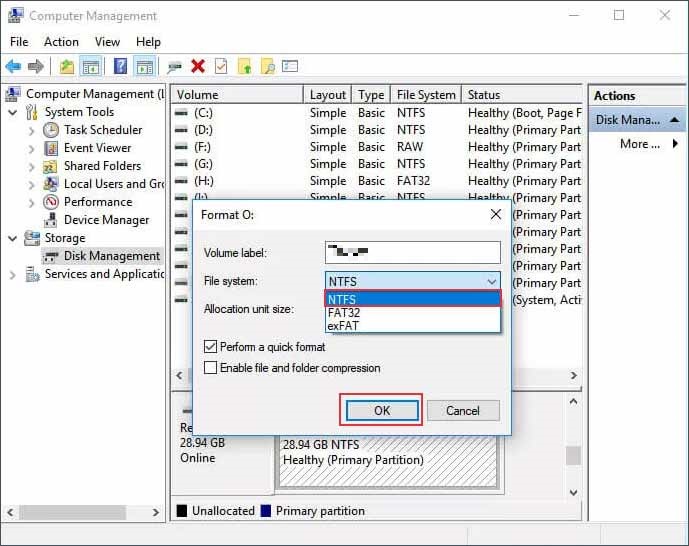 On the final window, click on Finish to format the drive and assign a letter to it.
Method 3: Update Storage Controller Drivers
If your external hard drive is not showing up in the file explorer but is being detected by the computer, it could be due to outdated or corrupt storage controller drivers. Follow the steps mentioned here –
Press WINDOWS + X and click on Device Manager.

Locate Storage Controller and expand it.
Right-click on the entry under it and click on Properties.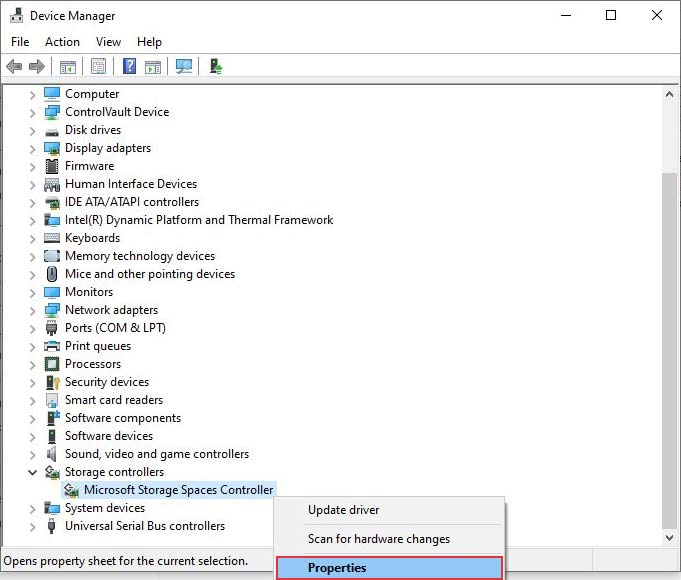 Go to the Driver tab and click on Update Driver.
Follow the steps as prompted by the wizard.
Restart your computer.
Method 4: Run Hardware and Device Troubleshooter using CMD
This is a typical situation where the connected external hard drive does not show in either the disk management or the File Explorer. In such a situation, you can troubleshoot any device-related issues by running the hardware and device troubleshooter via CMD. To do this –
Press WINDOWS + R and type cmd. Press CTRL + SHIFT + ENTER to open it with administrator privileges.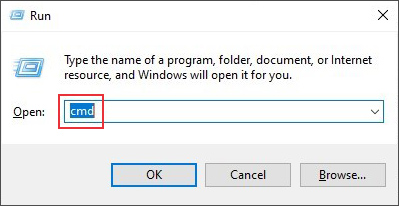 Type the following command – msdt.exe –id DeviceDiagnostic and press Enter.

It will open the Hardware and Devices troubleshooter.
Click on Next.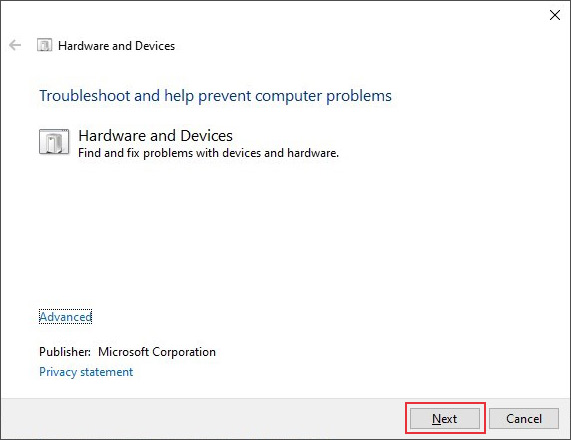 Let the wizard detect the issues. If it displays any issues, click on them one by one and follow the steps as prompted to troubleshoot them.
Restart your computer.
Note – Also, expand the 'Disk Drives' entry and update the drivers of your storage drive.
How to Recover Data from an External Hard Drive that is not Showing Up?
External drive not showing up on a computer can worry anyone as they are mostly used for creating backups of important files and data.
If you are currently in such a situation, worry not as you can recover the lost data from an unrecognized (RAW) drive or volume using a professional data recovery software like Stellar Data Recovery Professional.
It is an easy-to-use software that is light on storage and effective in almost every data loss scenario. Here is a short video to show you the steps involved in performing data recovery.
Another great thing about this software is its built-in Drive Monitor utility. This little addition helps in checking the health and other vitals of any storage drive and informs the user if there is any issue with the drive.
Conclusion
We store our important files and data on external hard drives to maintain a backup of our data and to prepare ourselves for any unexpected data losses. However, it is so frustrating to see our storage drive not getting detected by the computer. If your external hard drive is not showing up on the PC, you can follow the given methods discussed above and access it. Let us know which method helped you fix this issue.