System Won't Boot, How to Recover Data from Hard Drive?
Almost all computer ships with a single un-partitioned volume. The volume can be used to store system files as well as user data. The system files are nothing but the operating system files including the bootable files that are responsible to boot the system. However, at times such bootable files fail to start up the system. In addition, there could be some problem with other system files that make the PC unbootable. As a result, a user is not able to start the system and access the data. In order to get back the access, he/she needs to make the PC bootable.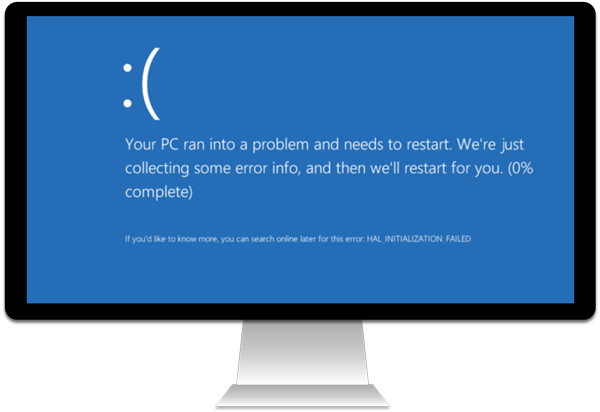 The PC can be made bootable by reinstalling the operating system. However, that might result in losing your data, if the data is present in the same volume in which the operating system is being installed. There are ways using which, you can recover data from unbootable system. The best possible solution is to use a professional tool like Stellar Data Recovery Professional.
Why System Won't Boot?
While working with computer, you might experience a slow performance. In a worst case, the system won't boot or can turn off suddenly after working on it for some time. In such a situation, you can try restarting the computer. If you are lucky, you can see your computer working normally. However, more often, you might observe some abnormal behavior while you try to restart the computer. For example, you can get some error messages with a completely black background. Such kind of situation makes the system unbootable at times, leading to inaccessibility of the data present on your computer.
The computer's Basic Input Output System (BIOS) has the boot instructions, which tells the order in which the instructions need to be loaded. The set of instructions comprises the entire boot process. In case of an unbootable PC, the boot sequence instructions get corrupt. As a result, the boot process does not complete and fails to start your system.
There could be many reasons for system won't boot. Some of the most common reasons for such kind of behavior are mentioned below.
Virus Attack
Viruses are the primary reason for an unbootable system. A Virus such as Leonardo is very dangerous in making the hard drive unbootable. In addition, there are malware programs, which can also make the file inaccessible. In either of the case, you need to have a good anti-virus program on your system to avoid any data loss from the unbootable hard drive
Un-trusted Software
There are various free software available on the Internet. Most of them are un-trusted and stand a risk of turning dangerous, as it might be a Trojan. They also make the system dead by making the hard drive unbootable.
Dual operating system
Many users have a habit of installing dual operating system on a single drive. Any improper way used to create a dual operating system environment makes the hard drive unbootable.
Other factors
Formation of bad sectors on the hard drive, or occurrence of Blue Screen of Death (BSOD) error is also responsible for an unbootable system.
The above-mentioned reasons are few most common reasons for a system becoming unbootable. However, there are various other factors that can make the system unbootable.
Solution to recover data from hard drive when system won't boot
Most of the above-mentioned causes have some error messages associated with them. Such error messages help in understanding the actual cause of the problem and most cases suggests a possible solution. In addition, there are symptoms that arise prior to the problem. In such a case, you can take the backup of your hard drive to avoid any future data loss. However, in case you get a message saying that your hard drive is unbootable, you need not worry about your data, as the data remains intact on the HDD. You can always attach your unbootable hard disk to a healthy computer in order to recover data from inaccessible computers.
Alternatively, you can also make use of a professional tool to recover inaccessible data. Stellar Partition Recovery software is a reliable tool to recover data from unbootable system.
The software provides you with an advanced option to use a bootable disc when the system fails to boot. This bootable disc can be used to regain access to your crashed system and then run the software to recover important data, including files, documents, pictures, presentations, etc.
Insert Stellar Partition Recovery – Bootable Disc into the CD Drive and restart the PC. The system starts booting up showing the main software interface. Now, to recover the data from your previously-unbootable PC, follow the steps mentioned below:
Run Stellar Data Recovery Professional software.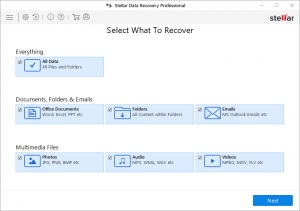 Now, Select what you want to recover. Here, you can select the type of the files such as Document Files, Multimedia Files, etc. Click 'Next'.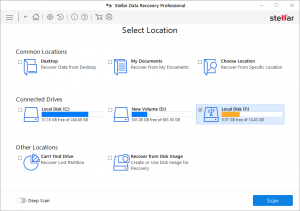 The 'Select Option' let you decide the required location from where you can recover your data. Click on 'Scan' for further process of recovery.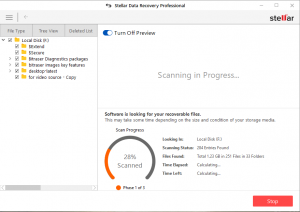 The Scanning process window will show you the Time Elapsed and Time Left period to make you aware that how much time a software will take to scan your drive. After that, a list of files and folders get appear.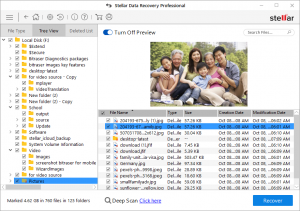 You can select the desired file and click on 'Save' option. This will ask you for the destination to save your file.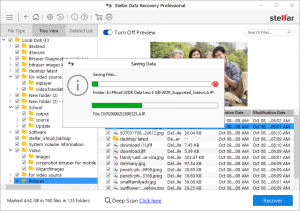 Choose your destination location and recover your data for further usage.