How to Fix Hard Drive Error Code 0146?
Summary: The main purpose of this blog is to let you know what "error code 0146" is and how you can get rid of this error from your computer system. It tells you the major reasons for this error and how you can recover data from "error code 0146" affected drive with best Free data recovery software.

The error code 2000-0146 is mainly associated with Dell laptops and PCs. It indicates hard disk read/write related issues that significantly affect the normal working of your system and the data stored on the drive. Frequent system freezes and unexpected system shutdowns are two major effects of the error.
Further, it slowdowns the system; prevents software from responding; leads to a frequent system crash (blue screen of death), and causes several other Windows-related problems. The error—if not fixed quickly—can also stop Windows from booting due to file system error or drive corruption. Therefore, it's important to fix the error code 0146 promptly to avoid a permanent data loss scenario.
How to Fix Hard Drive Error Code 0146
There are several reasons that can lead to error code 0146. This section will present some of the common causes of error 0146 and how to fix them, but before that a word of caution.
CAUTION: Before fixing the drive error, you must back up your existing data to avoid potential data loss during the fix. In case you are not able to boot, or have lost data due to system freezes and unexpected shutdowns, immediately install a data recovery software such as Stellar Data Recovery and first recover your data.

So, now coming back to what all may cause the error 0146 in hard drives; here're the most common culprits:
1. Virus Infection
A virus or malware program can cause disk read/write errors such as error code 0146 in your Dell system. If you can boot Windows, use a reliable antivirus and anti-malware program to scan and fix the virus infection. Use the inbuilt Windows Defender program for this. Simply run a complete PC scan to remove all viruses/malware infection.
2. Corrupt Registry/System Files
Corrupt or missing system or registry files can cause severe issues in your Dell PC or laptop and the error code 0146 is one of them. However, you can fix the system file corruption by running System File Checker (SFC) scan.
The SFC is an inbuilt command prompt utility in Windows that scans critical system files for corruption. After the scan, it fixes the corruption by replacing the corrupt or missing system and registry files.
Follow these steps to run the SFC scan:
Press Windows + S and type 'CMD.'
Right-click on Command Prompt and choose Run as administrator
Then type SFC /scannow and press 'Enter' to run the SFC scan.
After the scan, restart your system to repair and update registry data. During the SFC scan and repair, if the required files are not found in the cache, your system will prompt for Windows installation DVD or media. So keep it handy to repair corrupt and damaged system files.
3. Try Safe Mode and Clean Boot
To boot the system in safe mode followed by a clean startup, you must remove all attached devices like Printer, Wi-Fi adapter or modem etc. After disconnecting the devices, follow these steps:
Turn off the System
Press the power button and immediately start pressing F8 key continuously until you see 'Advanced Boot options' screen.
Use arrow keys to select Safe mode with Networking and click Enter.
Login and then press 'Windows+R.'
Type msconfig. click 'Ok.'
Click General tab in the System Configuration Utility window and click Selective Startup
Uncheck 'Load Startup items.'
Click on Services tab and check 'Hide all Microsoft services'
Click 'Disable all' button and restart the system.
Hopefully, this fixes hard drive error code 0146 on your system. If it does, back up your data immediately and check hard drive SMART status for signs of drive failure.
4. Misconfiguration in BIOS/Firmware
Changes or misconfiguration in BIOS/Firmware settings can also cause error code 0146. You can reset the BIOS settings to default in your Dell system by following these steps:
Restart system and press 'F2' continuously when system boots or as soon as Dell logo appears. You will see BIOS/Firmware settings.
Select 'Setup Defaults' or 'Reset to Default' in BIOS Settings or similar option to factory reset BIOS configuration.
Restart the system normally.
5. Run Data Recovery Software and Replace Hard Drive
Sometimes due to a large number of bad sectors and severe drive corruption, the error code 0146 can't be fixed. In such situations, it's better to replace the failing hard disk in your Dell system with a new one. But first, securely recover your data from such corrupt drives using a data recovery software.
You can use Stellar Data recovery software that supports recovery from a severely corrupt, formatted, and missing hard drives partitions with the help of 'Deep Scan' action.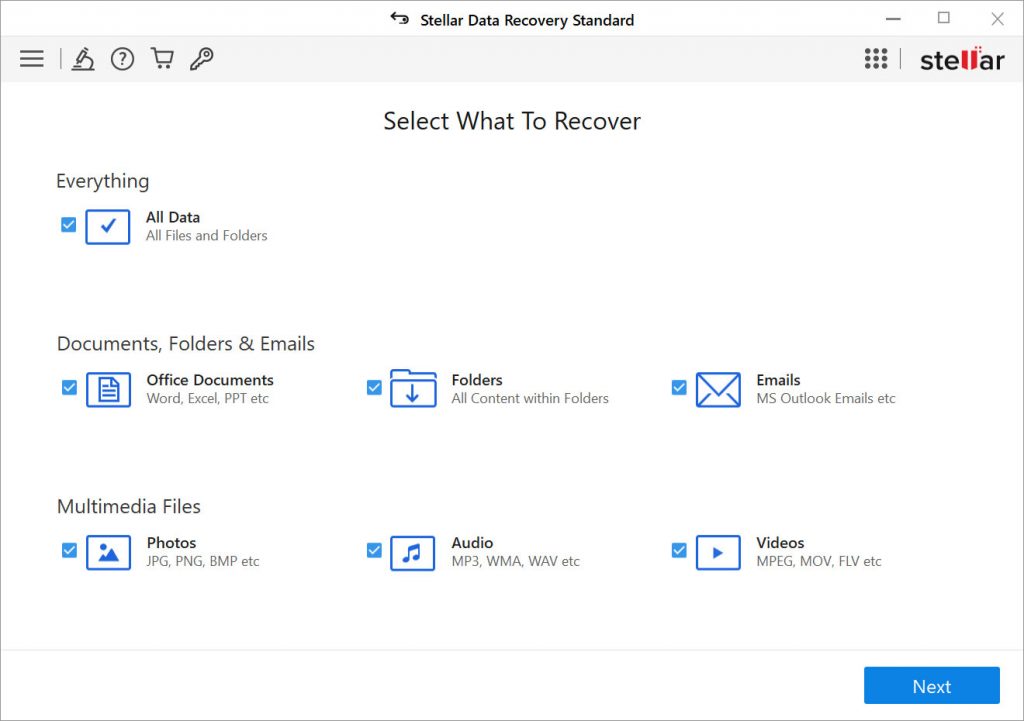 Further!
The Dell hard drive error code 0146 is preventable. However, it's recommended to use the best Windows data recovery software in such situations immediately to avoid further damage to the data on the drive. Software such as Stellar Data Recovery helps you retrieve maximum recoverable data from such drives securely. Further, regular use of disk defragmentation, anti-virus/malware protection, and CHKDSK utility keeps the drive optimized and protects the system.