How to Import Gmail Contacts, Calendars & Emails to Thunderbird or MS Outlook?
Summary: This Tutorial explains how you can Import Gmail Contacts, Calendars, and Emails to Thunderbird or MS Outlook. It also speaks of an excellent third-party conversion software that ensures secure and reliable conversion effortlessly.
Undoubtedly, Gmail is one of the most on-demand email services. Normal users, as well as advanced users widely, use this great email service for sending and receiving emails. Just like this, there are also a few other free email clients such as Zimbra, Postbox, MS Outlook, and Mozilla Thunderbird. Among these email clients, Mozilla Thunderbird and MS Outlook have been highly appreciated.
Developed by Mozilla Corporation, Thunderbird is a great open-source application. This desktop-based application not only offers you the flexibility to manage chats, newsgroup, emails, and news feeds pretty well but also provides a complete ownership and control over the email messages. Thanks to the presence of add-ons, you can now easily customize as well as improve your emailing experience.
The unique trait about this application is its availability in several languages and free version. Therefore, you can effortlessly use it in your localized form under clear terms and conditions. Not only this, Thunderbird also has some noteworthy features such as Scheduled Backup, PGP Support, Scheduled Message Sending for ease, and capability of maintaining an email local copy offline. You can easily use them as per your convenience. Inevitably, Thunderbird email client app has made life easier.
MS Outlook is another powerful email application that is extensively used by the organization as well as individual users. The Microsoft Office Suite is a personal information manager that includes a contact manager, task manager, calendars, emails, journals, note taking, etc. Enhanced integration capability, Active Directory, easy-to-organize assets functionality, compatibility with SharePoint and Expedites Workflow makes it a favoured choice. Above all, it's good security and user-friendly GUI is remarkable.
Therefore, if you are planning to use any of these remarkable applications, be it open-source Mozilla Thunderbird or MS Outlook email client, then primarily, you will have to import your Google service's items list to Thunderbird or MS Outlook too, including calendars, contacts, and emails. Importing your Gmail account to Thunderbird or MS Outlook is simple and easy. This straightforward process does not require any complicated process.
Let us first look into the method of importing Google service's items list To Thunderbird.
How to Import Gmail Contacts to Thunderbird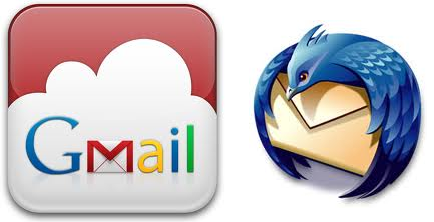 Follow this simple step-by-step guideline to export your Gmail address book and import it into Mozilla Thunderbird.
Log in your Gmail account.
Select your Contacts.
Choose CSV format and save it as Gmail-to-outlook.csv.
Click the Export
Next, download the file to a location onto the hard drive.
After successful download, click Thunderbird and open it.
Choose Tools Import option and ensure that it has a default selection.
Click
Now, under select the program to import, simply highlight the Text file (.csv, .LDIF, .txt).
Click
An Explorer will open up showing the location of saved Gmail contacts
Just Select All Files and double-click on the .csv
Select the data you wish to transfer.
Click OK.
How to Import Gmail Calendars to Thunderbird
To get a fully integrated Thunderbird calendar, the Lightning extension is best; however, when you want to synchronize your Google Calendar to Thunderbird, you require "Provider for Google Calendar" extension which is a sure-shot solution.
Below are the steps to import calendar:
Open Thunderbird, select Tools, click Add-ons and choose Install Add-on from file
Choose Provider for Google Calendar extension and install it
Restart the Thunderbird
Login to com/calendar
Click settings icon and choose Settings option
Under Settings option, click the Calendars tab, select the desired option you wish to synchronize with Thunderbird
At the lower end of the calendar page, select the XML icon and choose Private Address copy its URL.
Now in Thunderbird, choose New > Calendar
Select On the Network and choose Google Calendar. Here paste the Google Calendar copied link.
On prompt, enter Google account password
Now, specify a name as well as colour for the calendar
Click Next and the process is complete
How to Import Gmail Emails to Thunderbird
To export all your Gmail emails to an email client— Thunderbird, you have to follow the below-stated steps systematically.
Follow the steps below:
Log in to your Gmail account.
Choose Settings and click on Forwarding and POP/IMAP
Enable POP or IMAP for all mail option.
Now, to move Email to Inbox, you will have to transfer back all your archived emails into Inbox. Next, login to your Gmail account, choose All Mails. Now, choose All link option next to the Select
Here, a new option Select all conversations. Click it and move all to Inbox.
Use Configuration instructions to setup Gmail with Thunderbird, and download your emails.
Now let's look at how you can import your Google service's items list to Outlook
How to Import Gmail Contacts to Outlook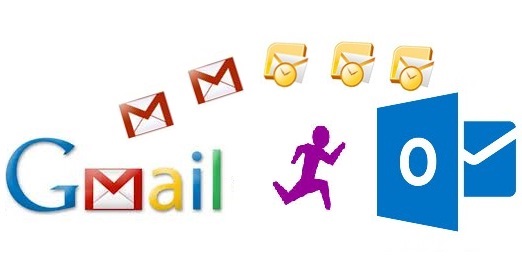 In case you have moved from Gmail to Outlook for Business, then, in this scenario, you would also want to move your contacts there for convenience. Here's how you can do it. Follow the below steps:
Log in your Gmail Account.
Select Contacts.
Click More and choose Export.
Select the contacts you wish to import.
Under Export format, choose Outlook CSV.
Click on the Export
Save your CSV file.
Open Outlook and click the File
Select Open/Export option and choose Import / Export.
Choose option Import from another program or file.
Click
Omit Comma Separated Values.
Click
Click Browse and choose just exported Gmail Contacts File.
Click Next and select the address book where you wish to import the contacts.
Click Next and the process is complete.
How to Import Gmail Calendars to Outlook
Now, that you have moved to Outlook, you also want your important events and dates highlighted over there too which were previously marked in Gmail. Doing this is again a simple process as specified below:
Log in to your Gmail account.
Choose Calendar.
Select My Calendars> Settings.
Click on the Export calendars.
Specify a location where you wish to save the extracted file.
Go to the location where you have to save the file and unzip it.
Choose Extract All.
Next open Outlook (Outlook 2013 or Outlook 2016) and click Calendar.
Select File > Open & Export > Import/Export.
Under Import and Export Wizard, simply select a vCalendar or an iCalendar (.ics) file.
Click Next and browse the location of extracted
Select it and click OK.
Choose Import and the process is complete.
How to Import Gmail Emails to Outlook
Just like contacts and calendars, if you want to import your emails too from Gmail to Outlook, follow the steps specified below.
Prepare your Gmail account with 2-step verification.
Create a password that Office will use to make connection with your Gmail account.
Add Gmail account to Outlook.
Open Outlook on your desktop (Outlook 2016, 2013, or 2010).
Choose File and click Add Account.
Under Auto Account Setup, specify your name, Gmail address, and password
Click Next and your Outlook is in sync with your Gmail account.
Now, Click Outlook, select File > Open & Export > Import/Export.
Select Export to a file option, and click
Select .pst, Outlook Data File.
Choose
Here, choose the account you want to export
Verify to ensure that the Include subfolders box is checked and click Next.
Click Browse and specify the destination where you want to save the Outlook Data File and click Finish to continue.
A dialog box 'Add an optional password', add the password.
Click Ok to save data file.
Now, you will see a copy of Gmail messages in the Outlook File.
To start Import or Export, select File > Open & Export > Import/Export.
Select Import or click next.
Select .pst File and click
Under Options section, specify the option in which you want to tackle the duplicates.
In case your Outlook Data file is password-protected, enter the password and click OK.
Import Email and click Finish.
Now, in Outlook select File, choose Account Settings and again select Account Settings
Select Gmail Account and click remove.
Undoubtedly, importing Gmail service's items list to Thunderbird or MS Outlook seems a bit lengthy process as for each item, be it the calendar, contact, or email, you have to follow separate steps and import it. However, it is still easy and simple. Further, it will not be erroneous to say that though it requires manual intervention, it is not tedious.
By now, you must be aware how you can Import Gmail Contacts, Calendars, and Emails to Thunderbird or MS Outlook. But, here there might be some individuals who must be thinking can they Import/ Export Thunderbird Emails to MS Outlook. If you are also among those users, then read on as we have a solution for you too.

Instead of stating any extensive process to Import/ Export Thunderbird Emails to MS Outlook in which you have to perform each action manually, let me guide you about the best software that caters to all Import/Export actions effortlessly without any hassle.
No doubt, there is a number of conversion software available in the market and all these software tools ensures to deliver the best quality. However, blindly choosing any software at random is a wrong practice. This will not only affect your conversion but can aggravate the situation further. Therefore, it is always advisable to choose the right one. Here, Stellar Converter for MBOX would serve the purpose. This Converter software is tried, tested, and approved by technical experts.
Brief Synopsis of Stellar Converter for MBOX
MBOX to PST Converter by Stellar is an easy, powerful, smart, and efficient utility to convert any mailbox to Outlook mailbox. This conversion software works efficiently for 17 MBOX email clients such as ClawsMail, Thunderbird, Spicebird, Mulberry, AppleMail, Pocomail, Entourage, Netscape, Eudora, MozillaMail, Evolution, Cone, Sylpheed, Mutt, OperaMail, Gnu, and SeaMonkey mail files.
With improved features and innovative techniques, this easy migration software can effortlessly import MBOX files into MS Outlook PST file format. Further, it also offers you the flexibility to preview the converted files prior to final execution of import. You can save the converted data into the existing as well as new Outlook PST file. The best thing about this software is that it ensures complete conversion without any email loss.
Below are the unique attributes of MBOX to PST Converter
Secure and risk-free
Intuitive interface
Provides Log Report
Both novice and expert users can use it
17 MBOX based Email Clients conversion support
Compatibility with Microsoft Outlook 2016, 2013, 2010, 2007, and 2003
To begin the data conversion from Thunderbird to MS Outlook, you need to follow the below-stated simple steps. These steps are sub-divided into two sections.
First—MBOX Email Conversion to Outlook PST File Format
Step 1: Download and install the software.
Step 2: Run Stellar Converter for MBOX software to start the import process.
Step 3: In Select Mail Client to be Converted to Outlook PST window, choose the Mozilla Thunderbird icon.
Step 4: A new window Select File/ Folder will appear; here, choose the File or Identity Folder to find file or identity. In case, you are not sure about the location, click on Find Files button, click Browse, select the desired drive, folder, or sub-folder, and click ok.
Step 5: After successful completion of searching, all Files listed in selected drive, folder, or sub-folder will be enlisted.
Step 6: Choose the file you want to convert and click on Convert.
Step 7: A Preview of all files that can be converted from the selection will be highlighted which you can preview.
Step 8: Now save it. Under New PST File Path, specify the location where you want to save the file. In case you want to save it in the existing PST File or Profile, specify the location of the PST File/Profile under Browse for Folder dialog box.
Step 9: Click OK and append the data.
Second – Import PST File into MS Outlook
Step 1: Click File, choose option and click Import
Step 2: Under Import and Export Wizard, choose Import from another program/file option.
Step 3: Click Next.
Step 4: A dialog box naming Import a file will appear. Here select the .pst Outlook Data File.
Step 5: Click Next.
Step 6: Now, select the PST file that needs to be imported by clicking on browse option.
Step 7: Under Options, select the desired option and click Next.
Step 8: In the dialog box— Import Outlook Data File, choose folders that you need to import to Outlook.
Step 9: Click Finish to complete the process.
Conclusion
You are now aware of the methods of how you can import Gmail contacts to Thunderbird, import Gmail emails to Thunderbird, import Gmail calendar to Thunderbird, import Gmail contacts to Outlook, import Gmail calendar to Outlook, and import Gmail emails to outlook. Though this may seem like a lengthy procedure yet it is simple and straightforward. In addition, there also exists another effective software to move Thunderbird emails to outlook — MBOX to PST Converter. This advanced and reliable software allows you to import MBOX to Outlook PST seamlessly.