Nikon Photo Recovery : Recover Deleted Photos from Nikon
Summary: Photo/videos loss from camera is a common problem. Check how you can recover deleted photos/videos from Nikon camera step-by-step with the help of Stellar Photo Recovery software. Learn how you can avoid certain problems of photo loss.
Table of content
Have you accidentally deleted the photos from your Nikon camera? Or
Are the photos lost due to formatting of the camera SD card?
Photo loss from the camera is a common problem. Even professional photographers who use high-end Nikon devices and follow the best practices to protect their work have reported the loss.
Often in hurry, you delete the photos and videos or format the camera SD card, and only later do you realize realizing of the loss. Sometimes, the camera SD card may get corrupted or infected by virus, causing corruption and loss of stored photos/videos. Such loss situations mostly necessitate using photo recovery software.
Nonetheless, there are also a few other things you can do to recover and protect Nikon camera pictures and videos.
Here we will share how you can recover lost or deleted RAW and JPEG images shot with any Nikon camera.
In addition, you'll get to know the solutions for common problems that cause photo loss in Nikon cameras
The solutions shared in this blog post work on all the latest and old models of Nikon DSLRs, camcorders, and digicams including D3100, D3200, D5100, D7500, D7000, Coolpix, Z76, and others.
How to Recover Deleted RAW and JPEG Pictures from Nikon camera
In cases of missing or deleted photos, there are only two ways to recover the image files —by using a backup or a professional Nikon Photo Recovery Software.
Those who maintain a backup of photos and update it regularly have a good chance to recover the deleted or lost Nikon photos.
However, there are instances when photos are lost from the backup too. Perhaps, the backup drive turns corrupt or you may accidentally delete certain folders from the backup.
Further, if you have edited the Nikon photos in Adobe Photoshop or Lightroom, the new modified image file may not be there in the backup drive.
Such situations call for a photo recovery software such as Stellar Photo Recovery that brings native support for all Nikon camera file formats
As a Nikon Photo Recovery software — Stellar Photo Recovery is one of the safest and most effective tools to restore deleted photos in case you're facing an obsolete or no backup situation.
The software works in complex loss situations and recovers even from reformatted or corrupt SD cards, microSD cards, SDHC, SDXC, hard drives, pen drives, etc.
Plus, it restores uncompressed RAW photos shot with Nikon DSLR, Mirrorless, or Point & Shoot cameras, without affecting their original quality.
Free Download the trial version of the software and preview your recoverable photos

Step-by-Step Recover Deleted Photos/Videos from Nikon Camera
Download and install Stellar Photo Recovery on your Mac or Windows computer
Connect the affected camera SD card to the system
Launch the software.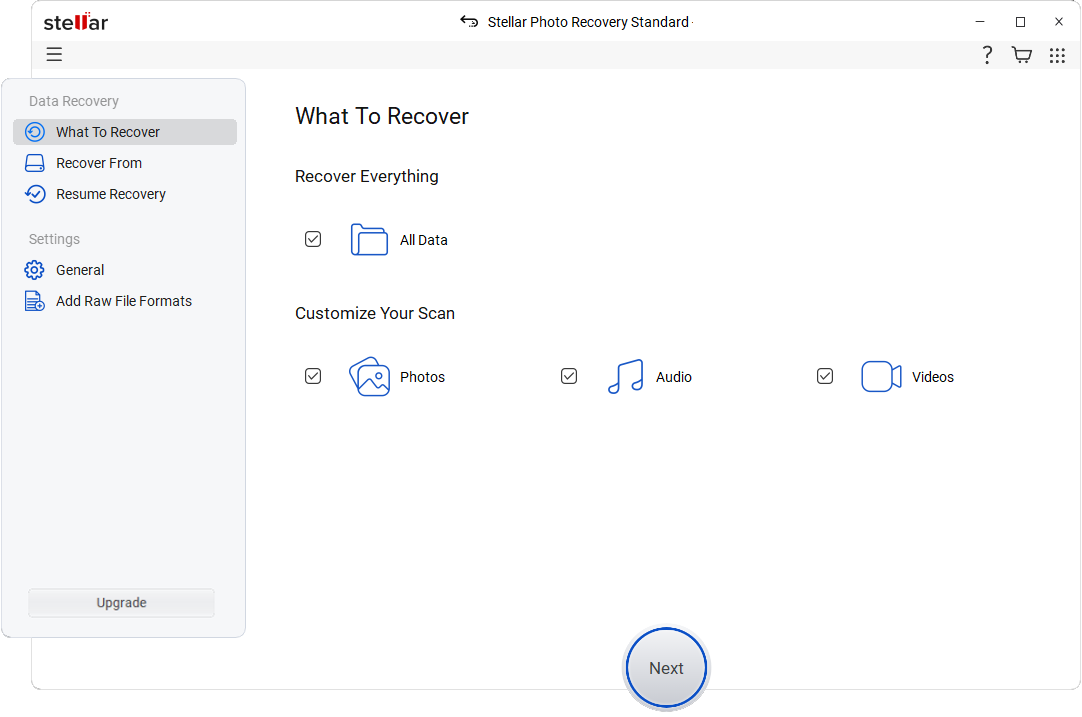 You can also go to the Settings icon on the top left. Choose Nikon file type and click Next. This reduces the scanning time and ensures you restore only what you want.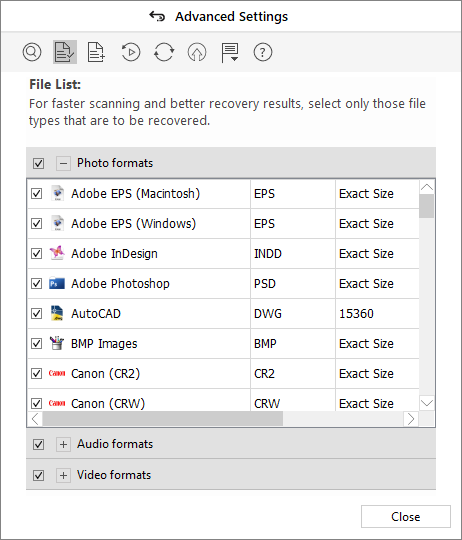 Select the SD card and click Scan wait until the scan process finishes.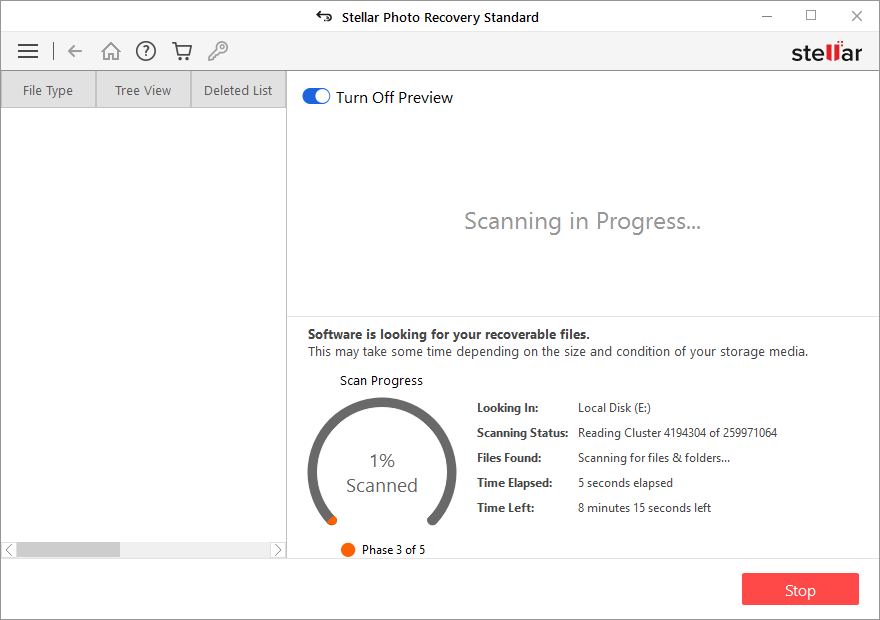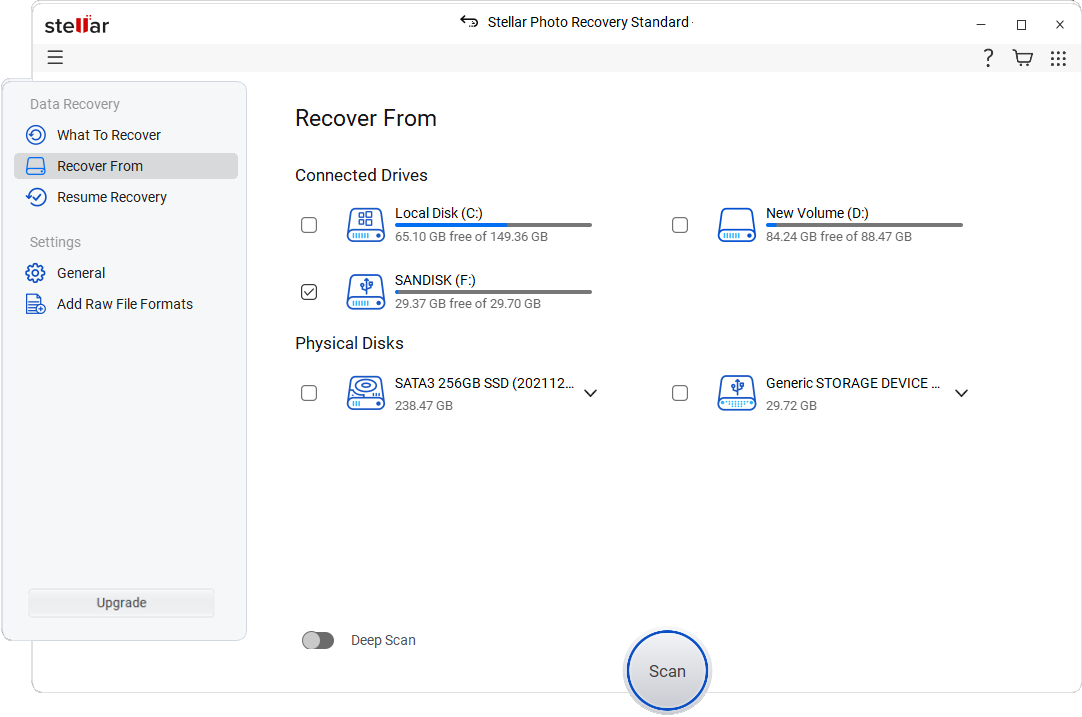 Preview and Save at the desired location.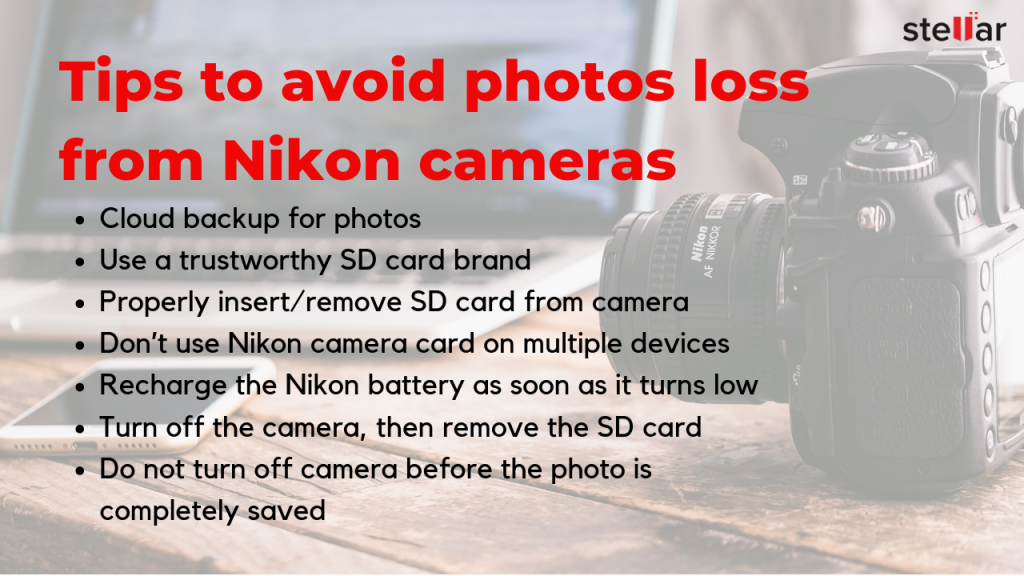 Common Nikon camera photo loss problems & solutions
Find solutions to some of the common photo loss scenarios that are reported in the Nikon community forums…
Problem 1: Nikon SD card is inaccessible on a computer, gives an error, 'SD card is damaged. Try reformatting it
Solution: Ensure the card reader, the SD card slot, and the adapter are working fine. If all is in place, perform Chkdsk in Command Prompt by logging as an administrator on your computer. Once the process finishes, restart your computer and access the camera SD card.
Problem 2: You cannot see Nikon SD card in the list of drive letters.
Solution: If you don't see the drive letter to the Nikon's card or receive 'Please insert the disk into drive E:' error, assign a new drive letter to the camera card via Disk Management.
Problem 3: Toshiba 16GB SD card has stopped working in Nikon DSLR. It gives error 'This card cannot be used.' How to restore photos stored on it?
Solution: Whenever any Nikon device – CoolPix, D3200, D850, or even the latest Z series etc., gives 'This card cannot be used,' SD card is not inserted' or 'This card cannot be read' message do the following :
Take out the SD card from the camera.
Gently clean the contact on the SD card by using a soft dry cloth
Carefully reinsert it into the camera. If this doesn't help, the camera card is faulty.
To recover the saved images in the card take the help of the Nikon photo recovery software like Stellar Photo Recovery.
Problem 4: Reformatted SanDisk Extreme 32 GB SDHC card used in Nikon D5100.
Solution: Reformatted SD card recovery is very difficult to obtain as the card is overwritten. However, you can try Stellar Photo Recovery. There are cases when the software successfully retrieves photos and videos from reformatted SD card.
Problem 5: Lost Nikon D3300 photos during transfer to computer from 16GB memory card.
Solution: Files may get lost when there is a disturbance like sudden power cut or you disconnected the SD card while the file is being transferred. The only way to recover such lost photos from the SD card or computer drive is by using a photo recovery software.
Problem 6: Photos shot in JPEG are missing from Nikon DSLR after switching to RAW mode and shooting several photos. How to get back the JPEG files back?
Solution: Probably your camera memory card had reached its capacity and you continued to shoot. This has overwritten the files. You may try Stellar Photo Recovery once, though the chances of recovery from an overwritten SD card are bleak.
Problem 7: Transcend 16GB Class 10 SD card is not working on new Nikon D7000. The photos were initially saved but suddenly disappeared. Why did it happen and how can I recover the lost photos of Nikon?
Solution: Are you using a supporting memory card for Nikon D7000? Check the device-compatible memory cards in your camera's manual and use the same.
As for recovery of the lost photos, try to recover them by using the Nikon Photo Recovery Software.
Problem 8: Nikon RAW image files of NEF format have turned corrupt. How can I repair the Nikon RAW photos?
Solution: Corrupt image files can be fixed by using a photo repair software. However, you may not find any tool that repairs uncompressed RAW camera files except Stellar Repair for PhotoThe software fixes any type of corruption or distortion in Nikon RAW photos.
Also Read:
How to repair corrupt RAW files of Nikon
How to Resolve Error Messages in Nikon D3200
Ensure your Nikon Photo Recovery software has the following:
Support for Nikon's RAW file formats (NRF, NRW) and JPEG
Compatible with SanDisk, Lexar, Toshiba and other brands of SDXC, SDHC cards used in Nikon devices
Restore without losing the quality of photos
Easy to use and fast to recover
Safe to download, free from virus or malware
An old piece of advice worth repeating! Immediately stop using the camera card, if you want to recover the pictures or other data on it. Any attempt to use the SD card will overwrite the data and reduce the chances of photo recovery from it. Thus, do not use the affected camera SD card, until the lost images are recovered from it.
To Sum Up
Nikon has its ardent fan club. Shutterbugs adore Nikon cameras and toil for years, curating priced memories and reputation around their digital photo artwork. So, obviously anything that subtracts joy from their labor of love is the biggest pet peeve; there are many but image loss is the foremost. And it's not surprising, given the many ways a digital image may get lost from Nikon and other cameras — accidental deletion, SD card formatting or corruption, faulty SD card, virus attack, image editing issues, and many others.
Though what's known is that every photographer faces the situation, at least once. And it can be devastating more often than not— failure of a photoshoot project can blemish ones professional credentials, and losing memories of lifetime events like weddings and overseas vacation can be an emotional pain.
But none of these comes close to Stellar Photo Recovery when you want the most effective solution to care for your digital photo (and video) collection. The software recovers lost photos taken from Nikon and other leading camera brands, and also repairs a vast variety of image/video corruption.
To help you out in such photo loss situations, this blog post outlined a few methods. Among these, backup – if available– makes an ideal route to get back the lost images but that seldom happens. There are few other methods like Chkdsk and assigning a new drive letter to the camera card etc. which apply to specific situations, with varying degrees of success.
It recovers NEF, NRF, and JPEG file types -in original picture quality- from all Nikon supported SD cards. The software works like a breeze and safely recovers the lost photos shot with Nikon cameras.