How to Recover Deleted PNG Files?
Summary: PNG Files can get lost from your device due to accidental deletion, sudden system shutdown, etc. Check Backup Folder to restore lost PNG files. Additionally, get the best photo recovery software for faster recovery of deleted PNG files. Also learn tips on how to avoid PNG files from getting lost.
PNG stands for Portable Network Graphics files, the most common photo format for storing detailed, high-quality images. This format supports lossless compression, which means no data is lost when an image is compressed into PNG, making it easier to transfer and store.
PNG supports transparent backgrounds. Hence, it is the preferred format for storing web graphics, logos, charts, and illustrations. It is an open format, so you can view and edit these files in any image editing software.
"I accidentally deleted my client's logo design project yesterday while making space in my system. Now I want those files back. Are my PNG logos lost forever? Is there a way to recover those files? Please help!"
Unfortunately, accidental deletion is one of many scenarios where you can lose your PNG files. But there are other scenarios, like formatting, interruption during transferring PNG files, improper handling and corruption of SD card/storage drive, malware, or virus infection.
This post shares workable methods to recover deleted PNG files. So let's get started without further ado!
How to Recover Deleted or Lost PNG Files?
Before you start the PNG recovery process, stop using storage media like a hard drive or SD card immediately after losing your PNG files. Moreover, don't save any new data on the drive to prevent overwriting. Now let's look at different methods to recover PNG photos.
Method 1: Recover Deleted PNG Files from Emptied Recycle Bin/Trash
Usually, deleted PNG files are found in your Recycle Bin or Trash, and you can easily restore them from there. However, if you have emptied the Recycle Bin and Trash folder, your PNG photos will no longer be available. The only possible solution to recover permanently deleted PNG files is with the help of reliable photo recovery software.
Method 2: Recover Lost PNG Files using Windows & Mac Backup
If your PNG files are deleted or lost, you can find them in the backup folder created on an external hard drive, Time Machine, OneDrive, etc. Check your backup folder for lost PNG files.
If you habitually take backups of your system data regularly, you can easily recover your deleted or unsaved PNG files. Windows provides three backup features: Backup & Restore, File History, and Previous Version to back up your data automatically.
However, these must be set up or enabled beforehand for data backup. Here's how to use the Previous Version to restore deleted PNG photos:
Go to the folder on your PC where your PNG photos were saved.
Right-click on the folder and choose Properties.
Navigate to the 'Previous Versions' tab; here, you will see a list of previous versions with dates.
Select the version of the folder that contained your photos.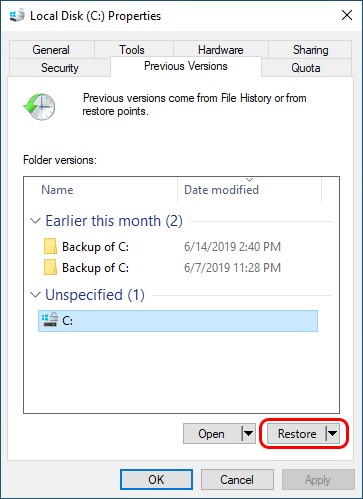 Click Restore. Or drag and drop that folder at any destination on your PC.
Mac users may recover PNG photos from the Time Machine drive or their iCloud account.
Method 3: Recover PNG Files via the Best Photo Recovery Software
If you have emptied the Recycle Bin/Trash or don't have a backup, recover PNG files with advanced photo recovery software like Stellar Photo Recovery. It is an easy-to-use yet professional PNG recovery tool that helps retrieve lost PNG files without compromising the original quality.
Stellar Photo Recovery can retrieve deleted PNG files lost due to formatting, corruption, virus attack, etc. The DIY photo recovery tool is proficient at retrieving photos, videos, and audio in any file format, such as PNG, JPG, MP4, WAV, etc.
Here are some cool features of Stellar Photo Recovery software:
Recover deleted photos, videos, and audio of all popular file formats, such as PNG, CR2, MP4, or MP3.
Supports photo recovery from all types of storage media, such as SD card (Mini, Micro, SDHC & SDXC), hard disk, Windows, Mac, smartphones, etc.
Allows to preview recovered photos before saving them.
Saves scan information, then lets you resume recovery later.
Restore deleted photos with original timestamps and quality.
Supports recovery from all data loss scenarios, including accidental deletion, formatting, virus attack, etc.
Easy and user-friendly interface and safe to download software.
To see how the software works, download the free version from here.
Steps: How to recover PNG files using Stellar Photo Recovery?
Step 1: Just download, install, and launch Stellar Photo Recovery software on your Mac or Windows PC.
Step 2: Select the drive/disk from which you lost your PNG files.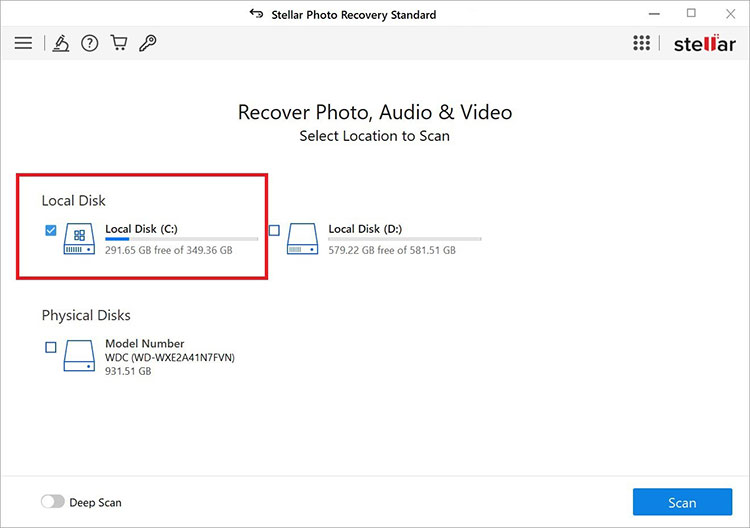 Step 3: Click the hamburger icon at the top and click the Settings option.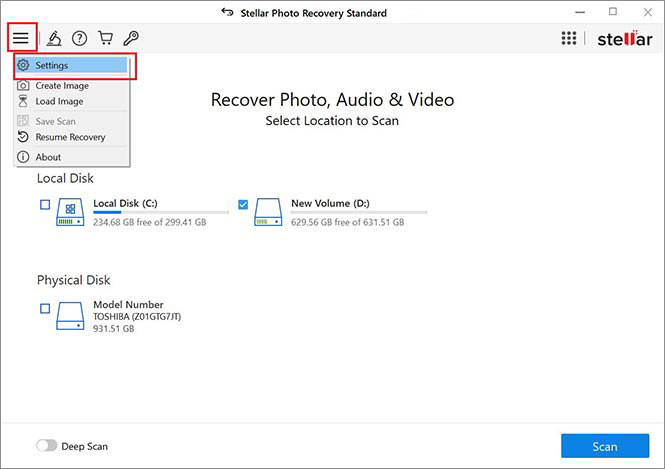 Step 4: And, go to File List, under Photo formats, scroll down, tick the checkbox against PNG Files, and uncheck all other formats. Click Close.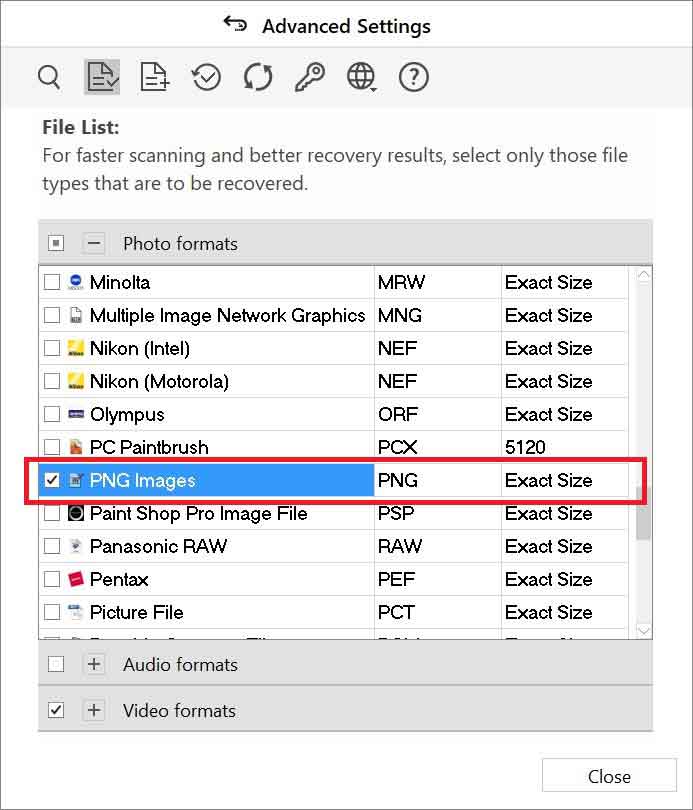 Step 5: Next, click the Scan button on the Home screen to initiate the scanning.
Step 6: The software will scan your SD card and show you the progress. Be patient, as the scanning may take some time, depending on the SD card size.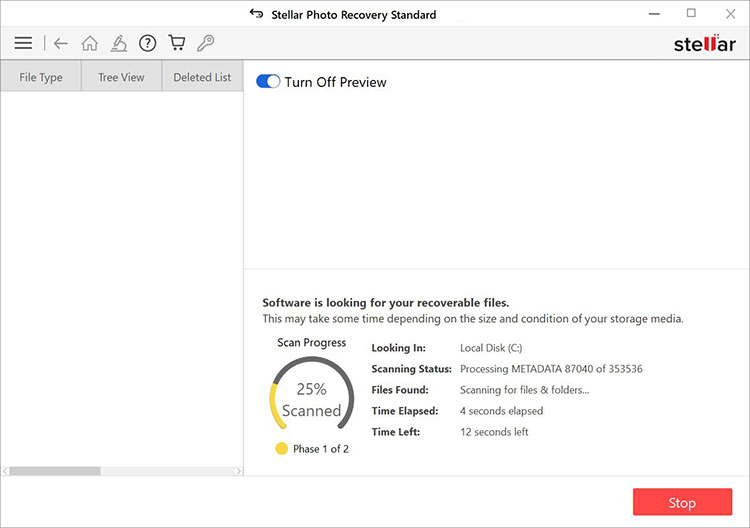 Click Stop if you wish to stop the current scan process.
Step 7: Once the scanning completes, you will see the list of recoverable files. You can preview the found files, select the PNG files you want to restore, and then click Recover.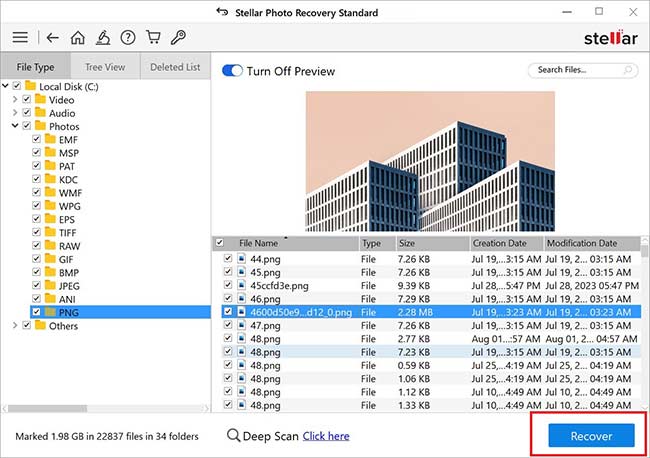 Step 8: Then, Browse to choose a desired location to store recovered PNG files. Click Start Saving.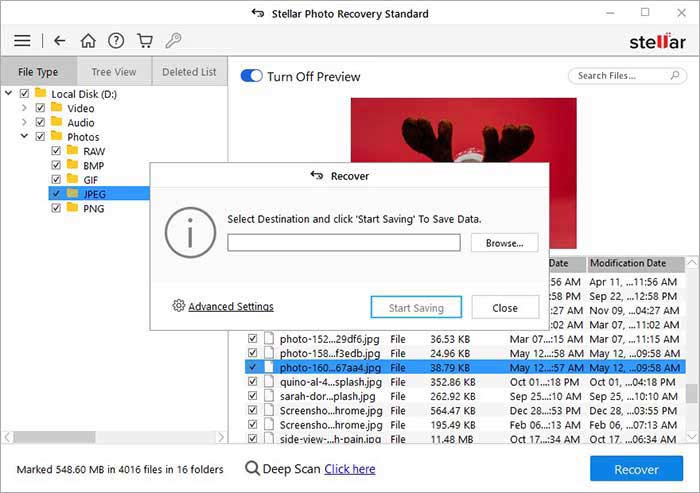 Tips to Prevent PNG Files from Getting Lost Again in Future
Your lost or deleted PNG files are restored to your desired location, and you will never want to lose your files again in the future. For this, you must proactively follow these tips to protect your data:
Keep multiple backups of your PNG images and other data at different locations.
Install trusted antivirus software to keep viruses and malware infections away.
Monitor the drive's performance to check if it is working well.
Safely insert and eject the USB flash drives, external hard disks, and SD cards.
Conclusion
PNG is the most popular format listed at the top of all commonly used photo formats. There are many scenarios where users accidentally delete PNG files and then fear losing them forever. If you are experiencing the same situation, recover PNG files from the Recycle Bin/Trash and backup folder.
However, if you cannot find the deleted PNG files in the Trash/ Recycle Bin or don't have the backup, use dependable PNG file recovery software like Stellar Photo Recovery. This photo recovery tool retrieves PNG files lost due to data loss scenarios, accidental deletion, sudden power outages, etc.
Here's a free trial you can download to evaluate the effectiveness of the software.
FAQ
1. What to do if I am unable to open a PNG file?
If your PNG files are damaged, there is a high chance that it won't open. In such a scenario, you can try these solutions to fix unable to open a PNG file issue:
Update your image viewer program.
Try to open PNG files in different image viewer applications like Adobe Photoshop, Lightroom, etc.
Convert your PNG to JPG or a different format using an online photo converter tool.
Repair PNG image with advanced Stellar Repair for Photo tool.
2. How to recover PNG files from Recycle Bin?
To recover PNG files from Recycle Bin:
Go to the Recycle Bin and select the PNG files you wish to recover.
Right-click on the files and choose 'Restore.'
3. Are permanently deleted PNG files gone forever?
The permanently deleted file is not gone forever and can be recovered using professional photo recovery software until overwritten. For example, if you delete the PNG files from your Windows PC and empty the Recycle Bin, your files will not be completely erased until you write new data on your storage drive.
4. What should I do if my PNG files are corrupted?
Use advanced photo repair tools like Stellar Repair for Photo if your PNG files are corrupt. This tool can easily repair various photo corruption issues like invalid file structure, corrupt header, etc.
5. Is it possible to recover PNG files on Android?
You can recover PNG files from Android devices using Stellar Photo Recovery software only if your deleted photos are stored on the SD card.
6. How to open a PNG file?
You can open and view PNG files in any image viewer or editor like Microsoft Paint, Photos app, Adobe Photoshop, Lightroom, etc.
7. PNG vs. JPG: Which Image Format is Better?
PNG is a high-quality, lossless image with transparent background, which is a perfect choice for storing drawings and iconic graphics. In comparison, the JPG format has a lossy compression that saves images in a smaller size. The choice between JPEG vs. PNG largely depends on how you use the photos – editing, printing, or other.