The 5 Best Methods to Track a Lost or Stolen iPhone
Summary: Lost your iPhone? Don't worry, here we tell you how to track lost or stolen iPhone using various techniques. Also, learn how to erase your iPhone data permanently to prevent it from reaching in wrong hands or misuse, using Stellar Data Recovery for iPhone.
Q. I cannot live without my iPhone. It was stolen yesterday and can't recall where I lost it. It has been switched off. Can I track the location of my iPhone? Is there any way to track lost iPhones?

A. Don't panic. Log in to 'Find My iPhone' via iCloud.com and set it to 'Lost Mode'. To know what else you can do now to track the iPhone location, read this post.
Losing an iPhone (and for that matter any smartphone) is tormenting. Besides the upfront costs, there's an incredible amount of personal data at stake. Today, smartphones not just store personal photos, videos, and music libraries, but might also contain an incredible amount of sensitive information in the form of browsing history, social data, app traces, etc. So the apprehension of exploitation and misuse of the data stored in a stolen or lost iPhone is but real.
So, as soon as you discover that your iPhone has been stolen or lost, first, try to track the location of your missing device and lock it.
How to track a lost or stolen iPhone?
Try out the following methods:
Use Find My iPhone
Track through Apple's Family Sharing
Use Google Timeline
Try Google Photos
Use location-tracking apps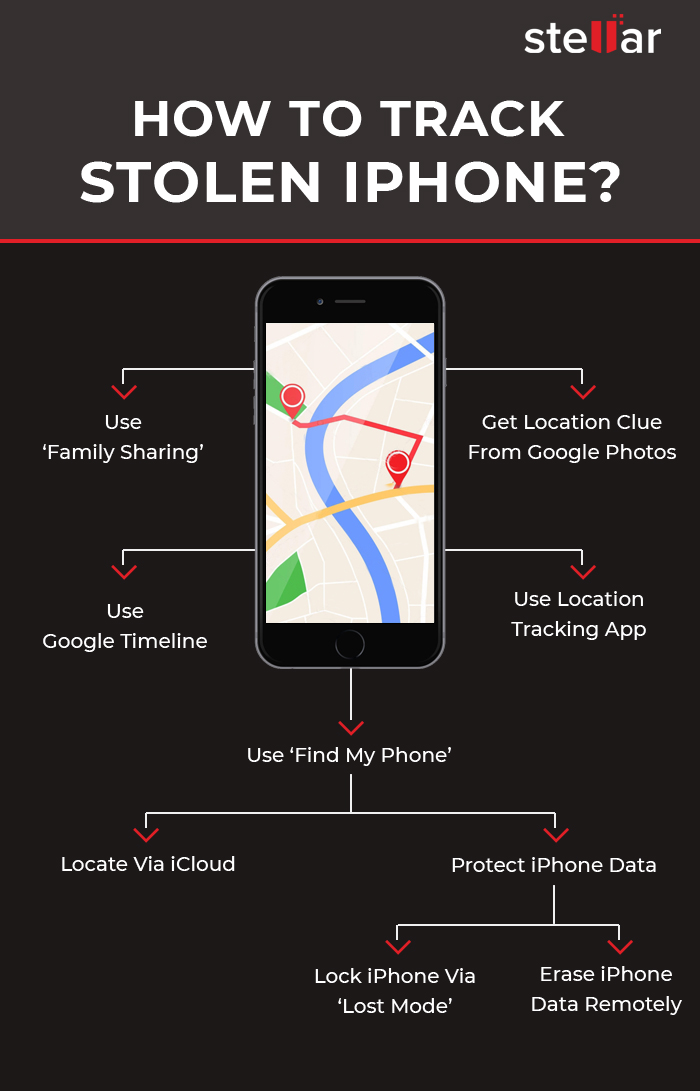 Method 1: Use Find My iPhone
If Find My iPhone is enabled on your stolen iPhone, you can do the following:
Locate your mobile phone
Protect your iPhone data by choosing Lost Mode or erasing the data remotely
How to use Find My iPhone when the phone is missing
Sign in to icloud.com on your computer.
Click on the Find My iPhone link at the bottom
On the Find My iPhone's map interface, select your lost iPhone via the All Devices drop-down menu. The app starts tracking your iPhone location on the map.
As you see the location of your device you can choose to do the following:
Play sound (if your iPhone is nearby, you can trace it with sound)
Activate 'Lost Mode' ( this locks your device and still tracks it)
What does Lost Mode do to your device?
Remotely locks your device
Displays a message with your phone number on the missing iPhone's Lock Screen
Keeps track of your device location.
Erase iPhone remotely (with this action you won't be able to track your iPhone but data is prevented from slipping into the wrong hands)
How to erase iPhone data remotely?
Choosing to erase iPhone remotely deletes the complete data from it.
Note: Always remember to copy important photos, videos, music, and other data on iCloud backup before remotely erasing the iPhone.
Use a trusted and safe data recovery solution such as Stellar Data Recovery for iPhone to restore lost files from iCloud. The software allows the recovery of specific data rather than recovering the entire data.
 Method 2: Track iPhone through Family Sharing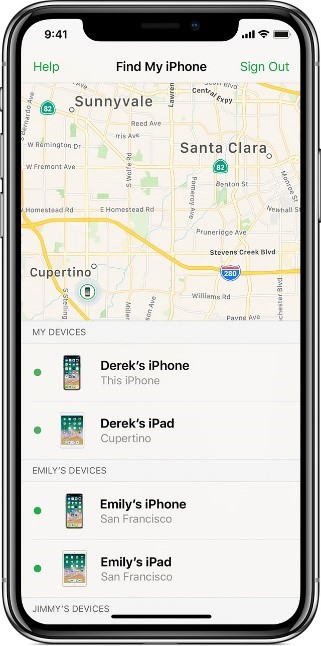 If you have set up Family Sharing, use it to track your iPhone. Family Sharing helps the members to know each one's device location. Ask another member in the Family Sharing group to trace your iPhone via the Find My iPhone app. The member can also sign into iCloud.com to locate the missing iPhone.
Is your missing iPhone switched off or offline?
If the missing iPhone is switched off or showing offline in Family Sharing, you can still activate Lost Mode or remotely erase its data via Find My iPhone.
Note: The iPhone's last known location remains only for one day. In case your device is offline for over 24 hours, you cannot trace its last location.
What to do when 'Find My iPhone' is NOT enabled or the missing iPhone is offline for more than one day?
Change your Apple ID passwords to prevent anyone from accessing your data.
Change your social media and other Internet account passwords like Gmail, Twitter, Facebook, Instagram, etc.
Report the device as missing to the authorities.
Report your network carrier to disable the services like calls, messages, or data use.
Method 3: Use Google Timeline to find lost iPhone
If you had turned on Location Services and Location History on your iPhone, Google's Timeline will record all the locations of your device.
When an iPhone goes missing, access the location information on a map and find the last location. Remember, Google Timeline records the location only when the iPhone is switched on with an internet connection.
How to see the last location of a lost iPhone in Google Timeline
Visit <com/maps/timeline> on your computer.
Sign in to your Google account.
Click Today or select date.
Scroll down to see the last reported location of your iPhone.
Along with the location, note the time when your phone was last connected to Google. Taking clues from the location and time information, you can find your lost iPhone. If needed, take the help of cops.
Method 4: Take location clue from Google Photos
If anyone has captured a photo from your lost iPhone and you have Google Photos location-sharing option enabled, then luck is on your side.
Visit <photos.google.com/>. Check, if any new photos were uploaded and view their upload location.
Method 5: Location tracking apps
If you have installed any location-tracking app such as GPS Location Tracker, CocoSpy Cell Phone Tracker, or iTrack on your missing device, use it to track the lost or stolen iPhone. These apps share the real-time location of your device on your computer or other connected devices.
Conclusion
Apple's Find My iPhone feature is the best way to track the location of a stolen or missing device. If Find My iPhone is not enabled you can try Google Timeline or Google Photos. Other than these methods, third-party apps can also help track a lost iPhone, but only if you have installed them before the phone was lost.
Nevertheless, ensure that you copy the iCloud backup of the stolen iPhone before taking any of the above steps.
A smarter way is to filter out the data that you want to keep, with the help of Stellar Data Recovery for iPhone.
Is this post helpful? Share your experience in the comments below, how you managed to track and get back your stolen iPhone.