Stellar Extractor for Windows Backup is a dynamic tool that recovers inaccessible data from the corrupt backup (BKF, ZIP, VHDX) files caused by Unrecognizable file format, Runtime error, CRC (Cyclic Redundancy Check) error.

Follow the steps to select BKF, ZIP, VHDX file

1. Run Stellar Extractor for Windows Backup, the main interface provides you various options to locate the BKF, ZIP and VHDX file. Either you can directly select the file from a known location or find the stored files in case you don't know the location. Choose one option accordingly.

2. In case of 'Find Files' all the found files will list below, select the targeted file and click Recover to initiate recovery.

3. If you select a VHDX file, a new dialog box will appear like below mentioned figure, where with BKF and ZIP files there is no such dialog box will appear.

4. In case of VHDX file, choose the partition you want to recover and select Recover to initiate recovery process. After successful process, a message box appears for confirmation click OK.

5. After successful scan and recovery the software lists all the scanned files in a tree like structure format in left pane of the window. These listed files can be previewed by a click.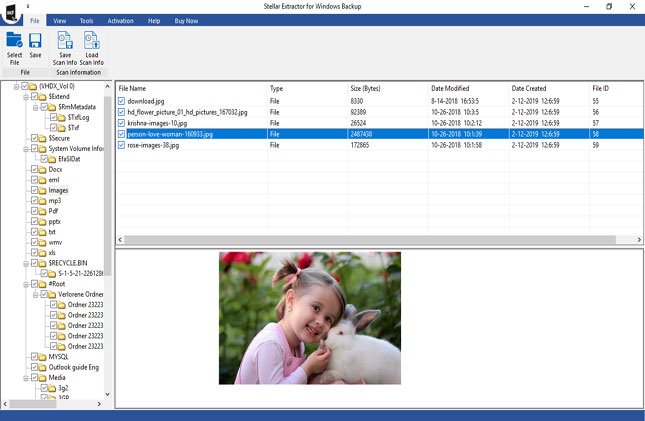 6. After preview, you can now save the contents of BKF, ZIP or VHDX file by selecting 'Save' button from File menu. To save selected files, choose them from the available list and click on Save from File menu.

7. After selecting Save option, a dialog box will ask you to save either a few files or all of them along with the save location options. You can save the recovered files either at the default location or select a desired location. (ZIP files can be saved in Compressed or Uncompressed format.)

8. If you choose the Default Path button and click Save, then a message box appears along with containing folder link that can take you to the default location. Click OK to finish the process.