Microsoft SQL Server is one of the highly used relational database application of the current time. For its advanced internal structure and reliability, many organizations use SQL Server database to store their business critical data. Unfortunately, sometimes due to virus infection, operating system malfunction, file system corruption or other similar reasons, the SQL database gets corrupt and the data in it becomes inaccessible. In such situations, Stellar Repair for MS SQL software can help you rebuild the corrupt database and restore the data back.

The software is absolutely risk-free and recover inaccessible database components from the corrupt MDF file in three easy steps: Select, Repair and Save. Below steps will guide you through the >SQL Server database recovery process:

How to Repair Corrupt MDF File, using Stellar Repair for MS SQL Tool-
Download & Run the Stellar Repair for MS SQL software.

The main interface of the software opens. If you know the location of the corrupt MDF file, click 'Browse' button and choose the file from its location. If you do not know the exact location of the MDF file, click the 'Search' button.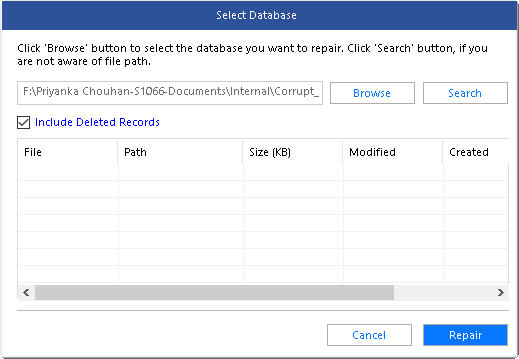 Alternately, you can also check for these options in the 'Quick Access Toolbar' or click 'Select Database'  icon from 'File Menu'.
Note: You can choose to search for the MDF file in any other drive of the computer. Moreover, you can also search the file in any particular folder by selecting the folder and clicking the 'Search in Folder' button. If the software finds out multiple MDF files, double click to choose the right database file.
After selecting the corrupt MDF file, click the 'Repair' button to start the process. 
The software is pretty fast in scanning the corrupt database file and quickly displays all the recoverable components in a tree structure. The left pane of the interface shows the items in a sorted tree. You can click on any table from the tree to preview the content in the middle pane. The bottom pane shows the message log.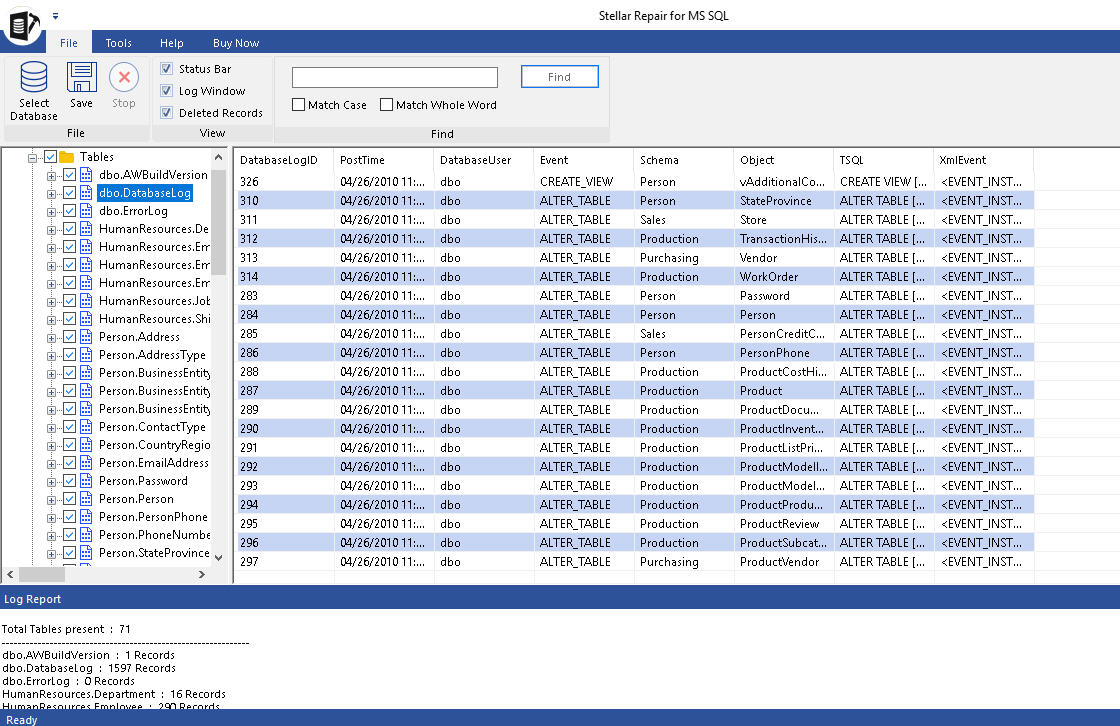 Note: You can search for any particular table from the tree by typing in the name of the table in the 'Find Tree Items' search box in the menu bar. Here you can use the options – 'Match case' or 'Match whole word'
Select the database components to be recovered from the tree and click the 'Save' button from the tool bar. Alternately, you can also click the 'Save' button from the Quick Access Toolbar.
As you click 'Save', another window opens up for connecting to the server and selecting the destination for saving. Provide the 'Server/Instance Name' and the destination at which you want to save the recovered components. Click 'Connect' to begin the repairing process.
On successful completion of the process, a message "File saved at the desired path" is displayed.