Stellar Phoenix PDF Recovery
Safely repairs corrupt PDF file and restores page format and file objects
An efficient PDF recovery tool that repairs corrupt or damaged PDF files and restores forms, headers/footers, word art, clip art, page format, charts, shapes, and tables.
Repairs corrupt PDF file without modifying original formatting (fonts, outlines, colors)
Compatible with all versions of PDF files
Extracts images from PDF files and saves them at user-specified location
Removes all the restrictions applied to PDF file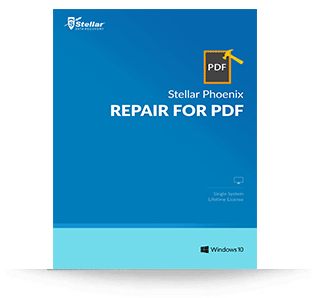 This comprehensive tool can help you effortlessly fix a damaged PDF file without messing up with the formatting and properties of the constituent objects. Mentioned below are some remarkable features of the tool:

Recover Corrupt PDF File
The software can safely repair PDF file damaged during a download, upload, or normal usage. This effective utility can easily restore word art, clip art, shapes, charts, tables, and more without any slightest modification to your PDF file.

Complete PDF Recovery
The tool empowers you to recover all objects contained in your PDF file, including hyperlinks, bookmarks, comments, notes, header and footer, etc. With this competent utility, you can also recover page tree and cross-reference table.

PDF Recovery from External Storage Media
This reliable tool is equipped to repair PDF files that reside on any external data storage media like CDs and flash storage devices. You do not require transferring the file to your system as the software can make repairs directly by accessing the external media.

Extract Images
If your PDF file consists of images and you want to extract them, the software proves to be your saving grace. The feature can be used for working PDF files and you are prompted for a password if your file is password-protected.

Remove Restrictions
The tool helps you remove restrictions and security permissions applied to your PDF files. You can remove permissions for printing, editing, copying, and more that were imposed for restricted and authorized use of the document. Removal of restrictions is possible only for working PDF files.

Searches PDF File
If you do not remember the path of your PDF file or if you have forgotten its location, then the software is your best bet to search the PDF file in your system. You can search the file in any folder, subfolder, or drive.

Solution for All PDF corruption Errors
The software is apt for handling all instances of PDF file corruption. The tool is your one-stop solution for making efficient PDF repair in cases of all PDF file corruption errors.

User Friendly GUI
User friendliness is the trait of the software that takes you through a few simple steps for performing PDF repair. With this tool, you can perform complex recoveries with minimum fuss.
Save Repaired PDF File
Using this PDF repair tool, you can save the repaired PDF in any of these output versions: PDF 1.3, PDF 1.4, PDF 1.5, and PDF 1.6. By default, the repaired file is saved in the same version as the original PDF.
Live update wizard
The software features an exclusive option for performing software updates. You can use the update wizard for installing live updates of the application without a hitch.
* Free Download provides preview of first three pages of the document. To preview and recover the complete document, you need to purchase the product.
FAQ's
Previous
Next
Is there any demo version available of this product?

Answer:

Yes the free demo version of the PDF file repair software is available online. In the demo version you can only preview the first three pages of the file. Though the PDF is repaired, you cannot save it. To perform the full recovery of your corrupt PDF file you will have to purchase the full version of the software.

What PDF versions can be recovered by Stellar Phoenix PDF Recovery Software?

Answer:


The software supports nearly all the versions of PDF files. The various PDF and its corresponding Acrobat Reader versions supported are

Does this software repair more than one PDF file at a time or PDF files in bulk?

Answer:


No, this feature is not available in the current version of the software.

How can I remove permission from my PDF file by the use of this software?

Answer:


Removal of restriction is possible only on the files which are in working condition. You can use these steps to remove the permission from a PDF file:

Run Stellar Phoenix PDF Recovery and click Remove Restrictions

Select the PDF file

Click 'Scan' button.

All the permissions applied on the PDF file are listed.

Click 'Remove Restrictions' button. The 'Repair options' window is displayed.

Click 'Browse' to select the location to save the unrestricted file.

Then click OK.

I am getting error 'format error: not a PDF or corrupted'. How can I repair this PDF file?

Answer:


The above error is indicative of corruption in your PDF file. You can correct this problem by repairing the file with Stellar Phoenix PDF Recovery.

I am getting error 'The file is damaged and could not be repaired'. How can I repair this PDF file?

Answer:


The error 'The file is damaged and could not be repaired' indicate the corruption in your PDF file. You can repair corrupt PDF file with the help of Stellar Phoenix PDF Recovery.

PDF File displays a blank page. What does it mean?

Answer:


When a PDF file get severely corrupted then it shows a blank page while opening. You need to repair this file with the help of Stellar Phoenix PDF Recovery.
You May Be Interested in These Items