Stellar Partition Manager
Efficiently manages partitions on Mac hard drives including the BOOT volume without causing data loss
Professional Mac volume manager that allows you to perform basic partitioning operations, such as creating, deleting, resizing, formatting, and hiding/revealing a partition.
A complete Mac Partition Manager utility
Creates new partition(s) on Mac hard drive
Resizes, formats, or deletes existing partitions
Resizes Mac partition by optimizing the free space
Resizes Boot Camp & NTFS partition with ease
Performs batch operations preventing the risk of data loss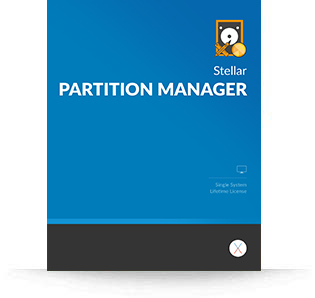 This partition manager Mac utility meticulously plans all partition operations to ensure data safety and also enables you to roll back any unwanted changes before committing the action. Some salient features of the utility are listed below

Create new Partition
The software allows you to easily and safely create partitions of any type on your Mac hard drive. If there is scattered free space on the drive, the comprehensive utility shifts the existing partitions to make sufficient space for the new partition to be created.

Delete Partition
Using the software, you can comfortably delete a partition on your drive to create more free space for other disk usage. It is advisable to backup all your important data before performing this task. For deleting the system partition, you require creating a bootable media using Stellar Partition Manager.

Resizes Boot Camp partitions & NTFS drives
With this Mac partition manager software, you can easily resize the Boot Camp partition so that both Windows OS & Mac OS X have appropriate partition sizes. User can also connect their NTFS formatted PC drives and resize the partitions as per need.

Roll back
This unique feature allows you to undo your last selection that you made to perform an action, but later decided not to proceed further

Format Partition
The software facilitates easy and quick formatting of partitions when you wish to completely wipe off all data present on a particular volume to remove any unwanted virus and other malicious programs from the drive.

Create Bootable Media
Stellar Partition Manager enables you to create a bootable media that could be used to perform partitioning operations on the boot drive. You need to backup your important data before working on the boot drive

Hide / Reveal Partition
You can anytime hide a partition to conceal your important information or make it inaccessible to any unauthorized person for safety reasons. You can easily unhide or mount this partition later by using the 'Reveal' option.

Resize Mac Partition
The software effectively resizes Mac partitions on any drive by adjusting and reorganizing the free space and thus, making the operation secure and free from any risk of data loss
* Free Download: is a Demo version of the software that allows you to format, delete, hide and reveal a Mac partition. To effectively use all the features of the software, you need to register the product.
FAQ's
Previous
Next
Which versions of Mac OS are supported by this partition manager Mac?

Answer:


Stellar Partition Manager supports all the versions of Mac OS, from 10.6 and above. It also supports OS X Yosemite 10.10.

I am facing problems while resizing a partition using Stellar Partition Manager. What could be the
possible causes?

Answer:


The partition you are trying to resize may contain some bad sectors. In such case, the resizing operation fails. Another reason could be that the partition has some errors in the file system.

I saw one of my partitions in hidden mode while using Disk Utility. Also when I tried to mount it, I
was unable to do so. Why?

Answer:


You have made this partition hidden using Stellar Partition Manager. When the software hides a partition, you cannot perform any operation on this partition using Disk Utility. To mount or unhide the partition, you need to reveal it using the software itself.

Can I merge my partitions using Stellar Partition Manager?

Answer:


No, the software does not allow merging partitions

Disk Utility won't let me resize my Mac partition? What to do?

Answer:


At times, it happens when Disk utility fails to resize any partition on Mac hard drive. It may be the Startup disk partition or any other logical partition that fails to resize via Disk Utility. In such cases, Stellar Partition Manager will help you resize the stubborn partition. This software will create the boot DMG & will start the Mac OS X in bootable environment. It then recognizes & collects free spaces on the Mac hard drive & easily let user to resize the partition to take the free spaces.

Please Note: Stellar Partition Manager recognizes &shows the free spaces on the Mac hard drive whereas Disk Utility doesn't.

Is software available for Power PC users?

Answer:


No, Software does not support Power PC anymore.

Does Stellar Partition Manager older version support resizing Boot Camp partition?

Answer:


Boot Camp Resizing is the new feature of Stellar Partition Manager V3.0 and older version such as 2.5 and 2.0 don't support Boot Camp resizing. It is recommended to register the latest version of Stellar Partition Manger i.e. V3.0 in order to resize Boot Camp partition.
You May Be Interested in These Items