Repair MP4, WMV, MOV files affected by STOP/DJVU ransomware
Summary: If you have discovered that your MP4/WMV/MOV files are under attack from STOP/DJVU ransomware, you're in the right place for help. This issue is very common, and most users have no idea how to repair ransomware-affected videos or access them after these attacks. This article will guide you to understand this ransomware and offer solutions to get rid of it.
The STOP/DJVU ransomware came into the limelight for the first time in 2018, but it wasn't as feared back then as it is now when it is attacking people worldwide. Why is it feared, you ask? Because ransomware is a file encryption Trojan malware that breaches your computer system and encrypts all your files, including documents, audio, videos, images, etc. Once it does that, all such files become inaccessible to you.
If that wasn't unsettling enough, the way this ransomware works will further baffle you. It doesn't encrypt the entire file; just about 5MB of it. Once a file is encrypted, it is updated with the .DJVU extension, and regardless of which application you try to use to open such a file, you can't. Creating a copy and trying to open it also doesn't work.

After this, your computer displays a note where demand for ransom money is made to decrypt your files! Only when you pay the ransom as demanded, the hacker sends you the decryption key to access your files.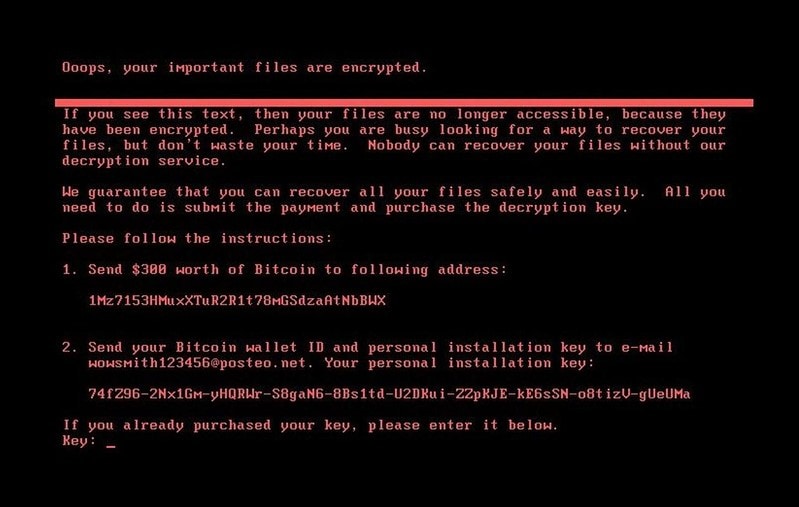 Needless to say, STOP/DJVU is a highly dangerous malware that gets injected into your computer to force you to purchase a decrypting tool. However, you should know that decrypting a file takes time, and there is no guarantee that even after purchasing the keys, file will be decrypted completely. So you can't be sure that paying money will solve this problem.
If you are currently under attack from such ransomware, no need to worry. In this post, you will get learn to save yourself from this condition. You will learn to repair mp4 files affected by ransomware and also understand how such deadly malware infiltrates our computer system so that you can safeguard yourself in the future.
How can a computer get infected with
Spam Email
Your inbox could contain hundreds of spam emails that are laced with malware. When you accidentally or intentionally perform any activity mentioned in such emails, for instance, clicking on unverified links, you unknowingly give the malware access to enter your system.
Third-Party Applications
People often download third-party applications or software (especially cracked software versions or games) which could have malicious ransomware files bundled within the installation files. When they install it on their computer, these files start their work immediately and encrypt all the existing data.
Untrustworthy Source
Downloading a genuine application or software from an untrustworthy source (such as a website with free software) can also be dangerous for your computer. Such software can be tampered with and may already be infected with malware.
Purchasing a Used Drive
If you purchased a pre-owned SSD or HDD for a computer but didn't format it before using it, it could infect your computer with pre-existing malware. This is why experts recommend that when you attach a second-hand hard drive to your system, you should format it well and use an anti-malware application to scan it before using it.
How can you identify ransomware infection
Although as soon as you spot files with DJVU extension on your computer, you can be certain that your computer is under ransomware attack. Sometimes, it may be difficult to identify that it has happened until it is too late. Early detection of the ransomware can help you overcome it a bit more easily, which is why you should keep an eye out for the following signs:
Heightened CPU activity and disk usage for no obvious reason
Network connections that you don't remember creating or don't recognize
Suspicious file system activity such as numerous failed file notifications
Revoked access to certain files which you were able to access earlier
How to repair STOP/DJVU affected MP4/WMV/MOV files?
Once STOP/DJVU infects video files on a computer, users think that all they can do to access such files is to pay the ransom money. But that is not true. Such encrypted video files can still be accessed if they are repaired using specially designed software to repair MP4 files affected by ransomware.
Also, they can use a few manual tricks shared below:
1. Isolate the infected device
Malware, which encrypts your files on external storage, can spread to more devices throughout the local network. So as the first step, you have to isolate the infected device quickly to stop the infection from spreading.
For this, perform the following activities without delay:
a) Disconnect from the Internet
Disconnect your computer from the internet (if you're using Wi-Fi through an Ethernet cable, disconnect it from the motherboard). In other ways like tethering or dongle, you have to cut down all the connections immediately by visiting the network and sharing centre in the Control Panel.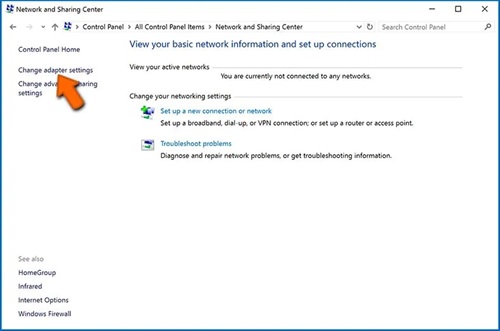 b) Unplug external storage devices
You also have to remove every external storage device connected to the infected computer. A ransomware can easily infiltrate all storage devices directly linked to the infected machine. So, remove them immediately to restrain the range of infection.
c) Log out of cloud storage
Safeguarding your cloud files is also necessary. STOP/DJVU ransomware can also infiltrate your cloud storage to encrypt the files stored on it. That's why you should immediately log out of all the accounts you have saved on your computer. You can also uninstall your cloud service application for the time being until you repair ransomware-affected video files.
2. Use a malware removal tool
Before repairing your infected video files, you have to remove the malware to stop the further infection. For this, you can download any reliable malware removal tool and perform a thorough scan of your computer system.
These are the basic steps to complete the process:
Start your Windows PC in safe mode with networking.
Download the malware removal tool and install it.
Now deactivate system restore to remove infiltrated components.
After that, restart Windows in Safe mode
Clean the Windows hosts file.
Finally, scan your computer using the malware removal tool to remove the virus.
Once you successfully remove the virus, start Windows normally.
Note: It is not guaranteed that using a malware removal tool will completely remove the infection from your computer. Sometimes, even if it is removed, some files might not get decrypted, and you may have to repair them.
How to repair mp4 files affected by ransomware?
As already explained, STOP/DJVU ransomware doesn't encrypt the entire file; it only encrypts a particular section of the file. That means you can repair the data in infected video files, and for such advanced MP4/MOV/WMV repair needs, you need a smart repairing program for all types of videos.
There are several applications available on the internet, but for this kind of critical situation, Stellar Repair for Video is the best tool. This software is easy to use and can repair multiple video files simultaneously. It can help you restore files damaged or corrupted as a result of various tricky scenarios (malware infection included), and it comes with a preview option so you can check your video files before saving them.
Follow these steps to repair your video files with Stellar Repair for Video:
Download and install the software on your computer.
Launch it and add the videos you want to repair.
Once you have selected all the videos, click on Repair to start the process.
After the process is complete, preview your files to see if they are playing properly and are infection-free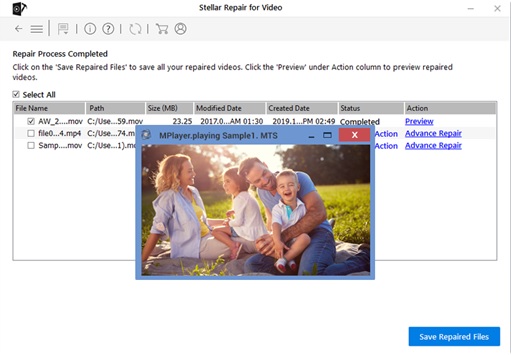 If you're satisfied with the results, you can save your video files to the desired location.
Note: If you face the encryption problem even after the repairing process is finished, you can try the Advance Repair option.
How can you prevent a ransomware attack in the future
Simply follow the below-mentioned best practices to stay protected from ransomware attacks:
Install trustworthy antivirus and antimalware applications on your computers and network
Always keep your network's firewall and operating system updated
Never download software or updates from unverified websites
Avoid opening attachments in spam emails
Do not connect to unsecured or open Wi-Fi connections
Always use a VPN to access the internet
Create a restore point on your computer that you can use to restore from in the future
Conclusion
More often than not, you can't avoid the possibility of getting infected by ransomware. That's why you must know of handy ways to deal with the issue if and when it arises. Hope this article helped you understand the process to repair ransomware affected MP4 video files. An important thing to remember is to always have a high-quality anti-virus program installed on your computer to safeguard your system from any virus and malware attacks and avoid the need to repair ransomware-affected video files.