There are different types of data that you store on your hard drive. It includes your official documents, favourite movies, memorable pictures, etc. While working with the system on which you have saved your important data like photos, you need to be very careful. Any mishandling of the system could land you in trouble, as you might not be able to access your photos. In the worst case, you might end up losing your important photos. There are various reasons you might lose your important photos. One of the most common reasons is formatting your hard drive.

Formatting a hard drive is a normal activity for many windows users. It is a good method to overcome various issues that might be troubling for a long time. Formatting means to completely delete the partitions as well as the data from the system. You might save photos if you transfer them to an external media before formatting. However, there are chances you might miss some of the photos in the system. Formatting a drive in which the photos are present, would completely delete the photos from it. It then becomes very difficult to find a way to get back those memories that were saved in your computer in the form of photos.

There are ways using which you can try to recover lost photos from a formatted hard drive. However, such methods are not successful all the time. The recommended way is to make use of a professional photo recovery software. Stellar Phoenix Photo Recovery software is an ideal solution in such situations to retrieve deleted photos.
Digital photo loss due to formatting of hard drive: A user might end up accidentally deleting the hard drive or intentionally with some purpose. More often, a user forgets to backup his important data like photos, before going ahead with formatting. Knowing the fact that formatting is not a reversible process, a user ends up losing all his important photos.

There are various reasons for photo loss due to the formatting of a hard drive. Some of them are listed below.
Installing an operating system requires you to format the hard drive. Usually, a user prefers to keep system files and data on different drives. However, while installing multiple operating systems like Windows, and Linux on the same computer, the user might get confused and delete the wrong drive. If the drive contains all photos, then it would be completely wiped off.
Hard drive can also be formatted using various commands in the command prompt. Any incomplete knowledge about the Windows command can make the user accidentally format the wrong hard drive. This might delete all your photos if they are present on the formatted hard drive.
Many a times, a user prefers creating multiple partitions on the hard drive. While creating a partition, a user might need to format the hard drive to reallocate the space among the partitions. In addition, using an unreliable tool to create new partitions can also format the hard drive unknowingly. This could also lead to loss of photos if they were present on the hard drive.
Like internal hard drives, a user can also format external hard drive attached to the system. While doing so, a user might accidentally format the partitions on the internal hard drive on which the photos were stored instead of formatting the external storage device.
It is also required to remove the partition or format the entire hard drive at times. Formatting a hard drive can overcome several issues like inaccessible hard drive due to corruption, errors, virus infections, etc. However, such a process could wipe away all the data including the photos present on the hard drive
Recover Photos from Formatted Hard Drive using Stellar Phoenix Photo Recovery

When we delete some data like photos from our hard disk, it appears to be deleted as it no longer remains visible. However, as a matter of fact, the deleted files remain intact inside the storage device even after formatting. There are various ways through which you can recover deleted photos from formatted hard drive. But, most of them lack professional approach and lack recovering all photos successfully.

It is always recommended to have a professional and reliable software to recover lost photos from formatted hard drives. Stellar Phoenix Photo Recovery software is an advanced tool to recover all lost photos from formatted hard drives. It supports recovery from internal as well as external hard drives. In addition, you can individually preview and save the deleted photos with their real file names. The software is self-explanatory and makes the entire recovery process very easy to perform. You can follow the below mentioned steps to recover lost photos from the formatted hard drive using Stellar Phoenix Photo Recovery software.

Note: If you need to recover photos from external storage device, first attach the device to your computer
Launch 'Stellar Phoenix Photo Recovery' software.
Click 'Recover Photo, Audio, & Video' from the main interface of 'Stellar Phoenix Photo Recovery' software as shown below.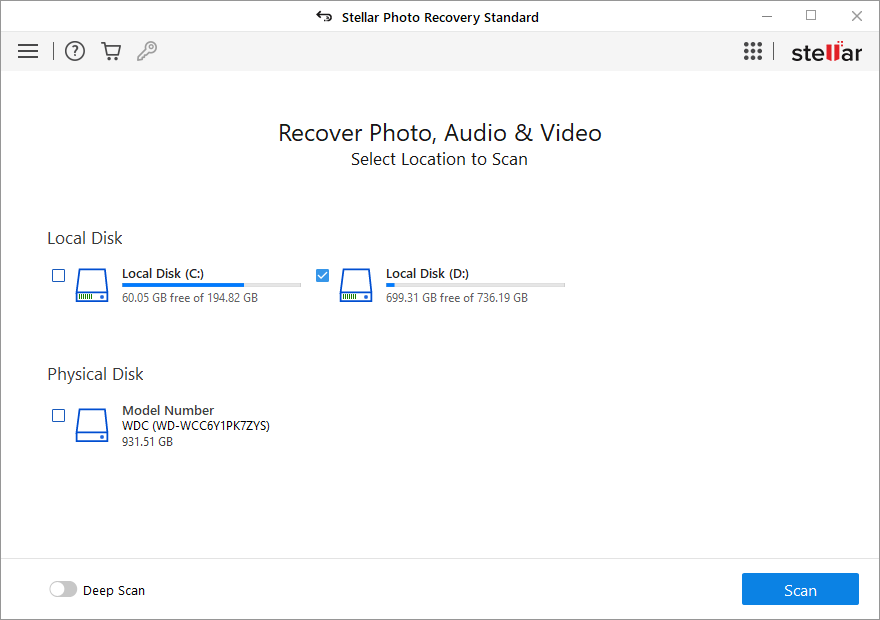 The software displays all the volume internally or externally attached to the system. Select the desired drive and click on the 'Scan Now' button as shown below.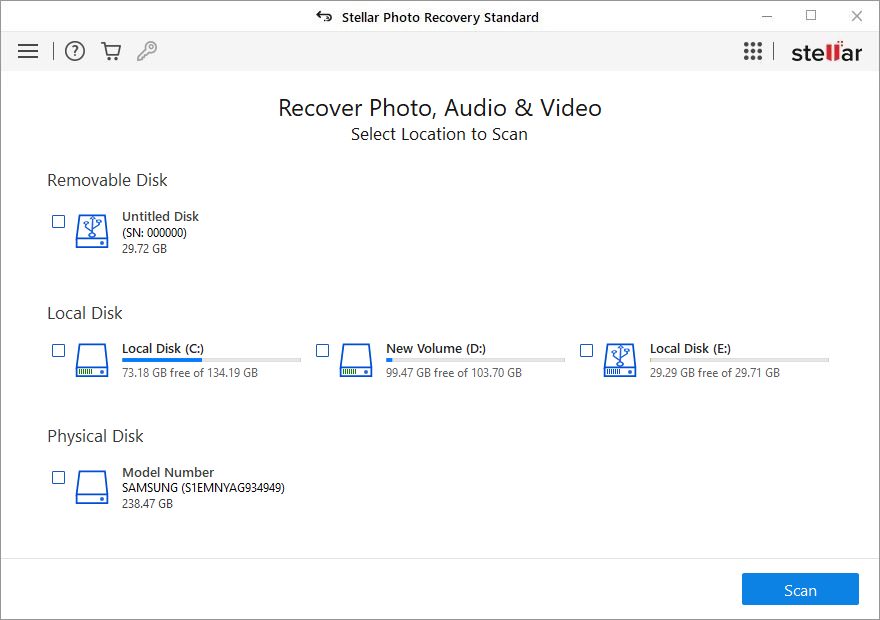 Note: If you have attached an external media and it is not listed here, you can refresh the drive by clicking on the 'Refresh Drive' button. You can also click on 'Advanced Scan' to customize the recovery process as shown below.
The advanced scan option allows you to scan according to the file types and minimizes the scanning time as shown below.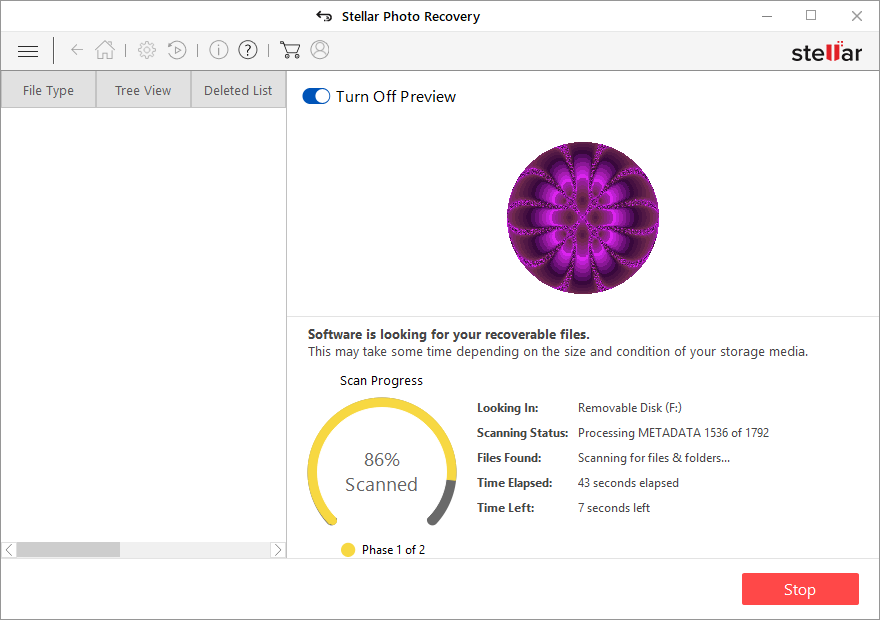 Click 'Scan Now'.
The scanning process lists down all the files in a tree-like structure as shown below.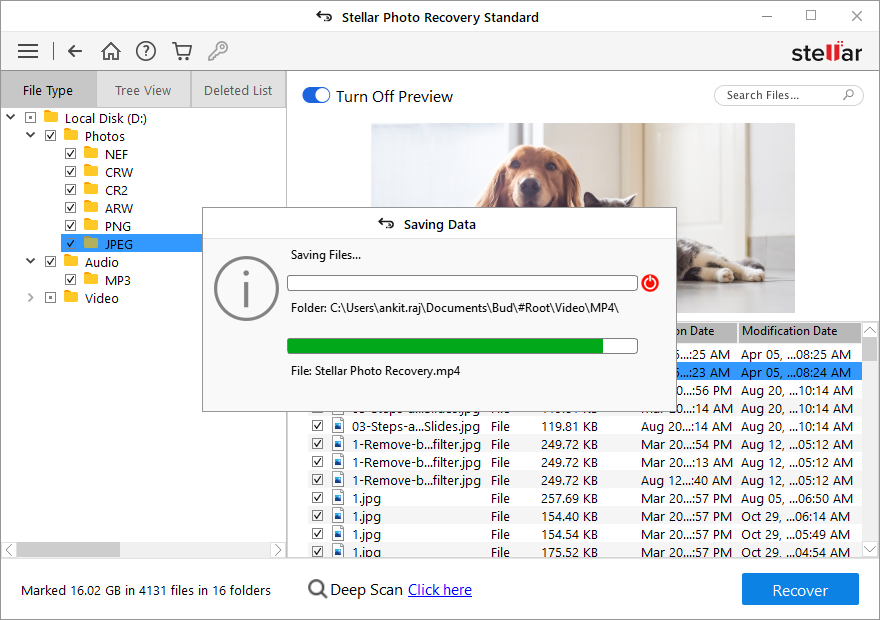 You can select any particular file for preview after scanning a shown below.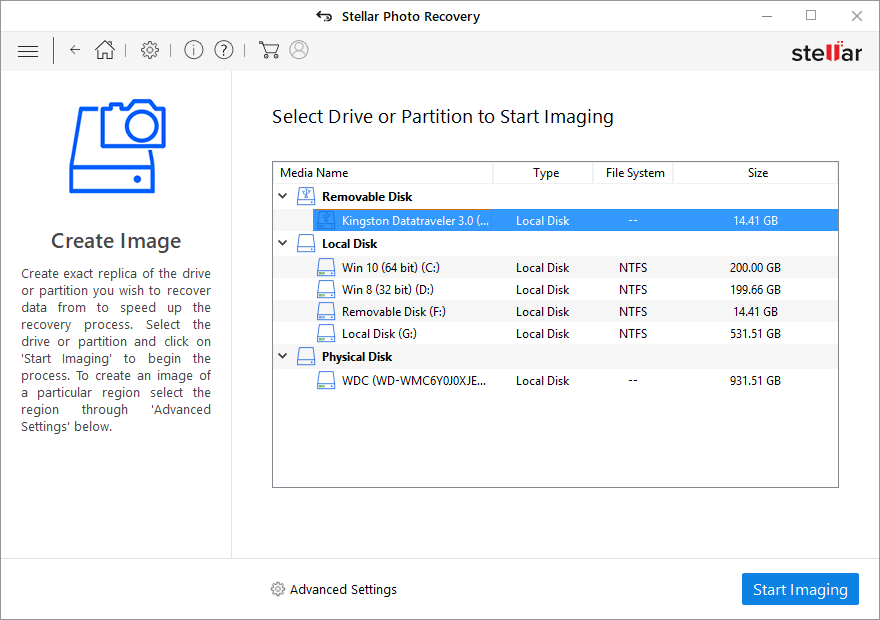 Select the files you want to recover by marking the checkbox.
Click 'Recover'.
Choose the desired location to save the recovered photos.