Formatting of the hard drive always leads to loss of files stored on it. 

You may accidentally format a hard drive or sometimes it becomes a necessity.

However, irrespective of the reason, it is possible to recover lost photos from the formatted hard drive. 

Reasons of hard drive formatting

Other than accidental formatting, you might have to format your hard drive in some situations such as: 
•    To reuse the inaccessible hard drive 
•    To remove virus from the hard drive
•    To install operating system
•    To create new partitions in the drive

How to retrieve lost photos from a formatted hard drive

There are no quick recovery methods to overcome photo loss due to formatting, other than a software approach. The best way to retrieve lost photos from any formatted hard drive is through the 100% secure and advanced Stellar Photo Recovery software. 

To understand how the software works to retrieve lost image files, first know how formatting affects your hard drive.

How formatting affects hard drive and its stored data
Formatting removes the location information of the stored files on the drive. Thus, the formatted hard drive is unable to locate the image files and folders on it. And, all your stored photos become inaccessible. 

However, technically, your photos are still present in the drive even after formatting. This means there is still the scope of photo recovery from a formatted hard drive.

How Stellar Photo Recovery restores lost photos from formatted hard drive
Stellar Photo Recovery is a reliable tool to recover lost or deleted photos of any file format from the formatted hard drives. It has also proved to be successful in retrieving image files from reformatted hard drives. The software supports recovery from internal as well as external hard drives. 

You can even retrieve RAW image file formats of popular camera brands such as Nikon, Canon, Sony, etc. Moreover, the software is capable to restore thousands of photos with their original date and time stamp in just few minutes.

It has an advanced scanning engine, which offers Deep scan, in case you are unable to restore desired photos in the first quick scan.

The software is self-explanatory and makes the entire recovery process very easy to perform.
For optimum recovery of lost photos, STOP using formatted hard drive
Stellar Photo Recovery software is advanced enough to recover even from the reformatted hard drive. However, it is advisable to immediately stop using the formatted hard drive or save any new files on it. The overwritten formatted hard drive reduces the chances of complete recovery of previously stored photos. 
. Step-by-Step Photos Recovery from Formatted Hard Drive

To recover photos from external storage device, attach the device to your computer and then follow the below steps.
•  Open Stellar Photo Recovery. On home screen, select the formatted drive or storage media from which you want to recover. Click Scan.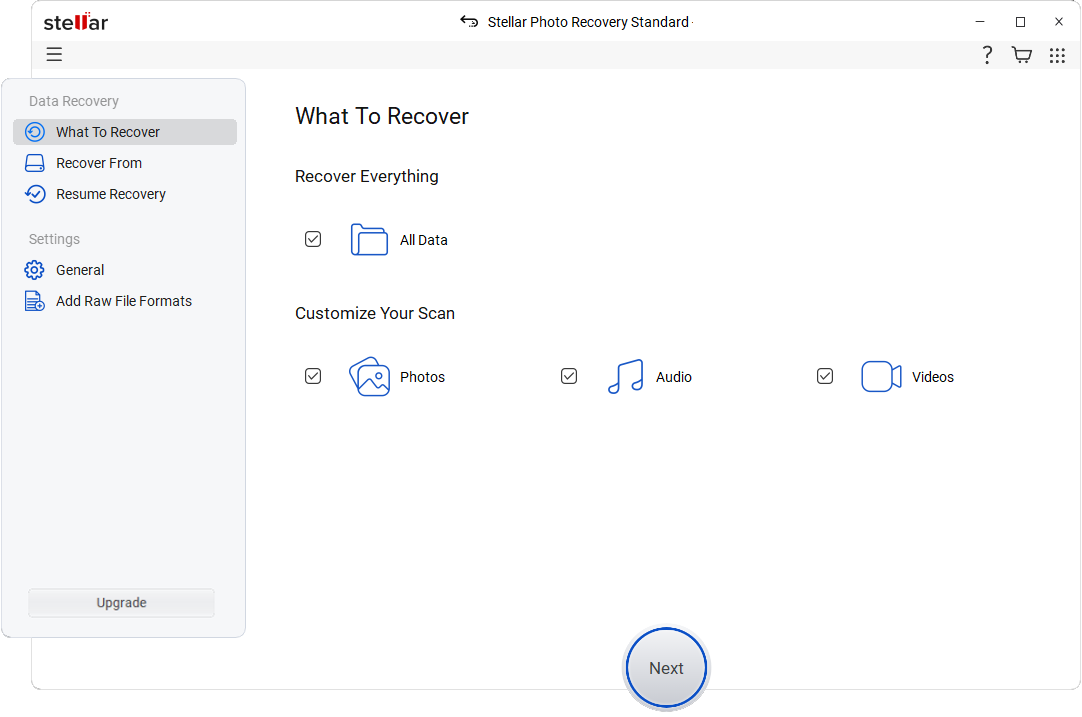 Note: Choose to customize the recovery process through Advanced Settings icon on top. Select a specific file type, add new file type or edit Header to scan for exact results.
•    A dialog box of 'Scanning Completed Successfully!' appears. In the left-pane of main window, all the found files and folders are listed. The bottom-right pane lists the files stored in the selected folder. Select a file and preview in the right pane
•    Select the desired files and choose Recover. In the dialog box, specify the location to save the media files. Click Save to save the file in desired location.