Yes, Stellar Repair for QuickBooks Software supports the UK version of QuickBooks® software. In order to repair your corrupt company file created in QuickBooks® UK version, follow the given series of steps:
Important Considerations before Starting the Recovery Process
Create a blank target company file that will be used to store all the recovered data. 
The target company file should be created with the same version of QuickBooks® as that of your corrupt database.
Close the newly created company file and the QuickBooks® application.
Steps to run Stellar Repair for QuickBooks Software
 Launch the software. On the main interface, click 'Select File' to select the desired QuickBooks® file (.QBW) for repair. You can use 'Search Files' option to locate the file in any folder, subfolder, or local drive.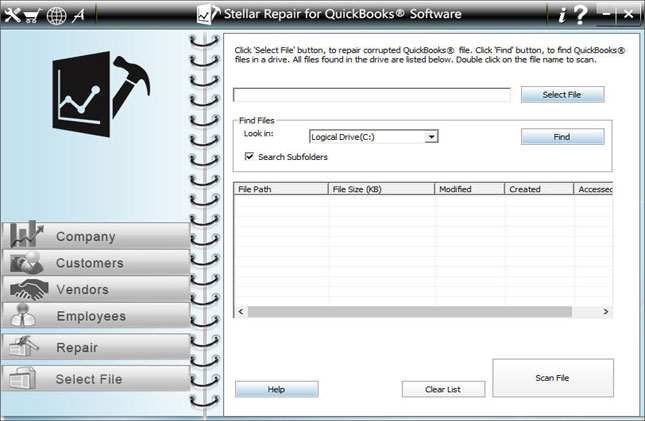 After selecting the file, click 'Scan File' button at the bottom. The software now starts scanning the selected file.
 Once the scanning is completed, you will be presented with a scan log. This log displays the results of the scan process. Click 'Save Log' to save the log for future reference or click 'OK' to close the log window.
 You can preview information about the company, customers, vendors, and employees in the main interface. To do so, click on the corresponding button in the left pane.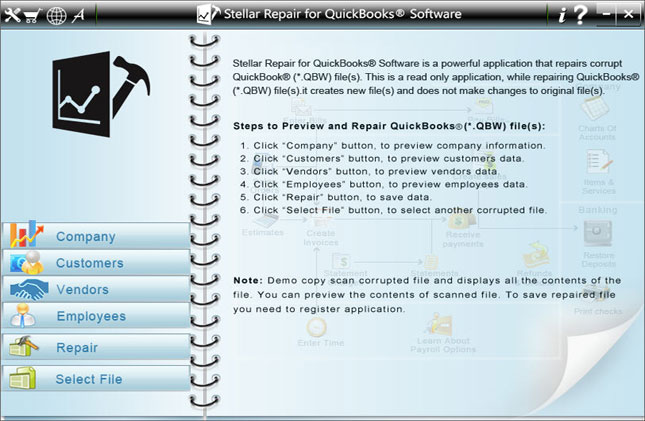 Click 'Repair' button in the left pane. The 'Save As' dialog is displayed. Select the version of new target company file that you created earlier in the drop-down menu and specify the path of this file. (Note: The new blank QuickBooks® database should be opened at this time.)
 Click 'Start' button in the 'Save As' dialog to proceed with the repair. 
 Once the repair is finished, you will see a dialog displaying the message 'Repair Process Completed Successfully'.