Stellar Repair for Exchange repairs corrupt Exchange database (EDB) files and can export the recovered mailboxes directly to Office 365.
Follow these steps to recover the data from corrupt EDB file and export the recovered mailboxes to Office 365 by using Stellar Repair for Exchange.
Open the software. On the Home screen, click Select EDB File.
The Select File dialog box will appear. Click Browse to select the corrupt EDB file. Alternatively, click Find to locate the corrupt Exchange database file in a drive, folder or subfolder.
You can select, scan and repair up to four EDB files. 
Click Next to initiate the Exchange Database file repair process.
The software will open the Select Scan Mode dialog box with two options – Select Quick Scan or Extensive Scan, based upon the extent of file corruption. Click OK. 
After successful mailbox scanning and repairing, the software will display a preview of the repaired EDB files.
Use following steps to export multiple mailboxes.
Select a particular mailbox or multiple mailboxes from the left pane of the preview
From the main menu, click Save. A pop-up window will appear.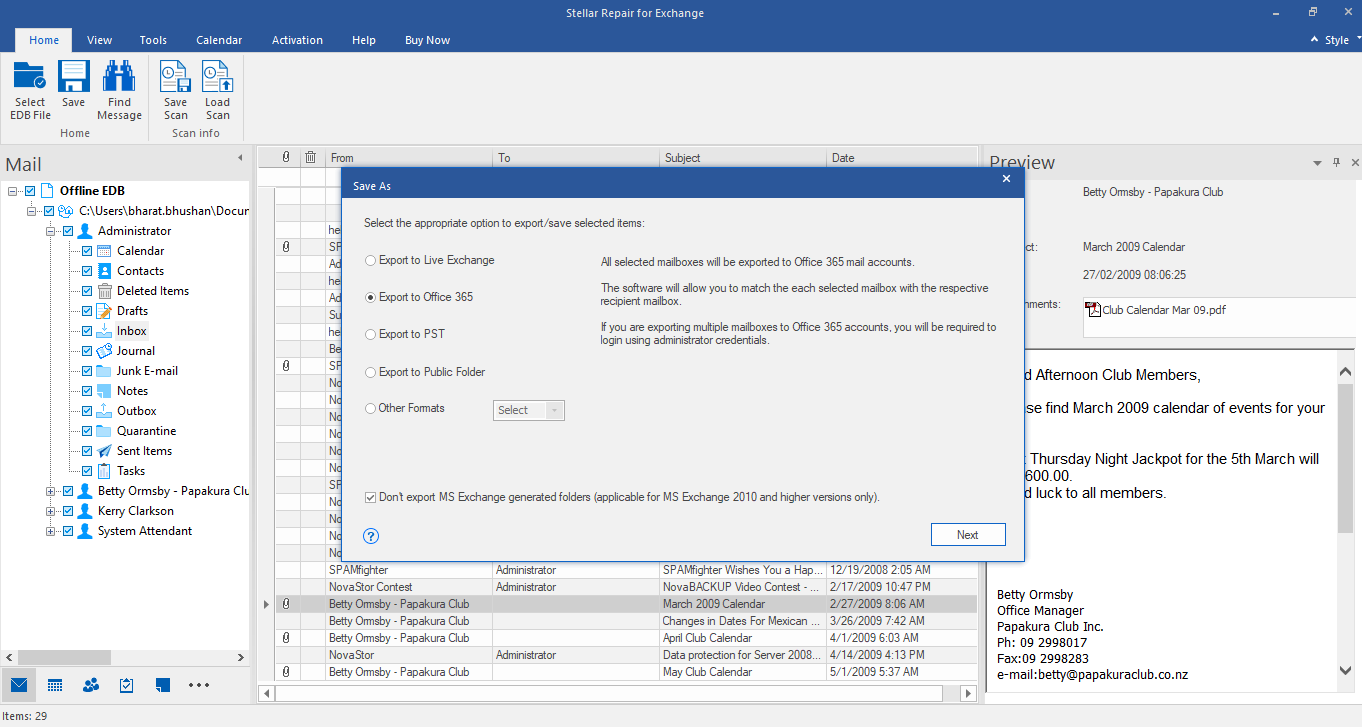 Select the Office 365 radio button and then click Next. A pop-up window Enter Login Credentials will appear. 
Enter Admin ID and Password. Click OK
A new screen will appear to Map Mailboxes. Click on the mailbox that you need to export and click Export
A message will appear to confirm the export process of recovered mailboxes to Office 365.
Use following steps to export single mailbox.
Right click on any mailbox. Click OK to proceed.

 

A pop-up window will appear – "Enter Login Credentials". 

  

Enter Mailbox ID- "Email ID of mailbox to export data" and Password. Click OK
A message will appear confirming the export of recovered mailbox to Office 365.
So these are the quick steps that make the migration of recovered Exchange mailboxes to Office 365 easier and smoother. All you need to just select the recovered mailboxes which you want to export, enter your Office 365 login credentials, and rest the software will do the migration for you. It's that simple!
However, apart from exporting recovered mailboxes to Office 365, you can also export recovered files to live Exchange Server mailboxes. Just go through the referenced KB and follow the mentioned steps over there.
Reference: https://www.stellarinfo.com/support/kb/index.php/article/export-recovered-mailboxes-to-live-exchange-server