Microsoft Exchange Server is one of the widely used email servers. Many large, as well as middle level organizations, rely on the Exchange Servers for their entire business-related online communications. But, at a time because of improper server shut down, dirty shutdown or any other hardware/ software problem, the Exchange Server database gets corrupt and the mailboxes in it become completely inaccessible.
In such conditions, you can take the help of Stellar Repair for Exchange to repair the damaged Exchange database file and restore the precious mailboxes back.
After repairing the corrupt EDB file, the software restores the mailboxes as an easily importable PST file, which can be directly accessed through the MS Outlook or can be imported back to Exchange to regain access to all the mailbox data.
Stellar Exchange Server Recovery is completely risk-free in its EDB recovery process and recovers your inaccessible Exchange mailboxes in few easy steps. Below steps will give you a clear idea on the same.
Steps to Recover Inaccessible Exchange Server Mailboxes
Run Stellar Repair for Exchange software. 
The 'Select File' dialog box will open. If you know the location of the corrupt EDB file, then select the same by clicking the 'Browse' button.
If you don't know the exact location of the EDB file, click the 'Find' button.This will list all the EDB files in the selected location, from which you can choose the required one for recovery.   
Once you have selected the EDB file, click 'Next' to proceed.
The 'Select Scan Mode' dialog box opens, asking to choose the required scan mode. Select the scan mode and click 'OK'.    
Note: You can choose the 'Quick Scan' for a faster scanning process. If 'Quick Scan' does not provide the desired results or you think so, you can choose the 'Extensive Scan' option.
After completion of the scanning operation, all the recoverable mailboxes with the mail folders will appear in a three-pane window.
Note: The left pane lists all the recoverable mail folders. The right-top pane shows all the items in the selected folder and the right-bottom pane shows the content of the selected mail item in the upper pane.
From the left pane of the window, choose all or any particular mailbox and click the 'Save' icon from the toolbar.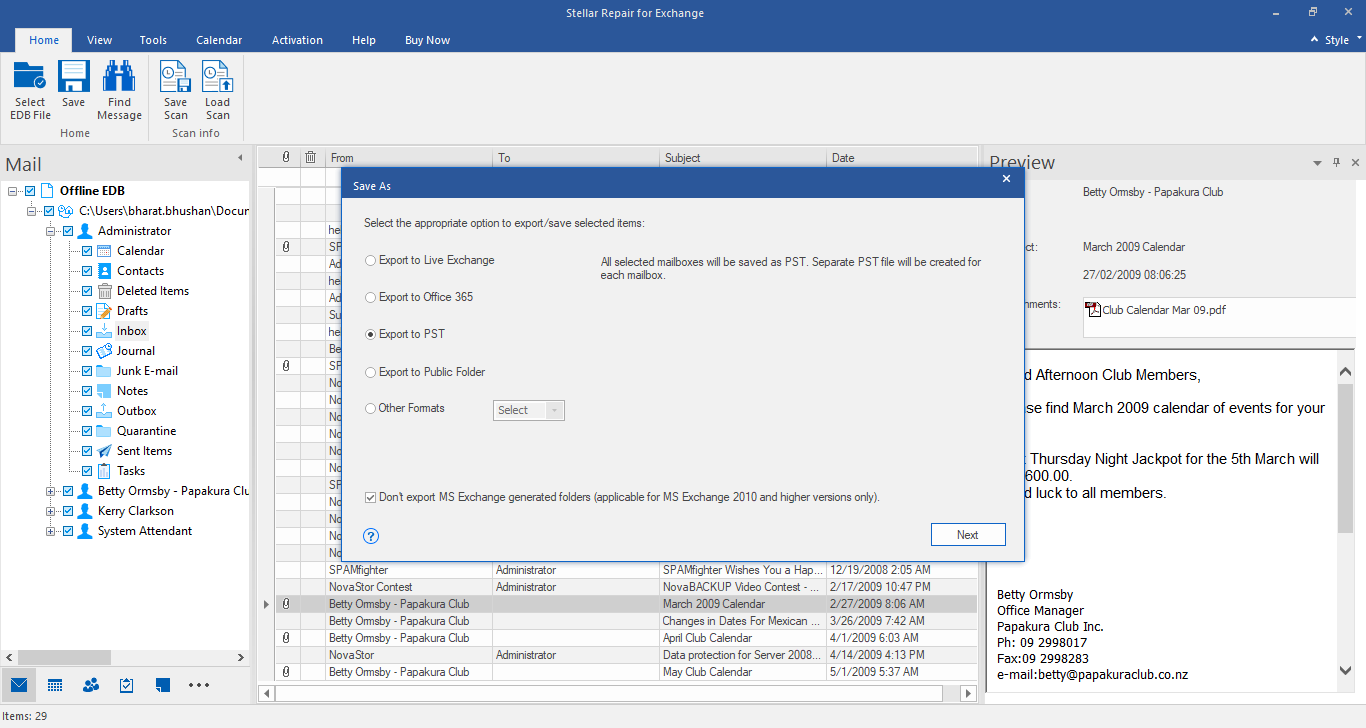 Specify the destination folder and click 'OK'.

 

On completion of the saving process, the 'Data Saved Successfully' message will appear. The recovered mailbox will be saved as an Outlook-importable PST file.

 

If you want to Search and save any particular emails from the recovered files, then click on 'Find Message' from Home Menu.  
Specify the criteria to search your desired mails from the given attributes and click 'Search' button to search the mails Search results will appear in the window. 
To save the search results, either right click on messages to save them individually or Click the 'Save' icon from the file menu, select the format, specify the destination folder and click 'OK'
To export recovered mailboxes directly to Live Exchange or Office 365:
https://www.stellarinfo.com/support/kb/index.php/article/export-recovered-mailboxes-to-live-exchange-server
https://www.stellarinfo.com/support/kb/index.php/article/exchange-to-office-365-migration