Stellar Data Recovery for iPhone application swiftly recovers deleted files from an encrypted iTunes and iTunes backup files using a Windows or Mac system.
Your iOS 15.x, 14.x, 13.x, 12.x,11.x,10.x, 9.x, 8.x, 7.x, and 6.x are within the range of the supported iOS by this excellent application. Free Download your copy, to start file recovery from an encrypted iTunes backup file.
Encrypted iTunes Media File Recovery
Please follow the below steps in an exact manner to recover files deleted from a password-protected iTunes backup files:
Step 1) Launch the downloaded and installed application on your computer
Step 2) Mouse hover the option "Recover from iTunes Backup" and click it. The below software window will show up.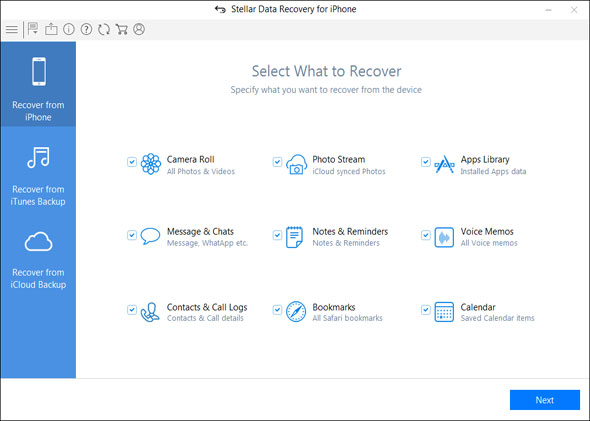 Here following 2 cases will arrive:
Step 3) The software will list the iTunes backup file, which was created earlier. Below is an example of already created and listed iTunes backup file.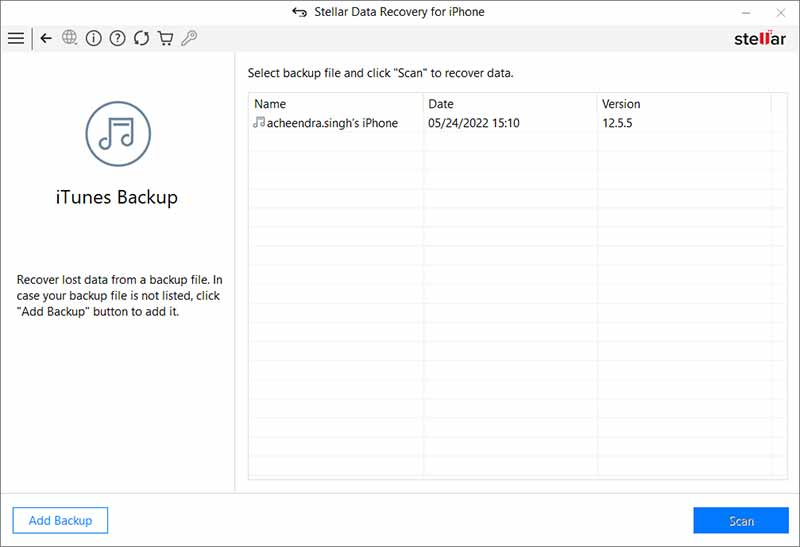 Step 4) In case, none iTunes back file is listed, click "Add Backup" button to add from the destination device. 
Step 5) Click "Add Backup" to add an encrypted iTunes backup file from a computer's hard drive. Click Choose to add the backup files to the software
Step 6) The encrypted iTunes backup files will be added. Now, click "Scan" button to start scanning the selected files.
In this step, the software will ask you to provide the password to unlock the encrypted iTunes backup files. Note: If you want to recover lost data from iPhone with encrypted iTunes backup, you should type the correct password otherwise the software will not be able to recover the files.
Click OK; once the password is entered.
The iPhone data recovery application will begin scanning the encrypted iTunes backup files. Once the scanning stops, the software will list all the recoverable iPhone files in a hierarchy.
From the left panel of the software, you can select, preview all the recoverable files that include: Photos & Videos, Messages and Call Logs, Memos and Others. 
Select all files or your desired files from the software and click on the Save button. 
Stellar Data Recovery for iPhone application will ask you to provide a location to save the selected iPhone files. Once a location is confirmed, press OK and save files recovered from encrypted iTunes backup files.