Stellar GroupWise to PST Converter
Converts Novell GroupWise mails to MS Outlook PST
Professional GroupWise to Outlook Converter that enables you to export all emails, attachments, address book contacts, documents, calendars, and other folders in GroupWise mailboxes to Outlook Personal Folders ('.PST') files.
Easy migration from GroupWise to Outlook
Converts messages, contacts, attachments, discussion notes, document reference
Preview of GroupWise mailbox items in the interface
Converts single mailbox or multiple mailboxes simultaneously
Supports MS Outlook 2010, 2007, 2003, and 2000
Works with GroupWise GW-12, 8.0, 7.0, 6.5, and 6.0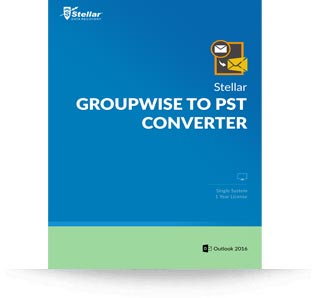 The email migration tool allows conveniently moving all your emails from the GroupWise messaging platform to MS Outlook. Mentioned below are some of the key features incorporated in the software:

Converts GroupWise to PST
The software facilitates easy GroupWise to PST conversion, allowing you to leverage all the benefits of MS Outlook over GroupWise Server, such as better email archiving, easy-to-use functionality, familiar working environment to cut the cost of training, easy meeting schedules, and more.

Option to Convert Multiple Mailboxes Simultaneously
The software supports batch conversion of GroupWise mailboxes, i.e. you can efficiently convert messages from more than one mailbox simultaneously in a single click. You can also use this feature to completely migrate data from GroupWise to Outlook all at once.

Preview of Mailbox Items after Scanning
This utility is equipped to show you the preview of each item in your converted GroupWise mailboxes. Once the scanning is finished, a tree containing the converted items and folders in your selected mailboxes is displayed in the left pane. You can select the desired items to be previewed from this tree.

Saving Messages as EML/MSG/PST Files
Using this GroupWise to PST converter, you can save the converted emails into 'EML', 'MSG', or 'PST' format according to the requirement. When saving emails as PST files while performing a single mailbox conversion, you have the choice to append these emails to an existing PST or save them to a new PST.

Easy-To-Follow, Comprehensible Interface
The easy-to-use interface of the software offers a workable solution to achieve any complex GroupWise to Outlook migration with ease. Much to the delight of users, instructions are provided at every step of migration to allow for a risk-free and smooth working experience.

Option to View and Save Log Report
The software maintains a log for both single and multiple mailbox conversion processes. This log records all the activities performed by the software to accomplish email conversion. You can anytime view this log or save the complete log report to a desired destination in your system.
* Free Download enables you to save the converted mailbox as a PST file to your system and preview only the message body and 'From' field of emails stored in the PST. To preview the entire converted mailbox, you need to register the product.
FAQ's
Previous
Next
What is the difference between the 'Demo' and 'Full' version of Stellar GroupWise to PST Converter?

Answer:

The 'Full' version of the software allows complete conversion and preview of GroupWise mailboxes. It saves the converted mailboxes to your system at a desired location. On the contrary, the 'Demo' version shows only the preview of message body and 'From' field of all converted emails after saving the output PST to your system. This means you can save the converted emails and other items to your system using the 'Demo' version as well. However, you cannot preview the contents of Tasks, Contacts, Calendars, attachments, 'To', 'cc', and 'bcc' fields with Demo.

Can I export address book and New Group by using this software?

Answer:

Yes, you can easily perform conversion of address book in your GroupWise mailbox using Stellar GroupWise to PST Converter. However, when you convert New Group, it will appear as Distribution List in the output PST file.

How much time does the software take to perform GroupWise to Outlook conversion?

Answer:

The time taken for conversion can vary depending on the number of items or mailboxes converted.

Does the software modify the mailboxes stored on the GroupWise server?

Answer:

No, the software facilitates a risk-free GroupWise to Outlook conversion and does not modify the original mailboxes stored on your GroupWise server.
You May Be Interested in These Items