Summary: Are you facing performance issues on your computer due to Nvidia Graphics Card Problems? This blog highlights the common symptoms of Nvidia Graphics card and their effective solutions that are quite helpful.
Are you experiencing game crash, video corruption, slow PC or other such problems, in spite of using Nvidia graphics card problems on your computer?
Nvidia graphic cards are known to boost PC performance and enhance your gaming experience. However, whether it's TITAN RTX, RTX SUPER Series, RTX 2080 Ti, GEFORCE GTX 1660 Ti or any other Nvidia Graphics card, reports of video glitches, games crash or machine crash are not new.
Technical glitches can happen anytime. The issues can surface because of hardware or software malfunction that you didn't realize or had ignored over the time.
This post shares Nvidia graphics card troubleshooting that you can apply to fix any kind of Nvidia graphic card problem.
Some common Symptoms of Nvidia Graphics Card Problems
Computer turns hot after working for sometime
Game crashes while playing
Computer crashes while playing games
You hear loud noise from your PC
Nvidia graphics card not detected by PC
Others
How to fix Nvidia video card problems
1. Disable background applications
2. Check PCI slot of Nvidia graphics card
3. Clean the dust inside your PC
4. Cool your Nvidia video card
6. Update Nvidia graphics card drivers
7. Disable and enable Nvidia graphics card
8. Uninstall and reinstall the drivers
9. Replace your Nvidia video car
Is the video problem in some specific game files or videos? Chances are your video file is corrupt, and NOT the Nvidia graphic card. Here's what you should do…
1. Use a Video Repair Software
For corrupt videos saved on your computer, SD card, memory stick etc., you can download Stellar Repair for Video. It is a video repair software that fixes inaccessible videos showing some kind of errors while trying to open. If the display is black, flickering, jerky, truncated or out-of sync, then too the video repair software is helpful. Simply follow the 3-step process –
· Add File
· Repair and
· Preview & Save
You can repair multiple videos of same or different file format at a time using the software.
Using the free trial of the software is recommended before buying, to be assured if the video problem is resolved or not.
2. Reinstall the game
If the video playing issue is occurring while playing the games bought from the games retailer such as Steam or Origin, first thing you can do is to reinstall the game from the source. If this also doesn't work, then go for Nvidia graphic cards problems troubleshooting shared in this post.
3. Contact the game publisher
Often the game updates by the developer can create video problems. It is recommended to contact the game publisher to know how it can be resolved.
Methods to fix Nvidia Graphics Card
1. Disable background applications
Multiple programs running in the background can also affect the performance of the videos or games on your computer. Your games can even crash if too many programs are running simultaneously.
Disable applications that are not required to play games from getting automatically launched in the background. These may also include security software such as anti-virus or anti-malware programs. You can temporarily disable them while launching a game.
2. Check PCI slot of Nvidia graphics card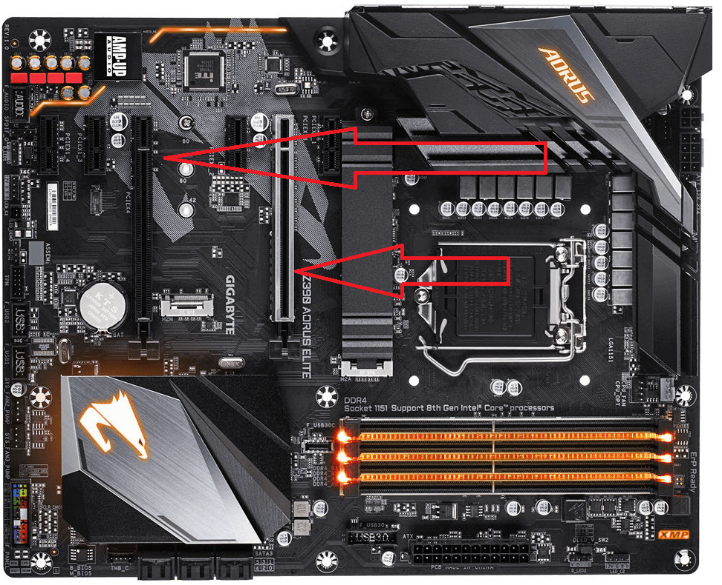 Check if the graphics card is properly placed in the PCI slot. It should be fitted properly and shouldn't be loose. You may try by placing Nvidia graphic card to another PCI slot to rule out the slot issue.
3. Clean the dust inside your PC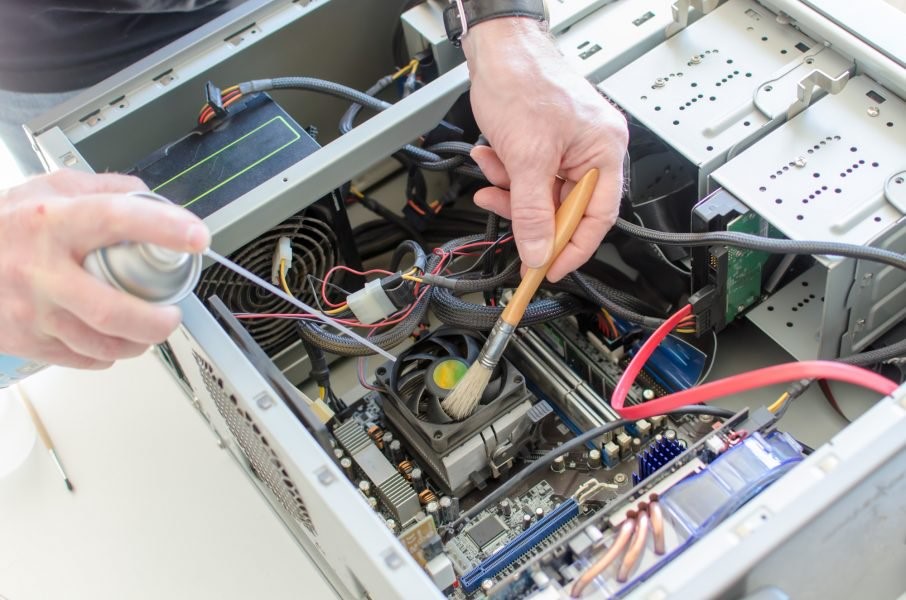 Since PC is not opened frequently, lot of dust gather inside it that form a blanket around the components inside. This obstructs proper heat dissipation , causing overheating. Open your machine and carefully blow off the dust using the PC air dust removers.
4. Cool your Nvidia video card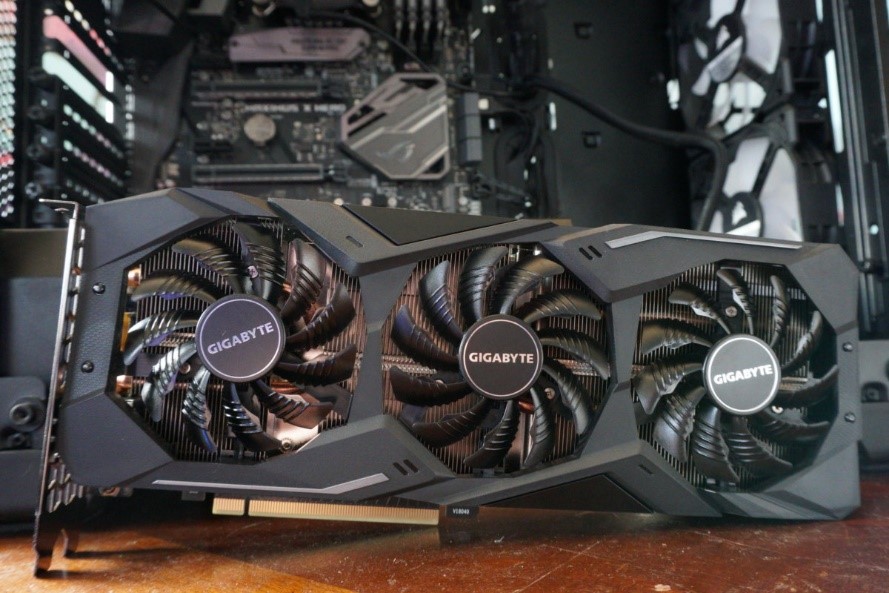 The heat generated by your PC should be able to dispel properly. Otherwise, overheating would damage the Nvidia graphics card as well as your motherboard. Video card overheating affects the PC's performance, especially when playing games and watching UHD movies.
Here's what all you can do to cool down your Nvidia graphics card:
If you have overclocked your graphic card to increase its performance, revert it to original settings.
Check your GPU fans. Clean them, if clogged with dust. If broken or not working, replace the fans.
Use larger computer case.
Install a case fan or component specific fans to cool down the machine.
Note: Perform these cooling methods and other physical checks, only when you are comfortable with interfering with your machine's hardware. Else, take help of a technician.
5. Lower overclocked GPU/CPU to default speed
Is your PC making more noise than before? Does it get overheated while playing games or videos?
Probably you overclocked your graphics card. Overclocking can speed up the PC performance but sometimes overclocking may stress the card so much that it even reduces its normal performance. If you have overclocked your CPU or GPU, lower the speeds to the default values. This will prevent overheating of the system.
6. Update Nvidia graphic card drivers
Since Nvidia is constantly working to boost its performance through regular updates, installing the latest drivers help resolve the video corruption and playback issues. There are various methods to update your Nvidia graphic card drivers.
If you have installed Release 270 or later GeForce/ION driver from nvidia.com, you might have installed NVIDIA Update on your PC as well. You can directly update your drivers through Nvidia Update application on your computer.
In absence of Nvidia Update app, follow the below steps to update the graphic card drivers:
Step 1: On your PC, first open the DirectX Diagnostic tool to find your exact graphics card model. Skip this, if you know it.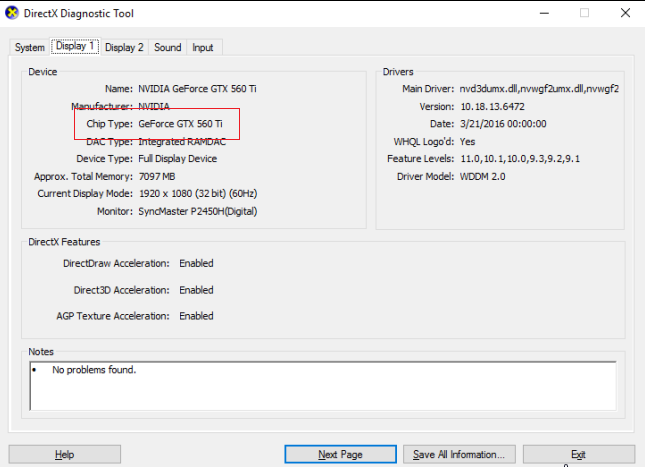 Figure: DirectX Diagnostic tool window
In the search box type dxdiag
Click System Note the Operating System entry (32-bit or 64-bit Windows).
Click on Display. Note the Chip Type entry, which is your graphics card model
Step 2: Go to Nvidia.com and follow the below steps to update the drivers
Select tab Nvidia Support
Click on Download drivers
Fill in your product type, series, product, operating system, and language from the drop-down menus. (You have already noted these details from DirectX Diagnostic tool)

Figure: Download Nvidia drivers window
Click Search
Select the latest version of your graphic card and click Download
Double click the downloaded file and follow the onscreen instructions to update your graphic card driver.
7. Disable and enable Nvidia graphics card
To fix Nvidia graphics card problems failure that results in black screen or no display problem disable and enable the drivers once.
Follow the below steps to disable/enable Nvidia card drivers:
Right click on My Computer/ This PC
Click on Manage > Device Manager
Click Display Adapters
Right click on the Nvidia graphics driver and select Disable device
Reboot your computer
Again go to Device Manager, click Display Adapters
Double click on Nvidia graphics card, select Properties
Click on Driver tab and select Enable
Your videos should now play properly without any graphic card glitch.
8. Uninstall and reinstall the drivers
If the Nvidia graphics card update didn't help or the video corruption problem surfaced after the update, it indicates, the drivers were not installed properly.
This may be because of a third-party security software such as anti-virus or anti-malware on your computer.
Perform, uninstall and then reinstall of Nvidia drivers.
Note: Before you begin, close all the open programs on your PC. Temporarily disable anti-virus or other system monitoring programs as they may interfere with the display driver installation process.
Next, follow the below recommended method to reinstall NVIDIA display drivers:
Log in with an Administrative account on your PC
Browser asks to Saveor Run the file, select Save the driver on your Windows desktop
Right-click on the desktop Nvidia file. Select Run as administrator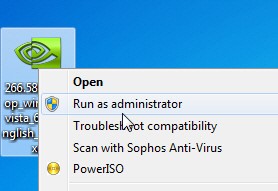 Figure: Right click on Nvidia desktop icon
Once you have launched the Nvidia display driver installation file, a dialog box appears asking for a location to save the Nvidia driver files. Leave the default location path and select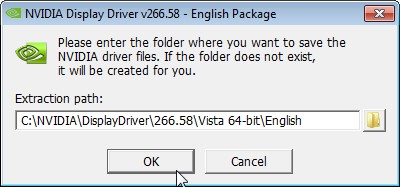 Figure: Save the Nvidia driver files at default location
Next follow the prompts to install Nvidia graphics drivers. Accept the Nvidia software license agreement. Click AGREE AND CONTINUE.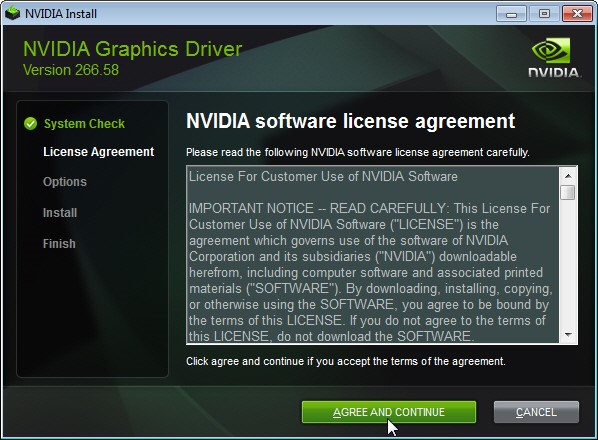 Figure: Nvidia Installation window
In the next window, select from the install options. You may select Express (Recommended). If you are an Advanced user, select Custom (Advanced) to view additional installer options.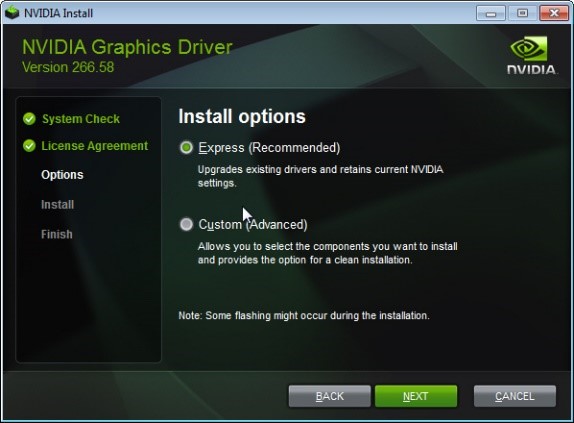 Figure: Nvidia Graphics driver install options
Click NEXT
Once the process completes, click on RESTART NOW and you are done
9. Replace your Nvidia video card
If all the troubleshooting fails to fix Nvidia graphics card related video corruption, you should replace the video card.
Nvidia is constantly overhauling its graphic cards for the latest technologies including 1440p gaming. For instance, GeForce RTX SUPER™ Series has higher clocks that boosts your computer's performance up to 25% faster than the original RTX 20 Series.
So deciding over the faster RTX Series or a comparatively moderate GTX 1080Ti and so on, purely depends upon your choice of games or the video editing tasks you perform.
Wrapping up
Nvidia graphics card problems can be either hardware or software related. The shared nine troubleshooting methods have helped several users to fix their graphic cards glitches and failure.
However, sometimes, it's not the fault of the Nvidia graphics cards. Your video or game file may be corrupt. This can be ascertained when some specific videos or games are creating problem. In such a case, use Stellar Repair for Video software or contact the game developer for the workaround.
If none of the methods works for you, probably your card is damaged. Replacing it with a new Nvidia card is the solution.
Hope this post was helpful? Do share your Nvidia troubleshooting experience with our readers in the comment section below.