Stellar Converter for EDB can migrate or export all mailboxes stored in offline EDB file directly to Live Exchange server. Follow these steps to migrate the mailboxes: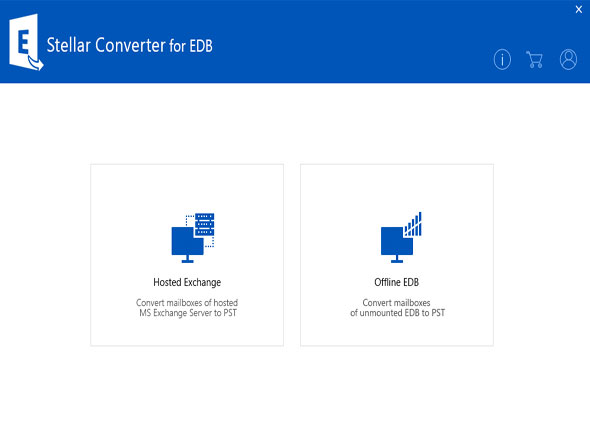 Click Browse to select the EDB file that needs to be migrated.
Alternatively, click Find to search the EDB file in case if its location is not known.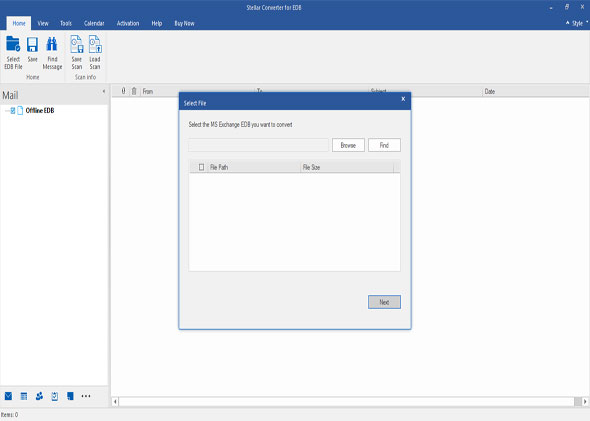 Click Next to initiate the file conversion process.
After scanning, the software will display a preview of all the selected EDB files.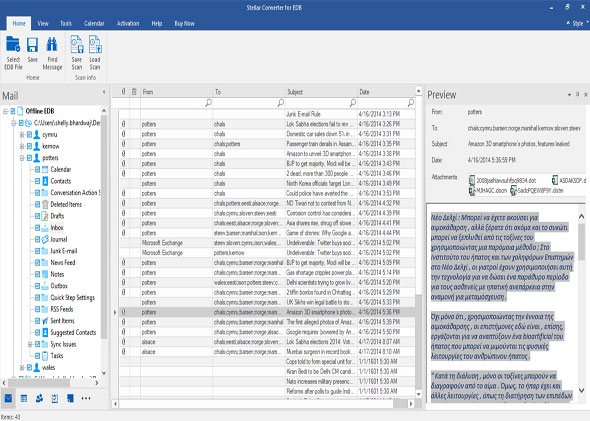 You can migrate all or the selected EDB files to Live Exchange by using Stellar Converter for EDB. There are two cases to export EDB mailboxes
Export mailboxes when Exchange Server is connected
Export mailboxes when Exchange Server is not connected. 
Case 1: Applies to exporting multiple mailboxes when Exchange Server is connected.
From the main menu, click Save. A dialog box with file saving options will pop-up.
Select Live Exchange and Click Next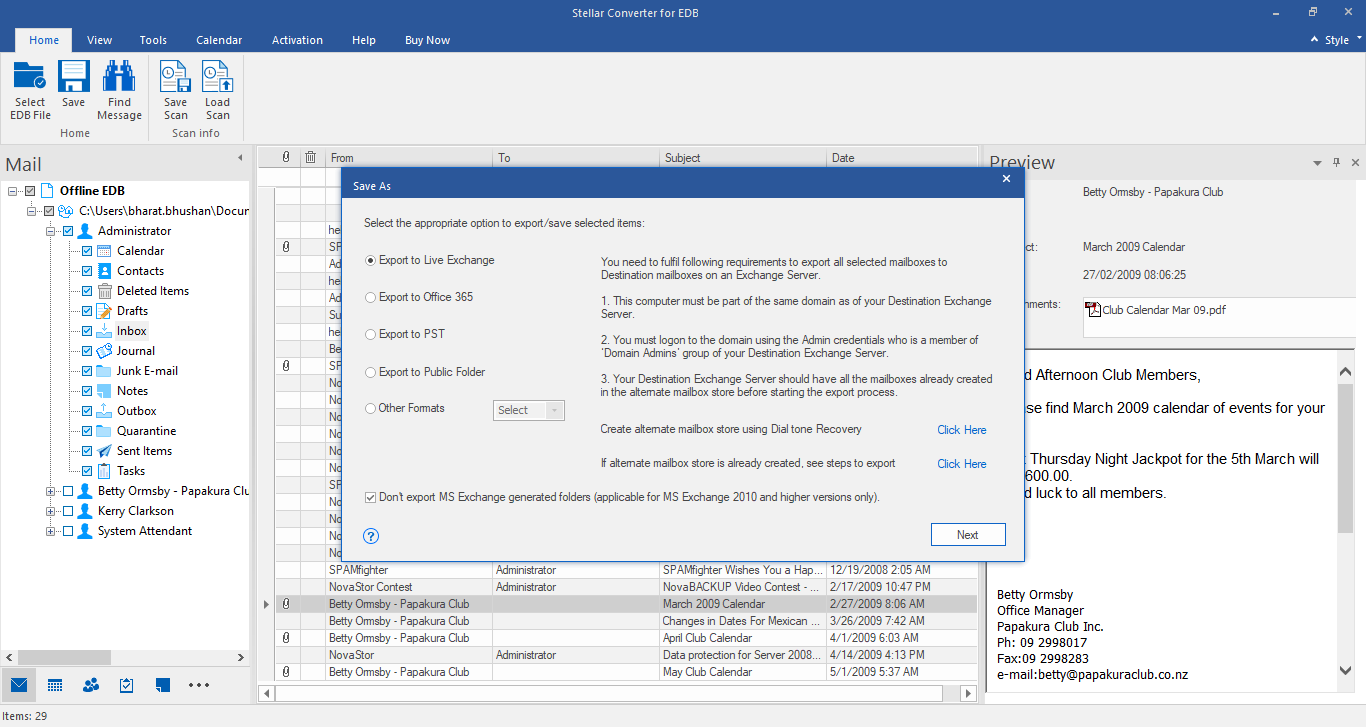 A pop-up window to Enter Login Credentials will appear. Enter the details of Live Exchange Server to which you want to export the mailboxes.

 

Enter the login credentials of Live Exchange server.
Select the version of Exchange Server from the drop-down menu. Here we have selected Exchange Server 2013
Admin Mailbox & Password
Select the checkbox for Auto Map. The Auto Map function automatically connects the specified mailboxes of Live Exchange server. 
Click OK to initiate the exporting process of converted mailbox to Live Exchange server.

A Map Mailbox screen will appear with the following three columns:

Source Mailbox: Mailboxes available on converted EDB files
Destination Mailbox: Mailboxes available on Exchange Server database. Map Mailbox is used to map Source Mailboxes with Destination Mailbox.
Map Mailbox: A process to link Source Mailbox with Destination Mailbox.  

Notes:  

Stellar Converter for EDB provides Apply Filter option (available through Advance button) to exclude or include specific items of the selected mailboxes for the specified Date Range.

You can also select the Checkbox for Junk Mails and Deleted Mails to exclude these emails.

Click Export button to export the selected EDB mailboxes to Live Exchange Server.
Once the process of exporting EDB file to Live Exchange Server is completed, the software displays a message, "Export process completed successfully".
Verify the exported mailboxes on the destination Exchange Server.
Case 2: Export multiple mailboxes when Exchange Server is NOT connected 
After selecting Exchange server, enter login credentials of Exchange Server and click OK.

In case, Exchange server is not able to find Active Directory Server (ADS), a pop up will appear that 'The server is not operational'. Click OK to proceed to the next screen – Global Catalog Server Details, and add credentials of Active Directory Server.

 

A pop up appears - Global Catalog Server Details. Add details of Active Directory server (ADS). To connect all the mailboxes, enter details of the 'Domain Controller' where your 'Active directory' is installed. 

ADS Name:  Enter the ADS name
Admin Mailbox: Enter administrator email ID for Exchange Server
Password: Enter administrator password for Exchange Server. Click OK

A Map Mailboxes screen appears with information on the following:

Source Mailbox: Mailbox available on converted EDB file
Destination Mailbox: Mailboxes available on Exchange database. Source Mailboxes are mapped with destination mailbox through Map Mailbox.
Map Mailbox: Process of linking Source mailboxes to Destination mailboxes.  

Check the link between all Source and Destination mailboxes. Click Export to export the converted EDB mailboxes to Exchange server.
Once the export process is complete, the software displays a message "Export process completed successfully".
You can verify the exported mailbox data on Exchange server