Help option is available in the main menu of Stellar Repair for Access software. This option is present in the file menu.
Download, Install and Open the software. Go to main menu, there are four options available –
Home
Tools
Help
Buy Online
Click on Help menu and following options appear: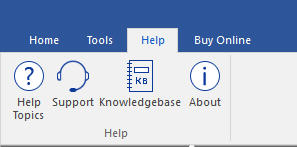 Figure 2: Illustrates Help Menu
Help Menu is categorized into the following sub-parts:
Help Topics
The guide consists all the software related information
Support
Option to view support page of www.stellarinfo.com
Knowledge Base
Option to visit Knowledgebase articles of the software
About
Option to view the software version and system information.
Catch-up with the desired information by clicking on the right option.