Stellar NSF to PST Converter
Efficiently converts Lotus Notes files (.nsf) to importable Microsoft Outlook files (.pst)
A useful NSF to PST conversion utility that helps in migrating from Lotus Notes to MS Outlook by converting NSF File into usable PST file. You can export all the email items of the NSF file, including your emails, attachments, contacts, calendar, journals etc., using the converted PST file.
Converts NSF to PST that can be easily imported into MS Outlook
Facilitates selective conversion of the Lotus Notes mailbox items
Tech Version also allows to save the converted file in Office 365, RTF, PDF & HTML Format (Free Trial)
Allows you to find NSF files within a specific folder/hard drive
Supports 'Lotus Notes' 9.0.1, 9.0, 8.5, 8.0.2, 7.0, 6.5 and 6.0 versions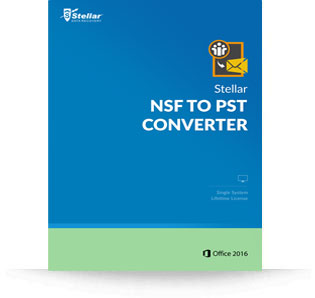 Features – Lotus Notes Converter

NSF to PST Conversion
Converts the selected Lotus Notes file into a PST file, which can be directly used through MS Outlook. The converted PST file contains the entire Lotus Notes items in user mailbox and the individual items, with their original format.
Stellar NSF to PST Converter – Technical version is enhanced to save the converted file in Office 365 Apart from this it also allows you to save your converted files into multiple file formats such as .MSG, .EML, .HTML, .RTF, & .PDF format. Try it now

Selective Conversion of NSF to PST
This useful NSF to PST Converter provides option to select and save only the required items from the long list of converted mail items tree. You can expand the tree of converted items and select only those items you require to save. You can save individual mails as either EML or MSG files.
Find NSF File
Stellar NSF Converter lets you to find NSF files for conversion, in case you don't know the exact location of NSF file. Using 'Find NSF' option, you can search any folder, subfolder or an entire volume in your system to locate the NSF file.

Previews Converted Mailbox items
Provides preview of all the converted mail items (Mails, Contacts, To Do list, Calendars, Personal Journal etc.) in a three-pane window and helps in making selective conversion.

Interactive and Friendly User-Interface
The software incorporates a simple, interactive, and user friendly interface. With detailed instructions at every step of operation, the software provides an easy-to-use platform to convert the NSF files into equivalent PST files, without any further assistance.
Generates Log Report
Stellar NSF to PST conversion software generates the detailed log report of the complete conversion process and facilitates you to save at any desired location. The generated Log Report includes name of the NSF file, its location, its size, start time of the conversion process and status of the converted mail items.
* Free download version of the software allow you to preview the converted file and save 10 items per folder.
FAQ's
Previous
Next
Do I need to install both 'Microsoft Outlook' and 'Lotus Notes' applications on my computer
before conversion?

Answer:

Yes, before performing conversion using Stellar NSF to PST converter, you need to install Lotus Notes as well as Microsoft Outlook applications on your system.

What I can save using the demo version of this Software?

Answer:

With the free demo version of Stellar NSF to PST Converter utility, you can save only the first ten items of every converted file. In order to save all the converted items, you need to purchase the full version of the software.

How Can I preview a converted mail item?

Answer:

Once the conversion process gets finished, all the converted mail items are listed in a tree structure. You can expand the tree and click on any item to see the preview on the right hand side pane of the interface.

How to save the converted NSF files in Office365/ MSG/ EML/ RTF/ PDF/ HTML file formats?

Answer:

After completion of the conversion process, the software (Technician version) lists all the mail items in the left pane of the interface in a tree view. Click 'Save' button on the File Menu, a dialog box will open from where you can choose the preferred saving option (Office365/ MSG/ EML/ RTF/ PDF/ HTML). The 'Destination path' window will open and you need to specify the target location, where you want to save the converted file. However, note that only a single mail can be saved as Office365/ MSG/ EML/ RTF/ PDF/ HTML file.

How to activate Stellar NSF to PST Converter software?

Answer:


The software can be activated, only after purchasing the software and receiving the 'Serial Key'.

Steps to Activate the Software from the Demo Version:

Run the demo version of the software and click 'Activation' > 'Activate Stellar NSF To PST Converter'

A dialog box opens. Provide the 'User Name', 'Activation Code' and click 'OK'.

If the key is valid, a confirmation message is displayed. Click 'OK' to finish the activation process.
You May Be Interested in These Items