Outlook not installed properly' error appears while saving the converted mailbox items to PST file. You can resolve the Outlook error by creating a new local Outlook profile.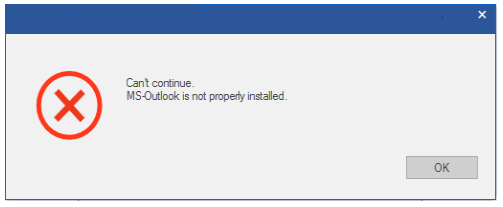 Steps to Create a Local Profile in Outlook
Open Control Panel and go to User Accounts

Click Mail

Click on the 'Show Profiles…' button
 

 

Click on the 'Add…' button
Enter a 'Profile Name' and click 'OK'. You can give any name to your profile


 
A new 'Add Account' window appears. Click 'Cancel'
 

 

Click 'OK' to finish creating a local Outlook profile with no e-mail account
Now you can export the mailbox items to PST without error.
For more help, get in touch with us via the Self Help & Support page.